By Daniel Rasmus on Fri, 11/22/2013
An interesting collection of stands that are not exactly stands has come my way. They range from wall-mounted pockets to adjustable car mounts to a robot-like dolly. Each offers a unique take on how to make an iPhone stand on its own.
1. iStabilizer Flex ($29.95)
4 out of 5 Stars
Master your iPhone in one minute a day:
Sign up to iPhone Life's Tip of the Day Newsletter and we'll send you a tip each day to save time and get the most out of your iPhone or iPad.

iStabilizer makes fun products. The Flex trippod reaches around and through chairs and desks to provide a steady mount for an iPhone. Unlike many small tripods, it doesn't require outfitting the iPhone with a new case, it just stretches to fit most basic cases (big oversized cases don't work). And when it's not wrapping around something, the Flex acts as a smallish tripod. The multiple approaches to stabilizing the iPhone means that you will likely find a way to use the flex in most situations (on a wall, a table, wrapped around a fence, sitting on top of a mailbox, you name it!) I take the Flex on most trips because I never know when I'll want to take a steady shot or a picture with me it in. Totally makes selfies better because you don't need a mirror and you don't need to see the camera. Set the shot and click the timer, and people will think a friend took the picture.
2. iStabilizer 
Dolly
 (
$59.95) 
5 out of 5 Stars

What iPhone filmmaker doesn't occasionally yearn for professional equipment like cranes and dollies? With the iStabilizer Dolly, the iPhone joins the ranks of cameras that can follow a path. This isn't computer controlled, so it's more of a guerilla path that gets made as the iPhone careens through whatever environment the filmmaker has introduced it to. Used on a table, it can help create some pretty good panning shots. The high-quality skateboard-like wheels make for a smooth ride and the adjustable neck has joints that can set up even the oddest of camera angles.  And if you do need a standard tripod mount, the Dolly's iPhone mount detaches to offer a ¼ 20" threaded opening. You can't help but smile when you see the Dolly. It looks like something from a science fiction movie, I only wish they had a robotic version.
4 out of 5 Stars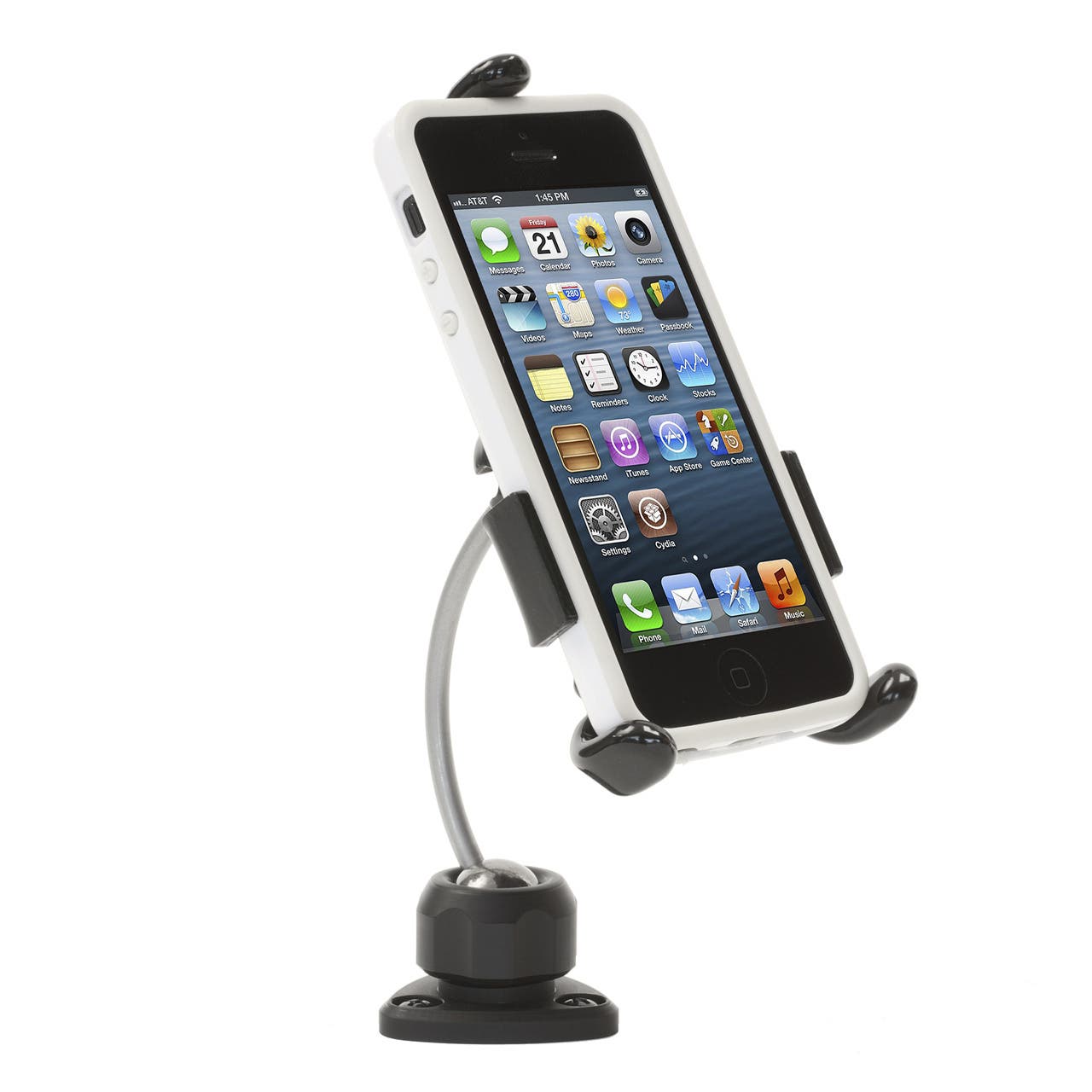 Most of the stands in this roundup were designed with a specific use in mind. The PED4 (the worst thing about this product is its name) is a made-for-anything mount. It comes with a base that can be screwed into anything, from a dashboard to a kitchen cabinet. Combine it with the highly adhesive AdPad 300 (also from thoughtout) and you can mount it to anything (the AdPad includes screw holes for attaching the PED4. The materials are outstanding; the ball joint, which can take a bit of muscle to unscrew, adjusts to multiple positions easily and the iPhone attachment adjusts easily to many cases. But unlike the elastic mount of the iStablizer Flex, this one uses screws to create a precise adjustment to ensure that once mounted your case stays put. Engineers will appreciate the workmanship and consumers will love that they can mount their iPhone pretty much any place they want and that the PED4 will keep it in place, while easily pivoting to any angle necessary.
4 out of 5 Stars
As much as I like the other products in this roundup, I have to say that this is the most clever and convenient of the products, but it does require commitment to a special case. Imagine a little disk with a kind of sticky bottom on your keyring. On the disk is a magnet with a ball joint. On your phone is a slot that attaches the ball joint. When the piece all come together you get an impromptu little iPhone phone mount that helps you take stable pictures, even if the only thing around you is a rock. And on the desk, it's portrait or landscape orientations make it ideal for FaceTime or Skype, or for taking a time lapse movie. All of this in something that fits the keyring. The iPhone case is pretty basic, but very necessary, given that the case must be thin enough at the right place in order to slot into the magnetic joint. If, however, you have a standard tripod mount on your iPhone already, you might want to consider the original Tiltpod, which can be used with traditional cameras. And at $29.95 this is a great deal because even some of the least expensive cases cost as much as this useful photography and video tool.
4 out of 5 Stars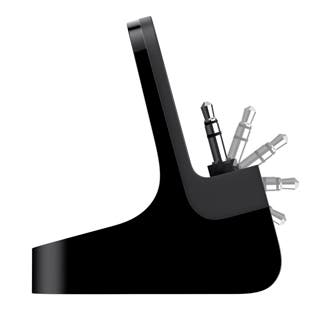 If you don't just want your iPhone sitting on the desk, consider the Belkin Cradle. It offers a pass-thru slot for a standard Lighting cable as well as an audio port, which both extends the audio from the cradle to a speaker, but also help stabilize the phone when docked. The unique magnetic approach ensures that it works with many cases, as long as they don't overly obstruct the Lighting port. A nice way to keep your phone handy at your desk, to keep it charged, and to minimize the connections and disconnections to a wired speaker. Solid materials and construction will keep your desk looking professional.
6. Just Mobile AluPocket ($29.95)
4 out of 5 Stars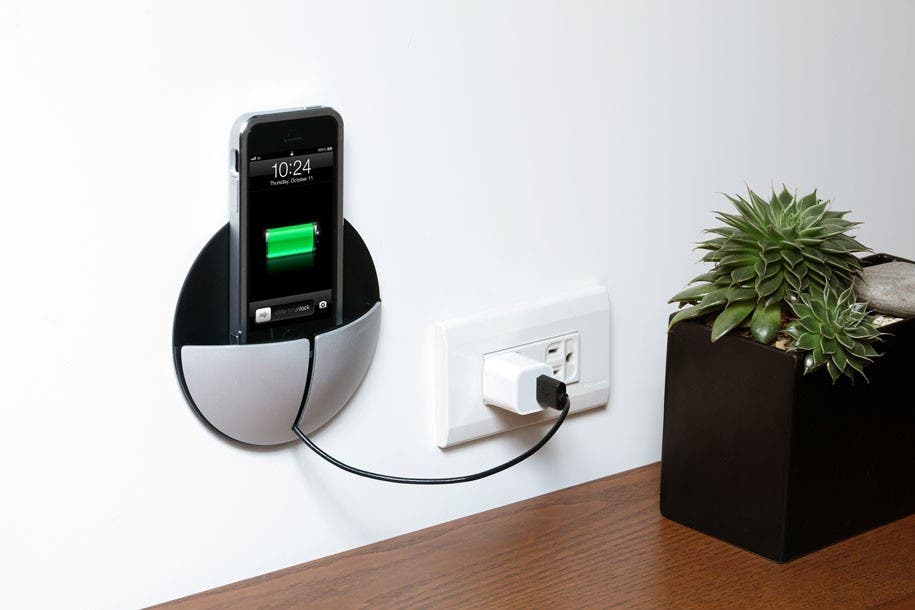 Now if you have a wall next to your iPhone charging station, and who doesn't, perhaps you may have thought: "Gee, I wish I didn't need to use up deskspace for charging my phone." With the AluPocket Just Mobile solves that problem. Mount the AluPocket on the wall and it becomes a nice safe to keep your iPhone out of harm's way and off the desk (or even better, off the kitchen counter). Works with iPhone 4S and 5s. Removable mounting strips make it safe even for attaching to fine wood surfaces.
Conclusion
Although these are all stands, they are really niche products that don't compete, thus the star ratings are pretty high—each does what it does and it does it well. When looking for your own stand, think about the problem you are trying to solve, be it mounting a phone in a car, keeping your desk clear or easily connecting a speaker—that will help you choose the right product for your needs.