By Fred Claus on Tue, 01/17/2012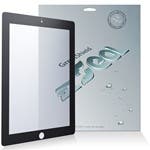 My experience with electronics tells me that when I get a new piece, I need to make sure there is a screen protector on it from day one.  Trouble is, Apple does not sell screen protectors for the iPad at their retail outlets.  That put me on a search for the best screen protector, but my search just brought up more questions. What's the difference between those sold on EBay for 99 cents, and those sold through Wal-Mart for 19.99?  My experience with the lower quality protectors is a lot of bubbles on the main part of the screen.
Searching YouTube for videos on how to get rid of the bubbles, I came across this one from Great Shield claiming to have a 100% guaranteed bubble-free screen protector.  My natural reaction was "Yeah, right!"  Being a curious person (and a reviewer for iphonelife.com, at that), I had to check it out.
From the get-go, my experience with Great Shield was nothing but great. My experience with the salesman through email before I ordered my protector was great. He was very professional and never once made me feel like I was bothering his with dumb questions about his product. My order was placed for the EZseal model of the company's screen protector. It was more expensive, but I was curious to see if it really is 100% bubble free.
Master your iPhone in one minute a day:
Sign up to iPhone Life's Tip of the Day Newsletter and we'll send you a tip each day to save time and get the most out of your iPhone or iPad.
When my order arrived just a few days later, I was eager to get started. Not only is the screen protector secured safely between two pieces of cardboard in the package, but the package it was shipped in was impressive as well. This is definitely a company that will do what it takes to make sure its product arrives safely to the customer.
I've seen on other sites that you should let the screen cool down before you apply the protector, so I did that. When I was ready to go I opened the protector and followed the instructions that came in my package. I cleaned the screen and peeled off the protective backing (which, by the way, is reusable). Lining up the camera and home button holes, I was able to get a perfect fit. Laying the protector down and getting it in place took me all of 2 minutes, tops. Within 3 minutes of starting the process I had my screen protector in place and -- would you look at that! They were right. Not a single bubble for me to press out.
I've been using the screen protector for a couple weeks now and can't say enough good things about it.  The mat finish helps to reduce light glare so I can see the screen outside a bit better, as well as reducing the number of visible fingerprints I see on the screen. When I do get smuges. I just take the lint free cloth that came with the cover and wipe them off. For tough smuges an alcohol pad works with no I'll effects to the cover.
You remember I said the protective backing is reusable? That's because this screen protector is as well. This protector can be removed, washed clean, and reused on the same device or stored with the protective backing for use on another. By far, this is the best screen protector I've seen on the market. The matte finish also helps when you use a stylus. The rubber tip on my styluses kept wearing out due to the unprotected screen gloss and how hard my kids pressed. With the EZSeal screen protector on my iPad, my screen seems even more sensitive, so I don't have to press as hard. The rubber tip of the stylus also slides smoothly across the screen and doesn't wear down as fast.
I think I got the answer to my question about the differences between the cheap screen protectors and the expensive ones -- at least this expensive one. At $49.99 per protector, it's well worth the money. Hassle-free installation, washable, reusable.  What more could you ask for? If you are looking for a screen protector for any of your electronic devices, look first at Great Shield.