By John Painter on Tue, 12/21/2010
This is a great little story for the iPad, I really appreciated the inspiration and the creativity both in the story and the illustration.  Flying Poodles, great idea!   I recently read through this interesting iPad book, Flying Poodles a Christmas Story by Karen Morse of Poodle Dogs Productions ($1.99).  Without giving away too much of the story, Santa's reindeer have come down with a holiday flu, and with Christmas eve approaching it's up to Miss Sally with her amazing poodles to try and save the day.  But what if they pass Ice Cream Grade Road will they have gone too far?  And most importantly, can poodles really fly?  You'll have to buy the app to find out. 
The app works like most iOS readers I've reviewed.  It gives you the feel of a book with left and right virtual pages which flip, the option to read the book on your own or, have it read to you, as well as having background music.  The background music was good, I liked that the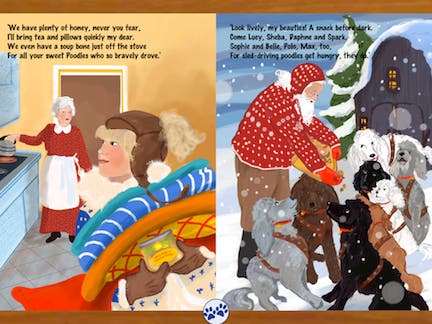 score progressed as the scenes changed, but there was sometimes a pause in the score between reading left and right pages, that did break the flow of the story for me.  However I wouldn't let this hold you back from getting this book, this was not noticed by my son who is 8, this is a fine tuning thing, all the same, I think kids will really like it.
The story behind this story is that it is all built on an app engine developed by Red Bird Studios called Build-A-Book.  Danielle from Red Bird described their business model like this. "Build-A-Book is my pet project and focuses on helping authors release their illustrated and narrated child's  books at very low risk to them.  I license the Build-A-Book software in several ways with the most common begin no up front cost to the author with revenue share when/if the application sells.  Considering the nature of the app store this is an amazing option for individuals and companies not willing to gamble their money with no guarantee of returns."
Master your iPhone in one minute a day:
Sign up to iPhone Life's Tip of the Day Newsletter and we'll send you a tip each day to save time and get the most out of your iPhone or iPad.
I think both the story and, the Build-A-Book concept are well done and raise an interesting question.  Is this the future of publishing?  But if you're not into speculation, you can rest assure that this is a fine app.  Happy holidays!