By John Painter updated on 03/09/2010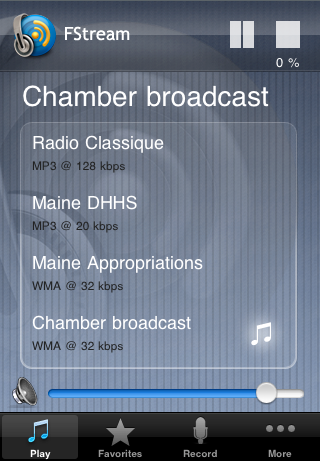 What do you do if you're a person who likes to keep up with news but the source of the broadcasts is Windows Media Player?
This is all too common a situation for people like me who like to follow what is happening in their state Legislature, in my case Maine. Take my situation; working in health care, I like to keep up with what is happing, particularly with Bills being debated in Health and Human Services and Appropriations.  Many states which broadcast their Legislatures use WMP which creates an unintended barrier for iPhone users since the iPhone won't stream .wma or .wmv files.  Or can it?
I want to share with our readers a couple of work arounds, the first described in my colleague Werner's blog. I've been using Streamer (Free) myself because it has video and it is indeed very good, albeit with more bells and whistles than I need. The video is a bit jerkey too.
Master your iPhone in one minute a day:
Sign up to iPhone Life's Tip of the Day Newsletter and we'll send you a tip each day to save time and get the most out of your iPhone or iPad.
The other option is FStream (Free) and can have you up and running those pesky .asx streams. The set up is
 fairlyeasy, though be prepared to do a little digging to get the correct URL, if you have Safari, you'll need to go to View then down to View Source and look for the media player and file.  If you have Firefox you'll be able to right click (press Control then click) on the Media Player, open Properties and you'll see the URL.  
Of course if the web administrators just posted that URL under the player for everyone who doesn't use WMP - that would open up Democracy a bit more.
I would encourage you to do your part and point out to web administrators for state or local governments that their broadcasts would reach more citizens if the URLs for audio and video broadcasts were posted. Now it is entirely possible, there's a simpler way to do all this, if so give
a shout and post your workflow. I love to hear from readers!