By Timothy Prentiss on Fri, 04/16/2010
A guy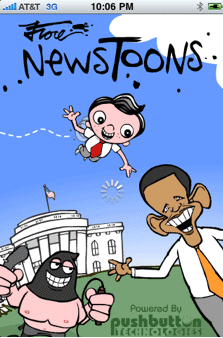 wins a Pulitzer Prize for cartooning, then finds out his iPhone app is turned down by Apple -- because "it contains content that ridicules public figures," according to the email award-winning political cartoonist Mark Fiore received from the Apple iPhone Developer Program last December. The surprising rejection is getting wide play from news outlets such as The Washington Post.
For many years, Fiore has produced hilarious and pointed Flash animations on everything from the war in Iraq to the White House gatecrashers. The cartoonist's syndication site, markfiore.com, demonstrates his quick-hit style, which this blogger has viewed and enjoyed online since the Bush II administration.
The story was first reported by Harvard University's Nieman Journalism Lab, which is understandably concerned about Apple's perceived limitation of basic freedom of speech. The rejection newsletter said that the app was in violation of Section 3.3.14 from the iPhone Developer Program License Agreement which states: "Applications may be rejected if they contain content or materials of any kind (text, graphics, images, photographs, sounds, etc.) that in Apple's reasonable judgement may be found objectionable, for example, materials that may be considered obscene, pornographic, or defamatory."
Master your iPhone in one minute a day:
Sign up to iPhone Life's Tip of the Day Newsletter and we'll send you a tip each day to save time and get the most out of your iPhone or iPad.
Can't we make fun of anybody on an iPhone?
Blogger Rob Pego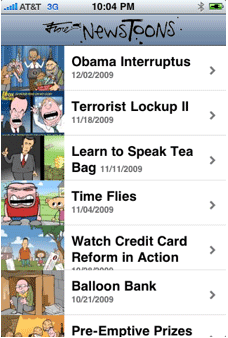 raro of The Washington Post worries (tongue planted firmly in cheek) that the Post's own app may find itself in violation, due to the biting commentary of cartoonist Tom Toles, among other opinionators. So Pegoraro taunts Apple with a politically-incorrect rant of his own:
"Apple once professed to speak for people who "think different" and, presumably, appreciated that right. Now, though, Apple chief executive Steve Jobs apparently thinks it's Apple's job to comfort the comfortable, sparing them the indignity of being mocked in a smartphone application. Since when is that Apple's work? Since when should it be any self-respecting, red-blooded capitalist's job? You have to ask: Why does Steve Jobs hate America?"
Reports indicate that Fiore has been asked to re-submit the app, which may find more favor now that the news is out. He hasn't decided if he wants to or not.
But I have one question of my own: How does he get his Flash animations to play on the iPhone in the first place??