By

Bryan Schmiedeler
Tue, 11/16/2010
Several sources, most importantly the Wall Street Journal, have reported that today's Apple announcement will be that Apple will bring the Beatles catalog to iTunes. If so, it will be bring to an end the longest running Apple "rumor" of the Jobs' era, and may be somewhat of a disappointment to those hoping for something a bit more substantive.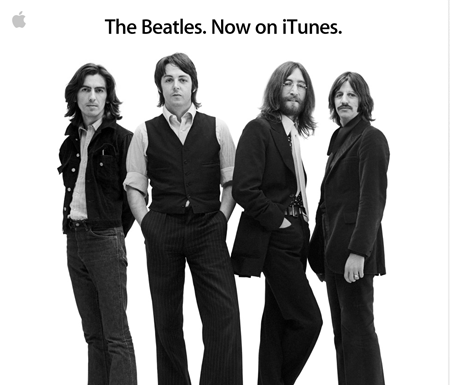 Upon reflection an announcement like this might make more sense.
Apple typically holds special events to announce significant new hardware or software, and there will be no event, just an announcement on their web site (at 10 AM Pacific time). Moving all or part of iTunes to the Cloud would probably necessitate a Jobs keynote - there would be a lot to explain and Apple would want to get the most hype out of it that they could.
Obviously holding a keynote only to announce that the Beatles catalog was coming to iTunes would be overkill and actually counter-productive, as Apple has raised expectations to expect more from keynotes. Something like this could have been a "One More Thing" at a different music related event.
Apple really hyped this announcement - "Tomorrow is a day you will never forget". If it is a content-only addition to iTunes the only content that could conceivably merit such hype (at least in Apple's eyes) would be the Beatles. It is well-known that Steve Jobs is a huge Beatles fan. 
Personally I think if the Wall Street Journal and other sources have it right, then this will be a negative for Apple. How many Beatles fans haven't already ripped their Beatles CDs into iTunes? The demographic that buys the most music from iTunes are young enough to be the Beatles' grandchildren. Are they really going "discover" the Beatles just because Apple added them to iTunes? I wouldn't think so, yet must admit that the Beatles' aging catalog still sells incredibly well and "new" CDs of repackaged material move a lot of units - some have even landed at the top of the charts.
What would be more interesting and possibly merit the hype is if somehow Apple and the surviving Beatles (and the heirs) have something genuinely new to put out - "lost" recording sessions or what not. But after several decades and several "lost" recordings being found you would think that that vein has run dry.
I for one am prepared to be disappointed.