By Doug Goldring on Sun, 11/13/2011
About ten years ago, I bought a new car.  A Volkswagen Passat.  It is a terrific car, which we still have today.  At the time that we purchased it, it was probably the best car on the market.  A few years later, however, a friend asked me how the Passat compared with some of the other cars available at that time.  I told them that while the Passat had been the best car available a few years earlier, that was not necessarily the case anymore.  The problem was not that the Passat had a sudden decline in engineering or quality.  In fact, I would say that the newer model was almost identical to the older one I purchased.   The problem was that while the Passat remained almost exactly the same, many other car companies spent those intervening years continuing to improve, with all new and updated engineering advancements.  So, all of the other car companies just sped right on by, engineering bigger, faster, better cars; far surpassing the Passat which had virtually been in park that entire time. 
Right about now, you are thinking, what the heck does this story about cars have anything to do with Skooba Design and gear bags.  Well, here is the point of this story.  In order to be successful, a company needs to keep innovating and improving upon their products.  No matter how great a product is, if there is no innovation, it will eventually grow stagnant while its competitors just speed right on past.   Which brings me back to Skooba Design and their brand new Skooba Satchel v. 3.
Master your iPhone in one minute a day:
Sign up to iPhone Life's Tip of the Day Newsletter and we'll send you a tip each day to save time and get the most out of your iPhone or iPad.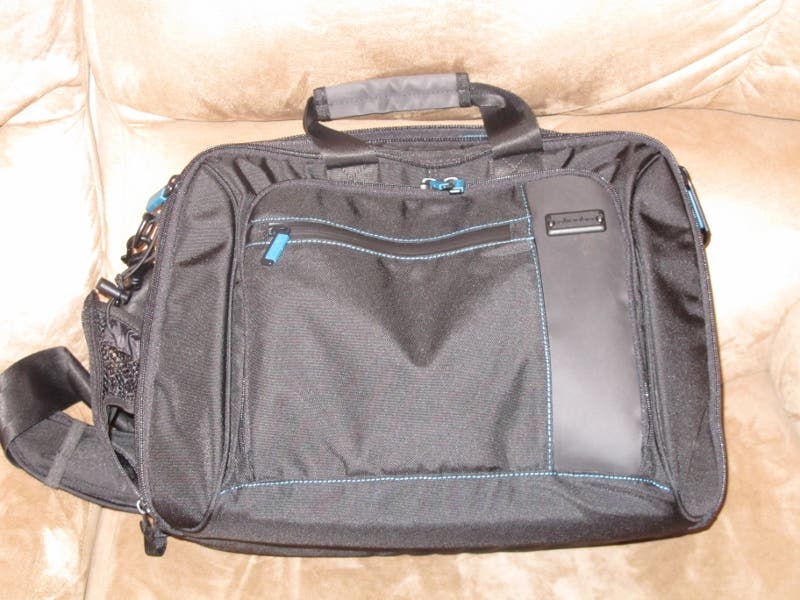 I have been using/reviewing Skooba Design's gear bags for almost as long as I have been using mobile devices.   Their bags have always been among the best in the business.  Yet, just when I think they cannot make a better bag, they find another way to impress me.  Skooba Design is the perfect example of a company which never stands still.  Every bag they make appears to be a prototype for the next one.  Never satisfied to rest on their laurels, they always seem to be planning their next product…and possibly even the one after that at the same time.  Which brings us back to the Skooba Satchel v. 3, their brand new offering, which the folks at Skooba were kind enough to send me to check out for this review.  Stick around, and we will jump right in with a closer look.
The Skooba Satchel actually consists of 20 pockets and compartments strategically arranged throughout the bag, designed to hold everything from the smallest gadget to the largest article, and pretty much everything in between.  The bag itself is made from a water repellent ballistic nylon, meaning all of your gear will be well protected from falls, bumps, and even the occasional rain storm.   At the same time, the bag is also extremely lightweight (weighing in at a mere 43 ounces), meaning that while it is protecting your gear from all attacks, it is also protecting your shoulder from knots and pinches of all kinds.   Of course, if lightweight and durable is not enough for you, Skooba offers a perfect trifecta since this bag is also extremely attractive.  Black with aqua/blue accents and interiors really makes it stand out with a unique statement.
All of that brings us back to those 20 pockets and compartments I mentioned earlier.  Durability, lightweight, and attractive are all well and great, but the most important part of any gear bag is always going to be functionality.  That is where Skooba truly excels.   Let's just go ahead and start from the front and work our way to the back of the bag.  The first pocket we reach is a small slash pocket on the front of the bag.  This is ideal for carrying those small items which you will need to have accessible.  Things like tickets, important papers, or even a phone.  What I really liked here was the gasket seal around the pocket, making it completely water-resistant.   Meaning anything you drop in there will be perfectly protected.
Like most bags, there is a smaller front pocket, obviously on the front of the bag.  This pocket opens wide, revealing eight interior pockets of a variety of sizes and shapes.  This is the perfect spot to put all of the smaller items you need to carry on a regular basis.  I use this space for headphones, my mobile broadband, tissues, and pens.  Though these pockets would also work well for other items like spare sync/charge cables, batteries, and plenty more.  One notable addition here is the small USB thumb drive pocket amongst the pen pockets.  This is a really nice addition, though it did make me wish for a smaller zippered pocket in which to keep memory cards. 
This brings us to the cavernous section in the middle of the bag.  The zipper containing this compartment opens on three sides, allowing it to butterfly open and lay flat.  On one side are two mesh pockets.  The other side has a removable divider panel with two cushioned pockets, ideal for carrying smaller gadgets or accessories.  That divider can be moved to reveal another huge section underneath, or removed completely making one giant section.  Like I said…cavernous.  This main compartment is perfect for carrying books, files, or even clothes for the quick overnight trip. 
Behind the main compartment is a third section, designed to carry your laptop or tablet.  This section contains a new feature, which is exclusive to Skooba bags, the Bumper Bars.  These are padded foam bars which surround and cushion your laptop.  To your laptop, this will feel a lot like floating on air, as any bumps and shocks will be simply absorbed by the Bumper Bars.  This is perfect for a laptop (if you have a larger laptop then you might want to check out the larger version of this bag).  It was not quite as good as it could have been for an iPad.  My iPad was absolutely swimming in this compartment.  Plus, there was nowhere to stash my wireless keyboard, which I take pretty much everywhere with me.  It would be nice if Skooba would simply add two pockets in this section, allowing you to better secure an iPad or tablet and wireless keyboard.
Behind the computer pocket is another small pocket, which is ideally suited for carrying some small files which you may want to access or a magazine for the train ride or flight.
Before we wrap up the review, there are a few other features I would be remiss if I did not mention.  Since we are already on the back of the bag, right there with the magazine pocket is a luggage strap which will secure the bag to your rolling luggage.  The strap will velcro to the body of the bag when not in use, so it will remain safely out of the way when you do not need it.
The right side of the bag has a water bottle mesh pocket.  When not in use, this mesh pocket will zipper into the side of the bag.  What I liked here, though, was the redesign of this pocket from previous iterations.  In the past, this has basically consisted of a flimsy mesh which just pulls out of the side.  While this could work fine, it never felt like it securely held my water bottle.  In this bag, the side of the bag becomes part of the water bottle pocket, with breathable mesh side.  This creates a much stiffer and more secure pocket, perfect for actually holding your water bottle in place.  This may seem like a small point, but it is this attention to detail that makes this one of my favorite bags.
Another complaint about the previous Skooba bags I have reviewed were the handles, which consisted of unadorned straps.  Not very attractive or necessarily comfortable to carry.  In this latest iteration of the Skooba bag, the straps are covered with Hypalon (a synthetic rubber) wraps.  Not only does this make the handles far more attractive, but it also cushions the bag in your hand, making it much more comfortable to carry.
Finally, the Skooba Satchel v.3 comes complete with Skooba's exclusive Superbungee Strap v.3.  Now, I know what you are thinking…it is just a shoulder strap/  And sure, if that is what you want to go with, then just stop reading here.  But if you are like me, and you have suffered from aching shoulder after racing through the airport with an overstuffed bag, then you are going to want to check this out.  The Superbungee straps starts off just like any other adjustable shoulder strap.  What sets it apart from others, however, is the pad which will sit on your shoulder.  It contains four padded cells which distribute the weight more evenly across your shoulder.  Additionally, the bungee coil on top of the pad acts as a shock absorber, further contributing to the easing of stress on your neck and shoulder. 
I know far too many companies which will find something that works, and simply keep resting on that same tired idea, even when it has become abundantly clear that the market has long since passed them by.  The great thing about Skooba is that they have never taken that approach.  Skooba could easily have simply kept on making any one of their extremely nice gear bags.  Instead, they kept pushing and moving forward.  The result is almost exactly the bag I would have designed if I were designing my own gear bag.  This is just a few small pockets short of perfection, and by far the best bag Skooba has designed so far.
The Skooba Satchel v.3 is available from Skooba Design for $169.95.  If you have a larger (over 17 inches) laptop then check out the Skooba Satchel v.3 large which is available for $179.95.  The SuperBungee Strap v.3 is also sold separately and available from Skooba Design for $26.95