By Doug Goldring on Thu, 12/29/2011
A few months ago, I had the opportunity to make a change at work.  After eight years in my current position, I was offered a move to another division, one which comes with some significant upsides.  Well…to be honest, the money is about the same.  As are the hours.  My two hour commute though…well, that won't really change at all either.  Two things will be changing significantly, however.  First, I will be leaving a job which has really allowed me only to develop some specific niche skills.  While I was terrific at it, there were not many places I can take my vast (and mostly useless) knowledge of the Federal Acquisition Regulation.  On the other hand, my new position promises more marketable skills, with the opportunity to learn the kinds of things that virtually every employer needs, such as handling disciplinary actions (well, it is a lot more than that, but that is not important right now).  I am excited about the new job, despite the fact (and this is significant change number 2) I will be dramatically increasing my travel schedule.  To be fair, virtually anything would have been a dramatic increase over the one to two trips I generally took per year at my old job.  Still, changing from that schedule to my expected one or more trips per month can be quite daunting.  
Master your iPhone in one minute a day:
Sign up to iPhone Life's Tip of the Day Newsletter and we'll send you a tip each day to save time and get the most out of your iPhone or iPad.
With that new schedule in mind, I have been spending quite a bit of time evaluating which tools I will need on my semi-regular trips, and how best to secure them on my various plane rides around the country.  Of course, my attention immediately focused on the Cable Stable from Skooba Design, which has been my staple gear bag for quite some time.  Sadly, as I noted when I recently reviewed the Cable Stable Mini, that original case has become a bit dated and is now a little worse the wear.  So, of course, when it came time to upgrade, I immediately turned to the Cable Stable's successor, Skooba Design's Cable Stable DLX.  My friends at Skooba Design were kind enough to send me a sample for review, and I have to say I cannot imagine a better option for carrying all my gear and accessories through one airport after another.  Let's take a closer look and see how it works.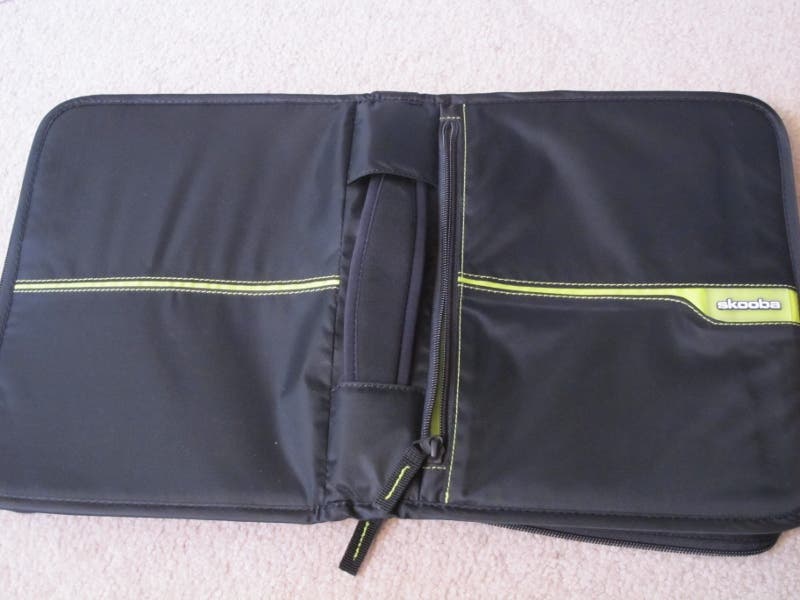 From the outside, the Cable Stable DLX looks exactly like a larger version of the Cable Stable Mini.  It features the same black nylon exterior, with elegant lime green accents.  On the front is a large, zipper pocket, which seems perfect for all of your important tickets, passports, and other travel documents.  The spine also features a comfortable neoprene handle, which convenientlyfolds out of the way when not in use.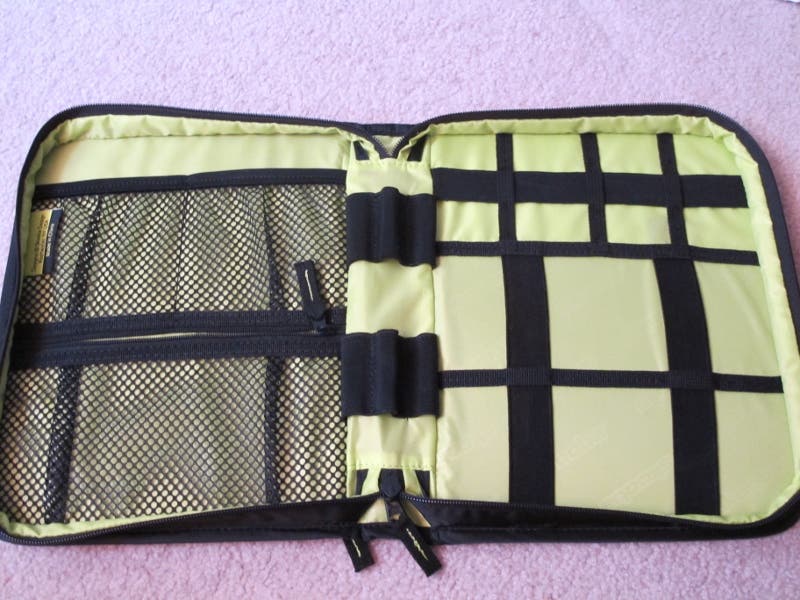 Inside, we find the same lime green color, in the background, covered with cornucopia of pockets, compartments, and straps, all standing at the ready to secure your cables, batteries, memory, and other accessories.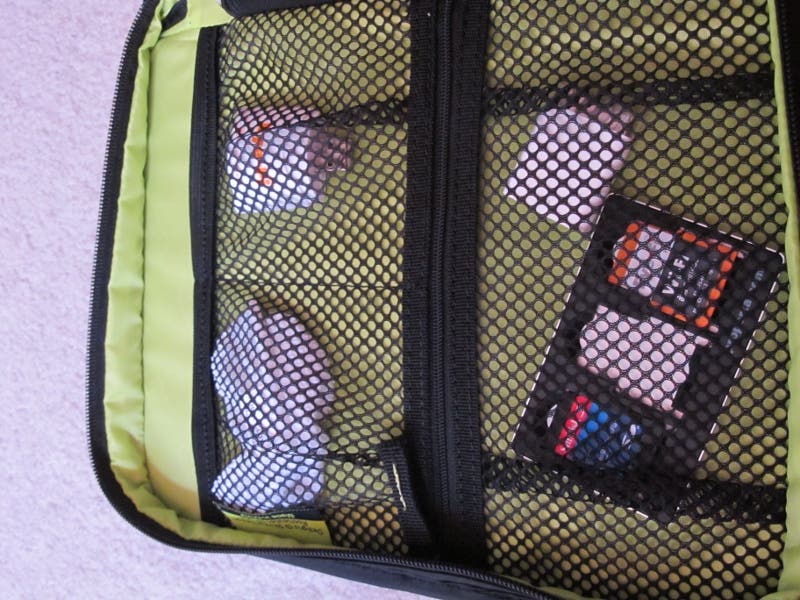 On the left hand side of the case, we find a three elastic mesh pockets.  The top two are left open, allowing you to secure larger items.  Meanwhile, a single large pocket stretches across the lower half of the case, secured by a zipper.  This allows you to hold smaller items like batteries and memory cards.  I did wish for some smaller pockets for better securing smaller items like fragile memory cards or thumb drives.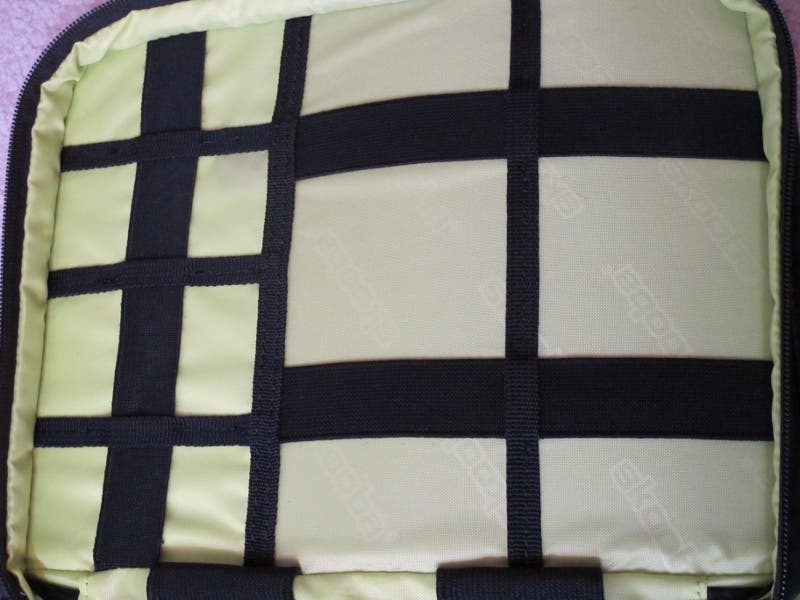 The right side features the completely flexible floating grid.  I raved about this feature with the original Cable Stable, and again with the Cable Stable Mini.  If you are just joining us, this is a series of elastic straps, loosely divided into sections.  What makes this setup great, however, is that the straps glide from one section to the next, allowing you to stretch the strap in order to hold anything you need from a cable to a memory card, or even a second oversized battery.  My only complaint here is that the straps are a bit more divided than previous iterations, leaving you with no space large enough for larger accessories, such as a portable hard drive (the original Cable Stable held my external hard drives perfectly).  
Along the inside of the spine there is a series of straps which are perfect for pens or styli.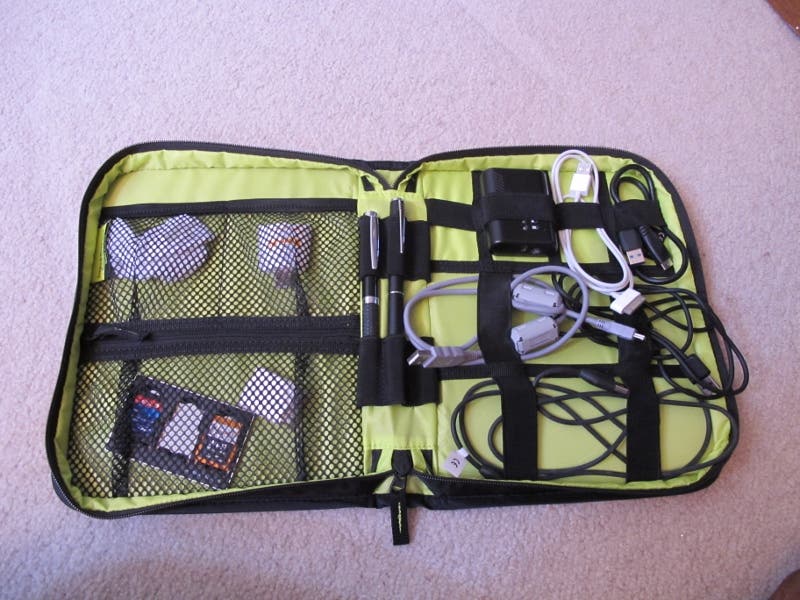 I have been a fan of the Cable Stable for years, and the Cable Stable DLX is an amazing addition to the Cable Stable family.  It features everything I loved in the original Cable Stable, in a tight, attractive package.  I was able to squeeze almost every accessory and cable I would need to charge, sync, and connect my devices while on the road (note to Skooba, a larger space for external hard drive would be appreciated) .  More importantly, the Cable Stable kept it all neat and organized for easy access, no matter when or where I needed anything,.  I have used quite a few different gear cases for my mobile devices, but none have come close to the design and convenience of the Cable Stable family of cases.
The Cable Stable DXL is available from Skooba Design for $39.95