By Doug Goldring on Fri, 07/15/2011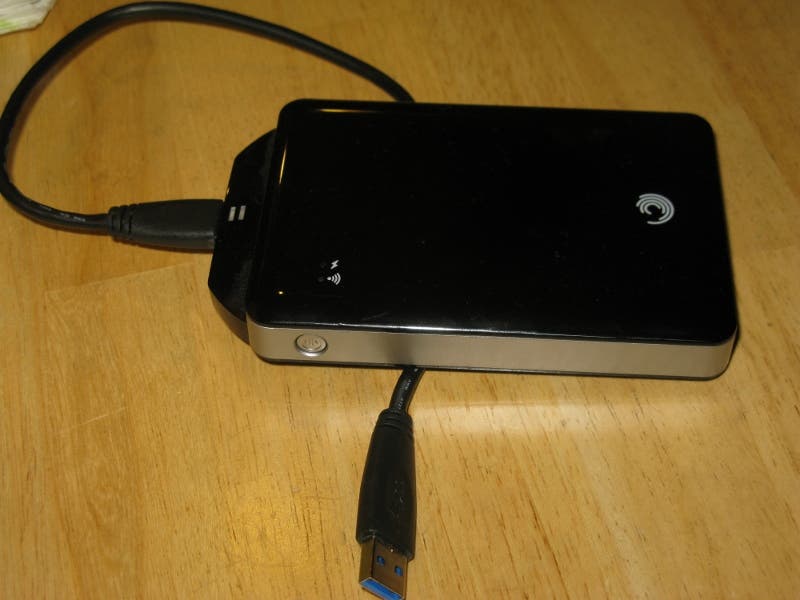 One of my biggest complaints about the iPad has to be the storage on the device.  My original iPad 1 is limited to only 32 GB of storage.  While that may sound like a lot, it can go pretty quickly once you start adding apps, data, photos, videos, and all the other good stuff you are going to want to slap in there.  Before you know it, that 32 GB of storage will be shrinking to almost zero.  What we need is a way to tear out that 32 GB of storage and replace it with an unlimited (or nearly so) storage space.  This is where Seagate steps in and takes over with the latest edition to their GoFlex family, the Satellite mobile storage system.  On the outside, this looks and acts just like any other 500 GB GoFlex drive.  On the inside, however, it connects wirelessly with virtually any device, streaming your content to up to three connected devices at once.  This is even better than adding a new storage space to your iPad.  The GoFlex Satellite allows you to add 500 GBs of storage to multiple devices, all at the same time.
Master your iPhone in one minute a day:
Sign up to iPhone Life's Tip of the Day Newsletter and we'll send you a tip each day to save time and get the most out of your iPhone or iPad.
Typically, we start off these reviews with a quick look around the device.  This is a hard drive, so for the most part it looks a lot like a black box.  It is a bit fatter than some of the other drives in the GoFlex family, but not so much that the size or weight impaired mobility.  I found it slid into my briefcase or even my pocket with ease so that my important data was always with me.
There are two ways to connect this drive to your computer.  First, you can utilize the GoFlex cables.  The Satellite drive uses the same flexible cabling system as the rest of the GoFlex family, which means any GoFlex cables will work with this one.  It also means that it can connect to your computer, no matter what your preferred connection type may be.  Included in the box is a USB 3.0 (which is backward compatible with USB 2.0 devices).  You can also purchase a Firewire or eSata cable if you prefer to go that route.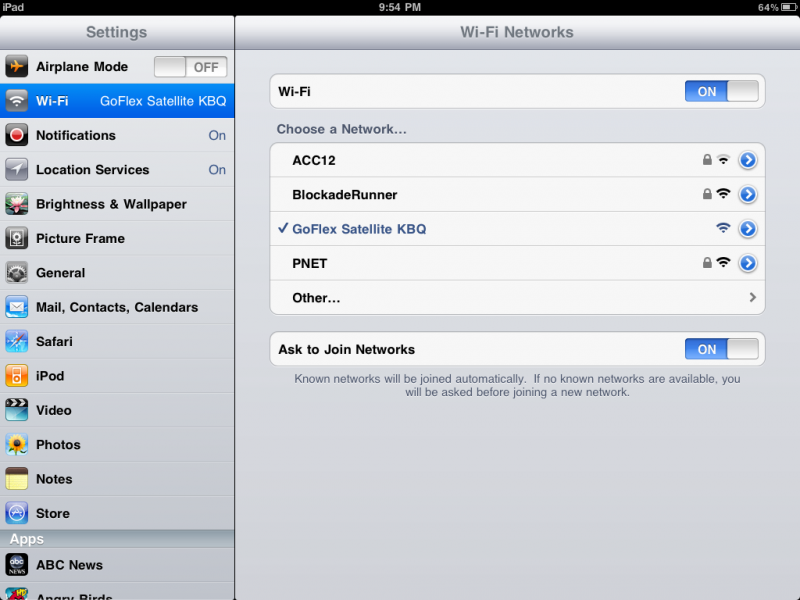 What makes this drive special, though, is its ability to connect to any device wirelessly.  Since most mobile devices do not have the ability to accept these kinds of wired connections, a wireless connection is the only way to access the data on this drive from your phone or iOS device.  Until now, no such device existed. 
To connect the Satellite, all you need to do is power on the device to activate the wireless signal (Wifi).  Then, on your device head into the wireless settings and connect to the Seagate wireless network which the device creates.  While this was simple enough, I have to admit that I found it to be insanely frustrating.  There really should have been a simple way to connect the device to your existing wireless network and allow its contents to be seen by other connected devices.  this system of creating its own wireless network means that you cannot connect to the Internet while using the Seagate drive.  Frustrating…but not a deal breaker (especially since it is relatively easy to add extra security to protect your data).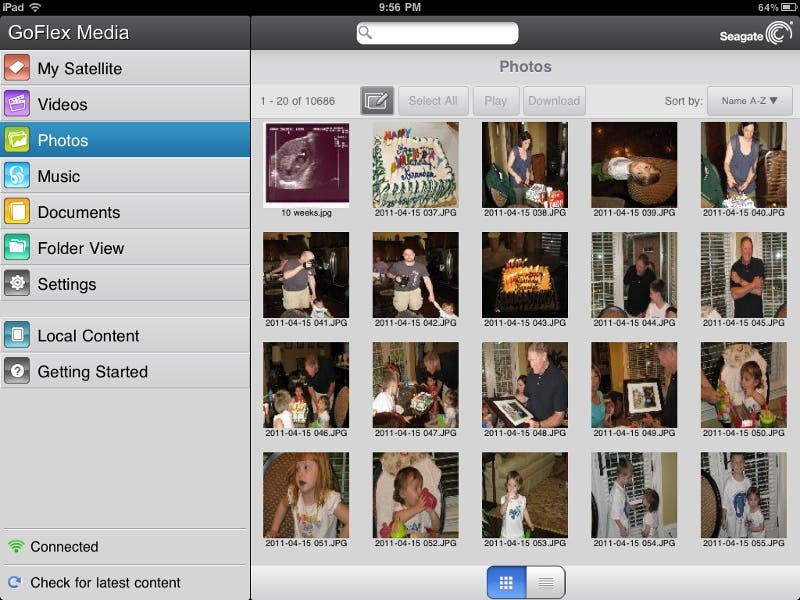 Once connected, you can access your data via the free GoFlex Media app on iOS or via any web browser on a connected device.  Just type Goflex in your browser to detect the device's content.  Both interfaces are relatively similar, so we can discuss them together.  They both allow you to view Videos, Photos, Music, or Documents.  You will also find a Folder View if you prefer, as well as a Settings screen which allows you to rename the wireless network and turn on the password., among other things.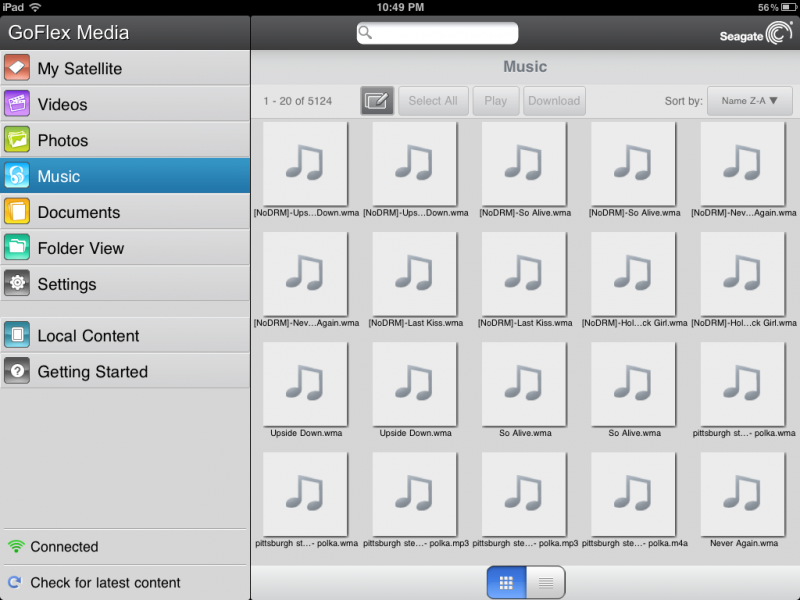 While I found this interface to be easy to navigate, with large buttons down the left hand side, I have to say that I was disappointed by the functionality of the interface.  To illustrate this, let's take a look at the music folder.  I have over 5000 songs on this device.  Yet the app will only show 60 on a page.  While the web based interface (below)  does give you a means of navigating between pages, the iOS app (above) does not.  Meaning you cannot see beyond the first page of 60 songs.  Additionally, you will notice that the songs are organized alphabetically.  The app does not maintain the folder structure or metadata, meaning that the only information you can see about a song is the file name.  No titles, artists, genres, albums, or even album art.  Really, this is no way to treat good music.  In order to be functional, the app must be able to better recognize metadata, and sort by song title, album, artists, etc… Incidentally, the exact same problem occurred with other folders.  Pictures, documents, videos, none of them had any information about the files or folder structure.  The result is really just a mess to try to sort through, and really became very frustrating to try to find anything.  This created a real dichotomy.  The drive is designed to hold thousands (or more) of songs, videos, files, and photos; while the app is designed to display only a small amount of data.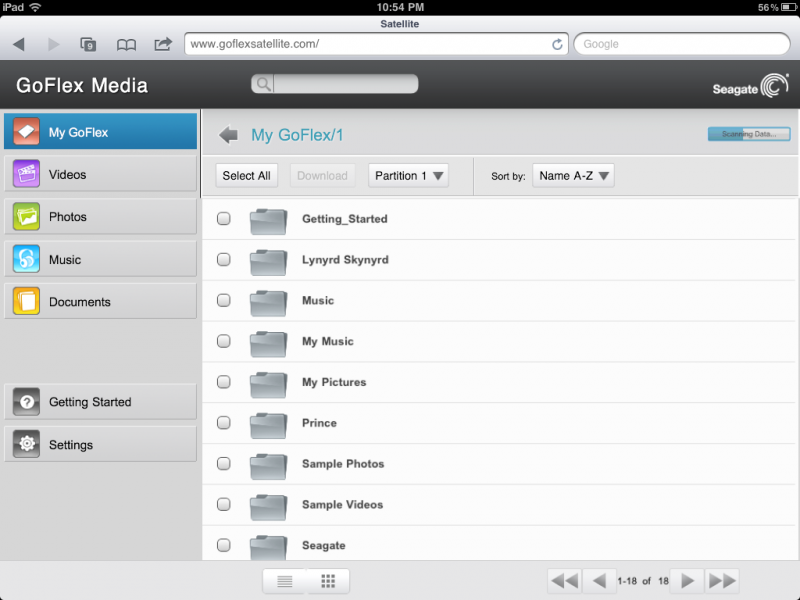 Despite these drawbacks in the interface, I still found this to be an absolutely indispensible accessory for any iPad or smartphone user.  The instant access to 500 GB of music, photos, videos, and plenty of other content is absolutely spectacular.   The potential of this wireless drive, however, is hindered by the mobile interface, which makes it extremely difficult, if not impossible, to access your data.    This really has the potential to become a "must have" accessory for every iPad owner. Hopefully, Seagate will continue to refine the interface, and allow the GoFlex Satellite to become truly indispensible.
Pros:
-- 500GB of storage
-- completely portable
-- flexible connection
-- wireless connection
Cons:
-- creates it own wireless network
-- must disconnect from other Wifi networks to connect
-- terrible wireless interface
The GoFlex Satellite is available from Seagate for $200, and contains 500 GB of storage.