By Doug Goldring on Thu, 02/24/2011
As much as I love my iPad, I have always had one big complaint about it, the lack of storage.  The largest capacity iPad available weighs in at a mere 64 GB.  While that may sound like a lot, try loading a significant music library, and maybe a handful of videos on there.  That storage capacity will get eaten up pretty quickly.  Unfortunately, the iPad does not offer the opportunity for external storage for your files.   Fortunately, the Internet has evolved and adapted to account for this deficiency.  As technology has become more mobile, the ability to store your information online, in order to access anytime from any computer has become increasingly prevalent.  Today, we will be looking at one such avenue, SpiderOak.
Master your iPhone in one minute a day:
Sign up to iPhone Life's Tip of the Day Newsletter and we'll send you a tip each day to save time and get the most out of your iPhone or iPad.
SpiderOak is an online backup solution, which allows you to store your documents, music, video, photos, and even your computer desktop in a secure Internet storage space.  I found backing up data to be effective and flexible.  You can choose to backup by the large categories mentioned above, or use the Advanced settings to back up specific files or folders.  This all worked well, and that is as far as we are going to get into the service itself.  We are here to talk about the iPad app, which gives you access to the files you already uploaded.  So, for our purposes, it is enough to simply say that uploading files worked extremely well…and more.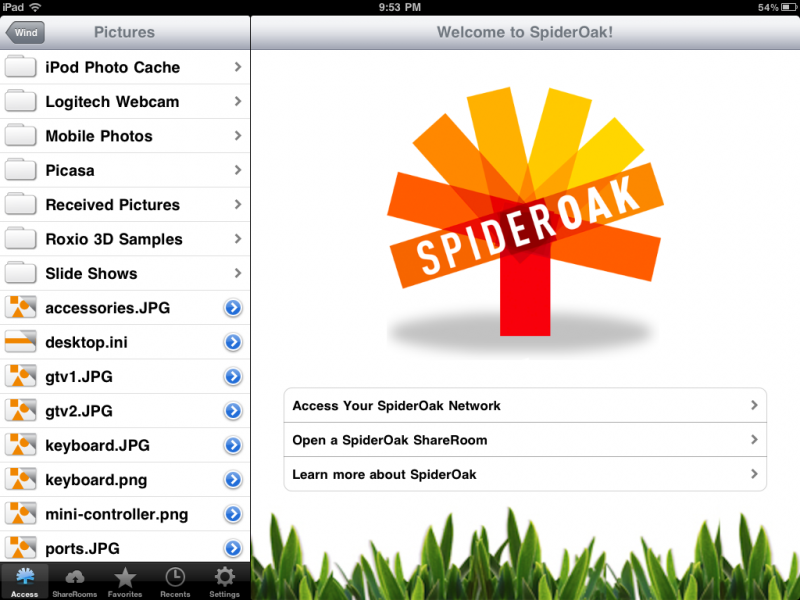 Once you have synced your data onto SpiderOak's servers, just log in from the iPad app in order to access all of your data.  One thing I really liked about SpiderOak was that you can sync multiple computers to the same online account.  When you log in from your iPad, you will see a separate entry for each computer.  Just select the computer you want to access and all of your data will be displayed.  The nice thing is that your data will be organized utilizing its original file structure and organization.  As such, your files should be easy to locate and access.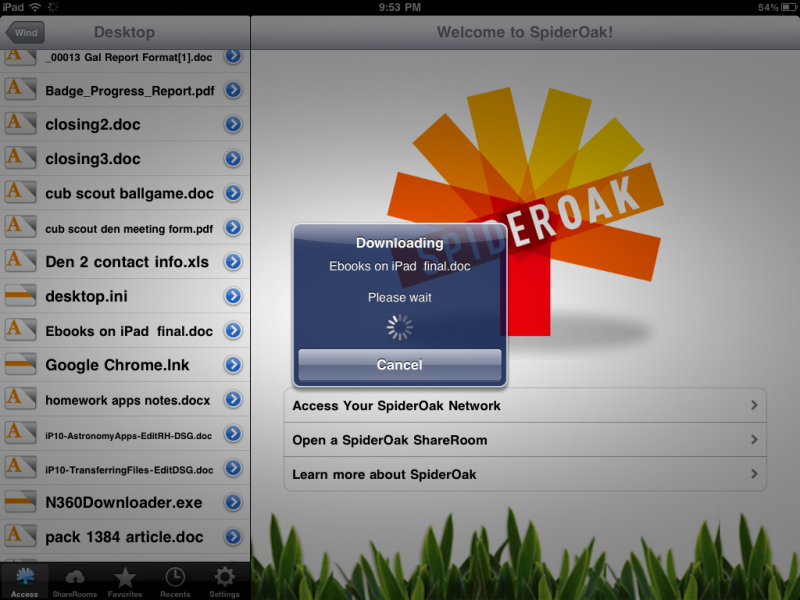 Unlike other online backup/sync options, SpiderOak does not allow you to view files online.  Instead, when you access a document or photo, it will be downloaded to your device and opened locally.  The problem I had here was that there was really no indication as to where these files were being stored or how to access them later (or remove them).  I did not like potentially fouling up the memory on my iPad every time I wanted to view a photo I had stored online.  The reason most of this data was stored online in the first place was that I did not have room for all of it on my device.  So, downloading everything I wanted to view was a bit cumbersome.  Once a file is downloaded, however, you can open it in any appropriate app on your device, or print it directly from SpiderOak using AirPrint.  There is, however, no way to share or email the files.
The other thing I found with this online storage was that although you can sync movies and video, there is no way to stream them online, or even to download and view/listen to them on the iPad.  Again, this is a critical omission for me.  Memory is a real premium, and I look to online storage as a means of accessing all of the things which I do not have space for on my device. 
The inability to view or stream documents and media online is a real hindrance for this one.  Hopefully, SpderOak will continue to develop this app and add the ability to view documents online and stream media directly from the online storage space to your iPad.  This would truly make SpiderOak an extension of the limited storage available on the iPad.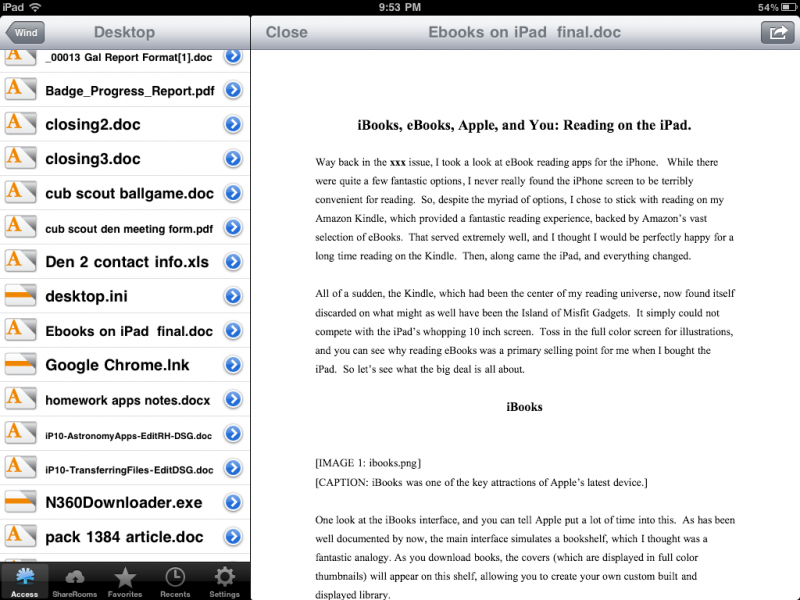 Nonetheless, SpiderOak did do a fantastic job of storing your files and allowing you to access your documents and photos from any location.
 I was also extremely impressed by SpiderOak's sharing capabilities.  SpiderOak allows you to create sharing rooms, each of which you assign a personal key.  You can invite anyone (whether they are SpiderOak users or not to view your sharing room, which can only be accessed with a link you provide.  This felt extremely safe and secure…at least as much as online storage and sharing can be.  
Speaking of sharing, one of the most important aspects of an app like this is security.  If you are like me, in today's day and age, then you are not putting much of anything in any kind of online storage without some assurances that it is secure.   I went straight to the source, and this is what SpiderOak has to say about the privacy of your data:
Your SpiderOak data is readable to you alone. Most online storage systems only encrypt your data during transmission, meaning anyone with physical access to the servers your data is stored on (such as the company's staff) could have access to it. Or, even if your data is encrypted during storage, your password (or set of encryption keys) is often stored along with your data, thus making its easily decoded by anyone with local access to those servers.

With SpiderOak, you create your password on your own computer -- not on a web form received by SpiderOak servers. Once created, a strong key derivation function is used to generate encryption keys using that password, and no trace of your original password is ever uploaded to SpiderOak with your stored data.

SpiderOak's encryption is comprehensive -- even with physical access to the storage servers, SpiderOak staff cannot know even the names of your files and folders. On the server side, all that SpiderOak staff can see, are sequentially numbered containers of encrypted data.

This means that you alone have responsibility for remembering your password or 'Password Hint' (which you can create to help you remember) allowing SpiderOak to create a true 'zero-knowledge environment' – keeping your data as safe and secure as it can possibly be.
For you technical types, this is all accomplished by using a combination of 2048 byte RSA and 256 bit AES.  Even your keys are stored in 256 but AES, not plain text.   This means you are all but completely protected against brute force attacks.
I have to say, I was much more impressed by SpiderOak than I expected.  The security is phenomenal, and I absolutely loved the Sharing Rooms, which really set it apart from other services.  The only thing standing between me, this app, and an unqualified recommendation, is the inability to view documents online and stream media directly from your online storage.  Add that, and this will be the best online storage/sync/backup solution available in the App Store today.
The SpiderOak app is free for the iPad.   you can sign up and get started right away with a 2GB free account.  If you need more storage, upgrade to the 100 GB account for $100/year.