By Doug Goldring on Thu, 11/11/2010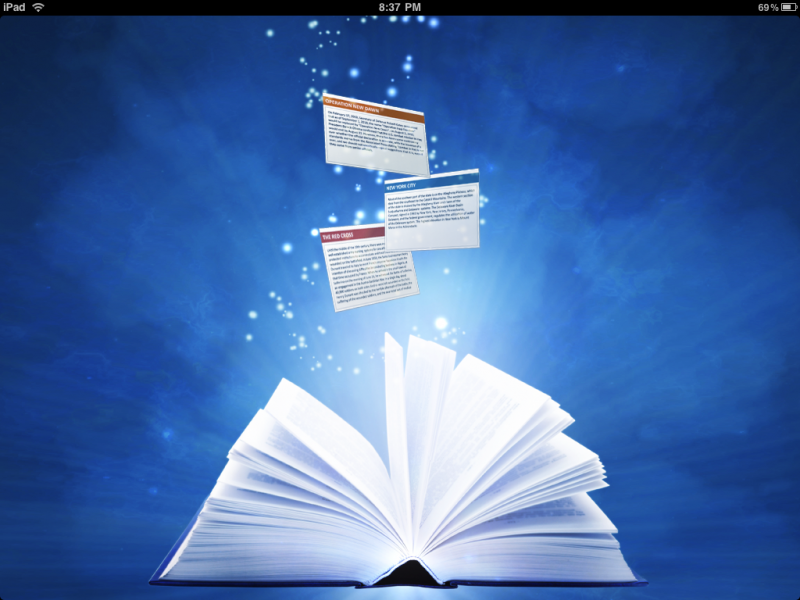 I have been writing, in one form or another, since I was in seventh grade.  In that time, I have been convinced that there has always been a best selling novel inside me, just waiting to be discovered.  Sadly, after numerous false starts, it has yet to be found.  Which is where Manuscript can help.  No, this app will not write the book for you…but it will do pretty much everything else as you progress through the creative process.
Master your iPhone in one minute a day:
Sign up to iPhone Life's Tip of the Day Newsletter and we'll send you a tip each day to save time and get the most out of your iPhone or iPad.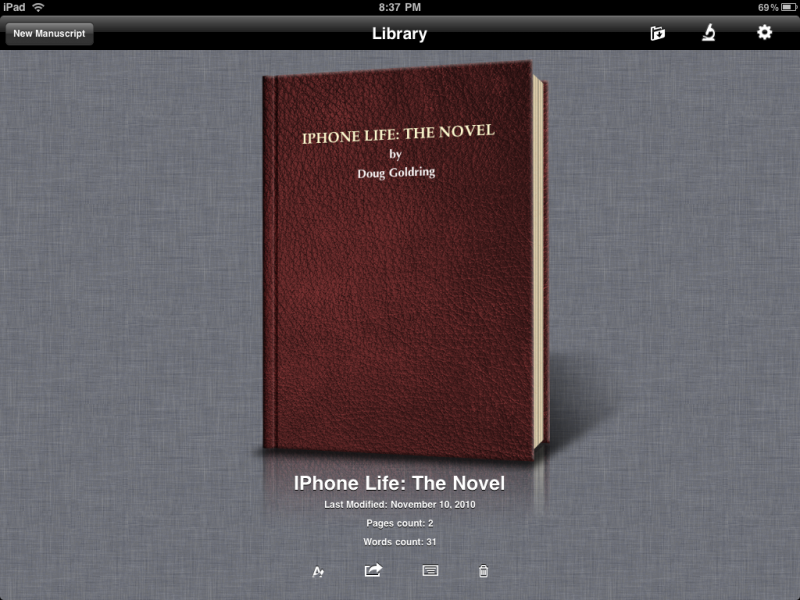 The first thing you will need is an idea.  That is not actually part of the app…but it certainly does help.  Once you have your idea, we are going to give it a nice (virtual) leather-bound packaging.   All you need to do is select the color of the cover, and give your new book a name.   If you are working on more than one project at a time, you can just swipe to switch from one  to the other.  Though I did think it would have been nice to be able to view thumbnails of all of your projects at once. 
Once you have created your book, it is time to start filling it.  This is where your creativity comes into play. 
You will probably want to start with the pitch view.  This is a short description (probably just a few sentences) describing your book.  This is the mission statement for your book.  Keep the pitch in mind and the rest will follow.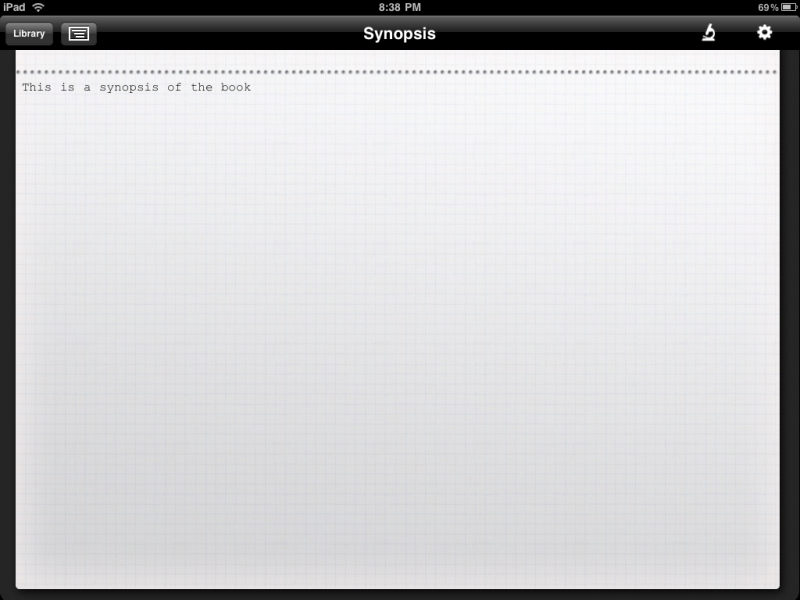 Once you have the pitch, flesh it out with the synopsis.  This is a short (maybe a couple of pages) tour through the action in your book.  While it is longer than the pitch, it will still not really get into the details of your book.   The pitch and synopsis screens resemble a perforated pad.  As such, I thought you might be able to tear off a sheet and toss it after any false starts.  Anyone who writes knows that just as many words end up in the trash as on the paper (or screen).  Manuscript does not give you any way to do this.  I would love the ability to tear off the sheet and toss a crumbled ball of paper off the screen.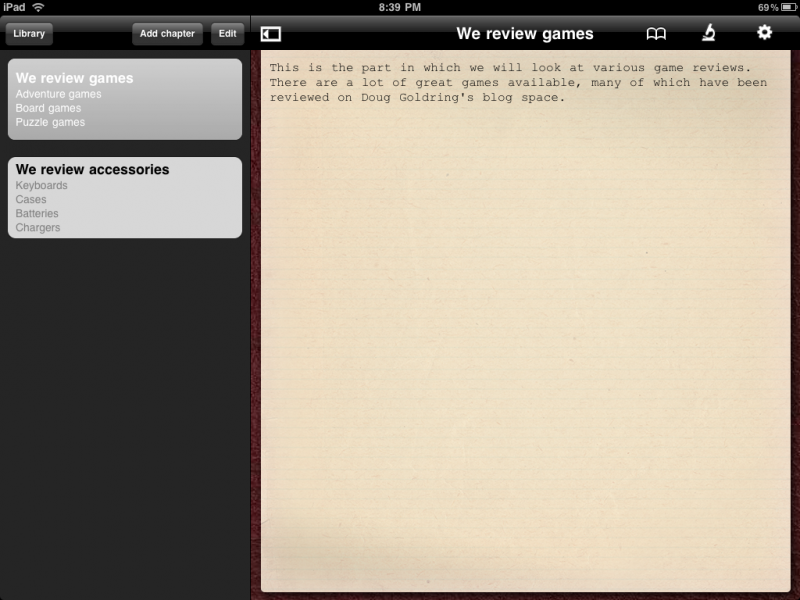 Once you have finished your pitch and synopsis, you are ready to get started with a chapter outline.  Give your chapter a name and draft a quick outline.  This step essentially serves as a brainstorming stage.  When you have finished, you will end up with an outline of your book, organized by chapters.  Just tap the chapter in order to open it up and start adding content.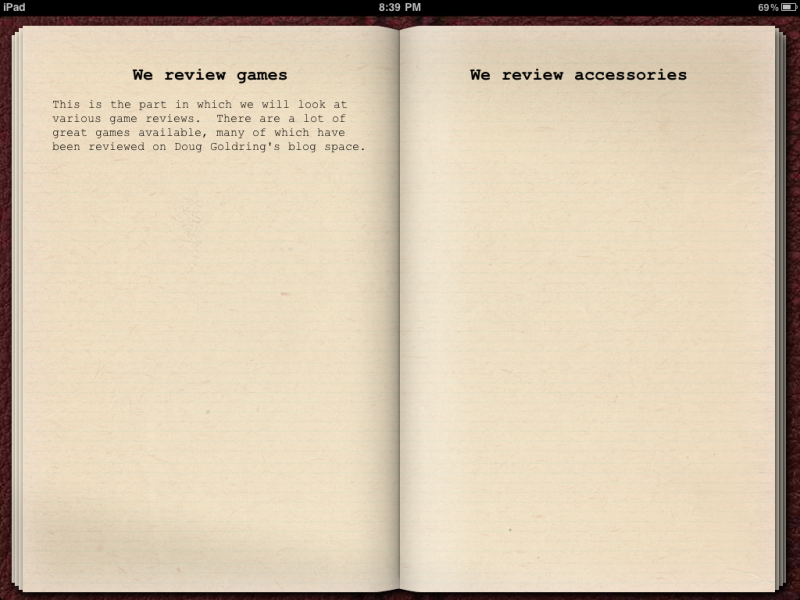 You can even switch over to book mode to see how the finished product will look on the page.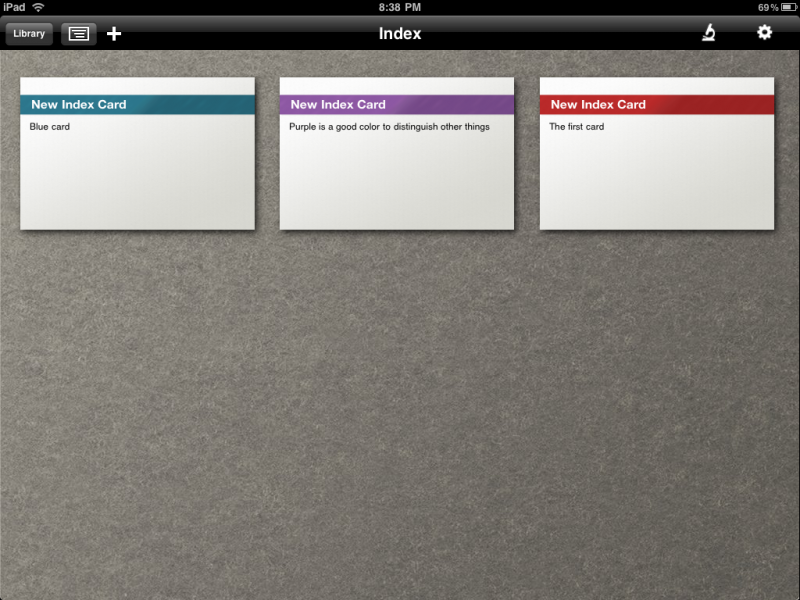 The chapter outline is not the only organizational tool you have at your disposal, however.  My favorite tool in the app was the index card view, which allows you to flesh out the characters, dialogue, action, or just anout any other element using storyboard cards.  You can create (and color code) index cards in order to help guide you through the action in your book.  The best part is that you can drag and drop the cards, allowing you to update things as you rewrite the action in the book.
The writer in me absolutely loved this app.  I have been known to tear through notebooks, drafting and redrafting outlines or reconfiguring plot points.  With this app, I can do all of that in one place, quickly and easily.  Of course, the best part is that I can read all of my now legible notes and thoughts, which does help quite a bit.  In the end, the result is a polished novel, ready for publication.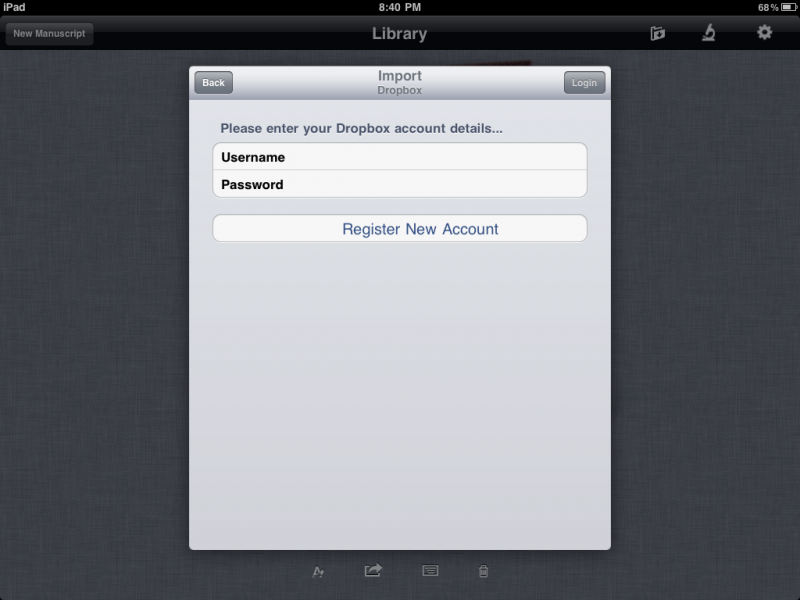 Not only that, but the app offers numerous features which my paper and pen notebook could never have contemplated, including Dropbox sync support (but not any other services) , as well as the ability to access numerous web tools (Google, Wikipedia, dictionary, or thesaurus) without leaving the app, and even exporting your books to printable files.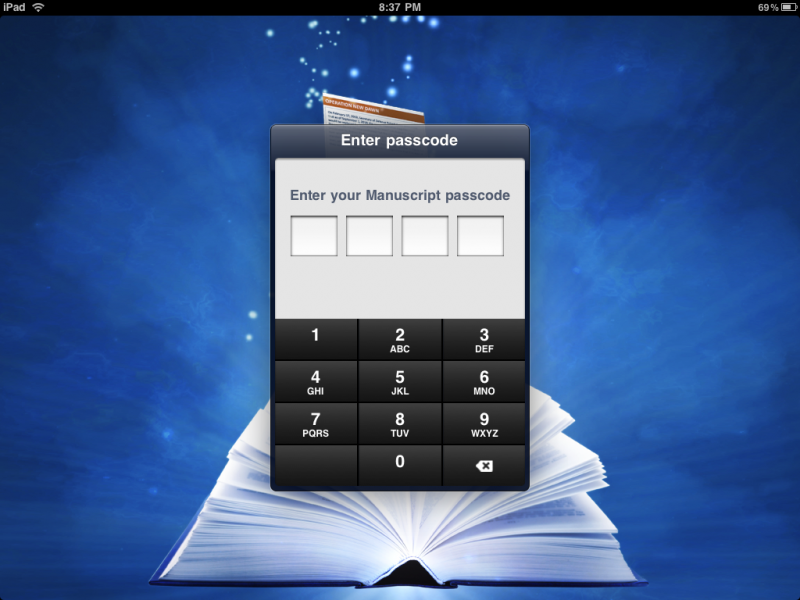 Finally, as most writers know, you never want someone snooping through your unfinished works, potentially stealing your ideas.  For that reason, the developers recently added a password protection option.  When activated, users will not be able to access the app at all without entering the pin.  This is fantastic, but it would have been nice to be able to individually protect different works within the app.  That would allow you to grant access to others to some of your works, without opening the entire vault, so to speak.
Whether you are writing your first novel, or your last, or even a short story, screenplay, article, or poem, this is the best app I have found to assist with the creative process.  Although I did not really get writers' block while working on this review, I do find myself getting stuck while writing with increasing regularity.  The tools offered by this app are exactly what you would need to help coax your brain to start moving in the right  (or write) direction again.
Manuscript is available for iPad $9.99, or the iPhone/iPod Touch for $3.99 from Black Mana Studios