By Doug Goldring on Mon, 06/13/2011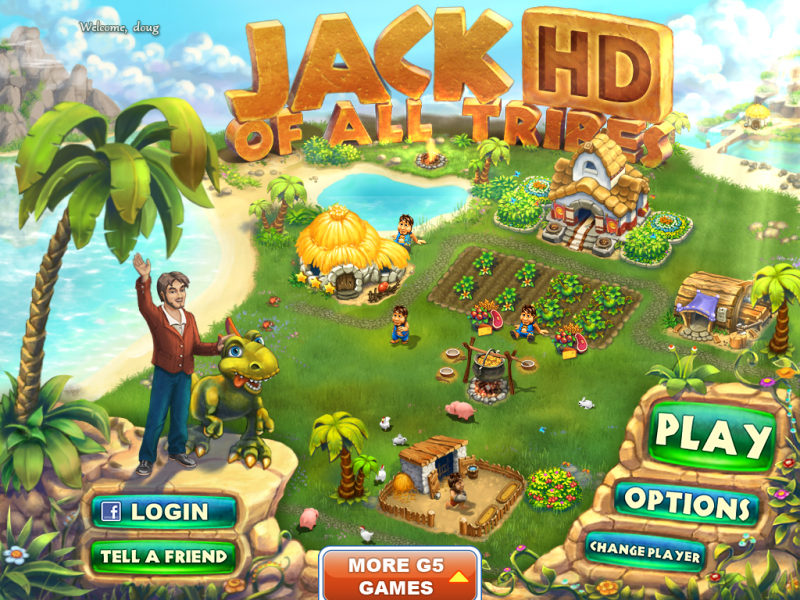 I have always been a fan of G5 Entertainment.  They make some of the best puzzle games I have played on the iPad, so I was pretty excited to learn that they were about to release an all new game, Jack of all Trades.  This one promised to be a bit different than many of G5's previous offerings.  In this one, you play Jack, who is about to go on the ride of his life when an amusement park ride takes him over a waterfall into a prehistoric land.  In this "Land of the Lost", you are fortunate enough to have a guide in your newfound friend, Rainbow.  She will help you understand the relationships between the various tribes you will meet here, and explain the various tasks you must perform.
Game play reminded me a bit of My Kingdom for the Princess, in that you control an entire community who must race through the villages completing various assigned tasks.  You must collect gold, food, and wood, in order to build cottages and other structures.  Icons on the bottom of the screen will tell you what needs to be done in order to complete the level.  Additionally, completing certain numbers of tasks and achievements along the way will earn you trophies.
Master your iPhone in one minute a day:
Sign up to iPhone Life's Tip of the Day Newsletter and we'll send you a tip each day to save time and get the most out of your iPhone or iPad.
This had the potential to be an extremely engaging and exciting game.  Unfortunately, I did not quite feel it lived up to that potential.  The backstory was weak and really never became an integral part of the game.  As a result, the levels never really seemed to fit together to create a cohesive story or purpose.  It all just felt like a series of relatively unrelated episodes strung together to create a game.  Without a stronger purpose or goal, many of the tasks in the game took on a pointless quality.
The other problem I had here was the time of gameplay.  For $6.99 ($4.99 for the iPhone version) the game should last for at least several days, and hopefully have some kind of replayability factor.  This game really did not do well in these departments.  As you can see from the main map, above, there are plenty of levels; and I took my time playing this game.  Even still, I finished the game within 24 hours.  This was a real disappointment.  I just wanted more out of the game.  The levels were extremely short, and moved quite quickly.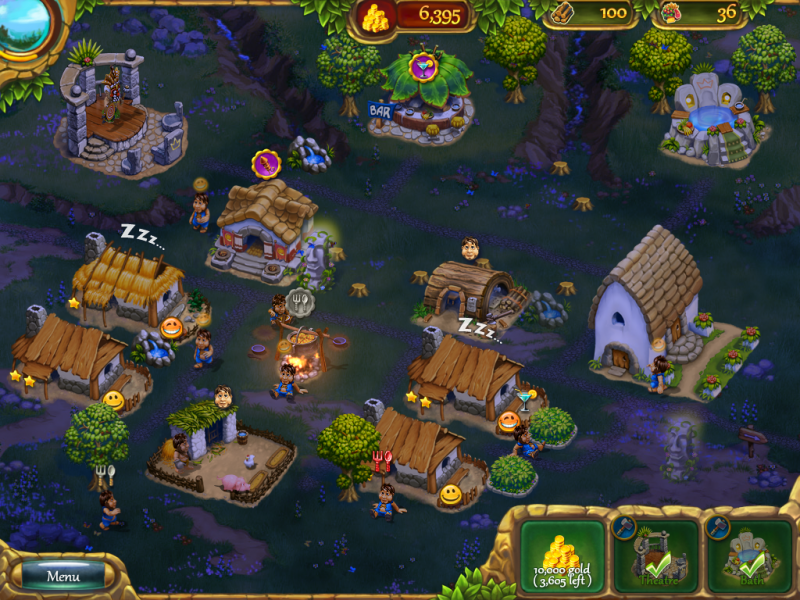 The real problem, though,  was that there is no way to fail a level.  While there is a goal of completing the level before dusk, there is no penalty (other than losing a bonus) for not doing so.   As such, it is impossible to fail a level or fail to move on to the next level.  The game would have been considerably more challenging and lasted much longer if there had been a firm timeframe in which to finish a level, and move on to the next.  Along with that, there is really no replayability factor.  It would be nice if there were more achievements and sub-goals along the way to earn, which would give you more of a reason to go back to earlier levels and replay them again and again.  With no clear storyline or unearned achievements, there is really no reason to do so.
In the end, I really had mixed feelings about this game, as you can probably tell.  The gameplay was engaging, and the graphics and animation were extremely well done.  The lack of a clear story or purpose, however, was a real glaring omission which left a hole in the center of the game.  I think the game could be rewritten without significantly changing the gameplay on any levels simply by adding more and cut scenes to tell you more than simply what to do, but also why you are doing it and how your activities tie into the ultimate purpose of the game.
Jack of all Tribes is available in the iOS App Store from G5 Games for $6.99 on iPad and $4.99 on iPhone and iPod Touch.