By Doug Goldring on Thu, 10/21/2010
Stop me if you have heard this one before.  You are driving in the car or taking a shower, or just about anywhere else where you typically sing along to music.  Your favorite song comes on the radio and you start singing along…badly, of course.  Somewhere around the third verse, you lose track of the words and just starting mumbling or whistling along.  Worse yet, you sing something along the lines of what you wish the words might have been.  The whole time, you keep thinking to yourself, oh if only I knew the words to this one.  Now, with the iPad…there is (finally) an app for that.
Master your iPhone in one minute a day:
Sign up to iPhone Life's Tip of the Day Newsletter and we'll send you a tip each day to save time and get the most out of your iPhone or iPad.
Instant Lyrics does what every one of us wishes we could do.  It instantly finds the lyrics (hence the name...) to any song.  All you need to do is start playing the music on your iPad.  You can select a song from your iTunes library from within the app or using the iTunes app on your device.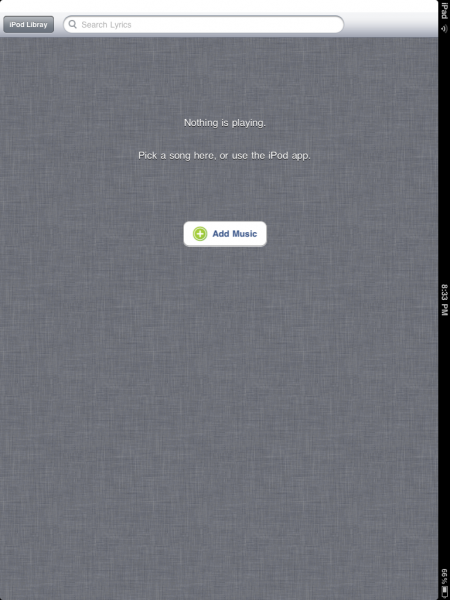 With the music playing, just open the app and wait for it to conduct its search.  The app will search from one end of the Internet to the other until it finds the lyrics to the song you are playing. 
I have to admit that I was a bit skeptical on this one.  I mean, sure it might be able to find lyrics for popular songs, but what about the more obscure bands that we all have in our libraries.  I could not imagine those working with this app as well.  Right??? Right???
I started with a popular song to see how well the process would work.  So, I queued up some Norah Jones, and hit the magic button.  about five seconds later, I was staring at the web site www.songlyrics.com, reading the lyrics to the song, "Even Though."  Not too shabby.  So, let's go ahead and dig a little deeper.  So, I queued up Tristan Prettyman, a good singer, who is just not quite as well known.   Maybe this would stump the app…or not.  It took the exact same five seconds for me to find myself at www.sing365.com, looking at the lyrics to "Madly."  OK, now I am starting to become impressed.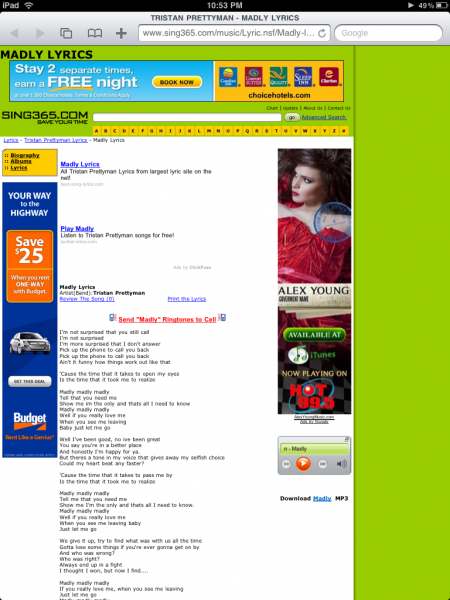 Now, it is time for the big guns, a really obscure band.  So, I grabbed El Ten Eleven, a band which was formed by the husband of a friend from high school.   A really good band, but not exactly The Rolling Stones.  Surely, this would cause a problem.  Let's try out "Music for Staring at the Ceiling."  This was actually cheating a bit since El Ten Eleven has no singer and no lyrics.  Then again…you guessed it.  Five seconds later, I was staring at the El Ten Eleven page on music.yahoo.com.
I have to say, I came away from this app incredibly impressed.  If you are like me, then at one time or another, you have been stumped for lyrics while listening to a song.  Now, if that song is on your iOS device, then you can instantly look up the lyrics, searching thousands of sites at once.  Despite my initial skepticism, this app worked better than I had ever expected.  A real must have for music lovers of all ages.
Instant Lyrics is a universal app, which will work on all iOS devices.  It is available in the iTunes App Store for only $1.99.