By Doug Goldring on Wed, 03/16/2011
This was a pretty easy review for me to write. I absolutely love hidden object/puzzle games, and I have long felt that G5 makes these games just about as well as anyone else on the iPad. So, when I heard they had a new game available, I was eager to give Romance of Rome a try.
Master your iPhone in one minute a day:
Sign up to iPhone Life's Tip of the Day Newsletter and we'll send you a tip each day to save time and get the most out of your iPhone or iPad.
The story is well told through the use of non-player characters and cut-scene comics. Essentially, you are a poor traveler who has come to Rome. As you approach the city, a young girl is attacked. You save her, but another hooded man swoops in, knocks you unconscious and takes off with the girl.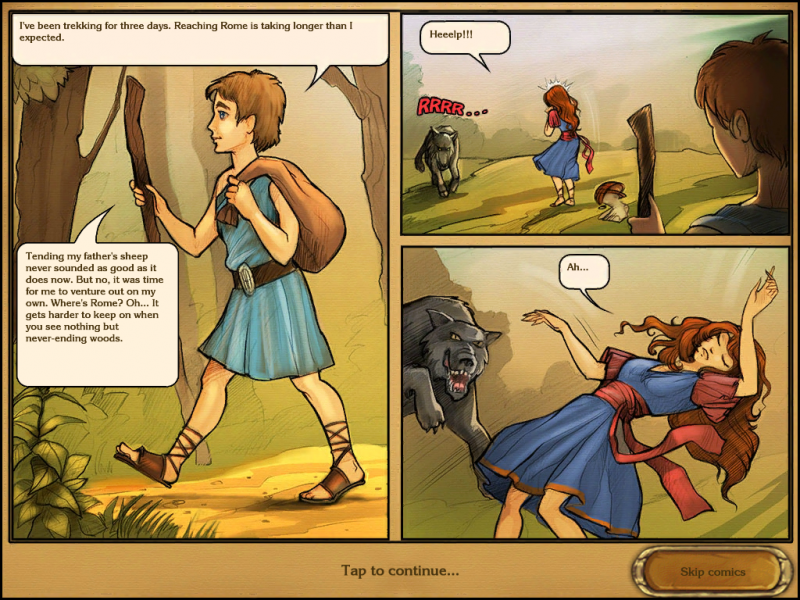 Your task then, as you reach Rome is threefold: gain respectability, find the girl, and locate a stash of stolen Roman relics. Along the way, you will be given other tasks by Roman citizens, which must also be performed. This all occurs over the backdrop of a hidden object game, told in multiple levels. At its core though, this one is a unique love story as most of your character's actions are motivated by the desire to find and romance the girl you saved in the forest…hence the title, Romance of Rome.
OK, so let's get started. The main action takes place in Rome, where you will need to explore a variety of buildings in order to find all of the hidden objects. I did notice that as you progress through the game, there is a limited number of buildings, so you will see many of them mmultiple time . It would have been nice if there had been more buildings and locations, so that this repetition could have been further minimized.  That being said, I was really impressed by G5's attention to detail here.  When you revisit an area, anything you opened, moved, or removed, will still be in that state, although there will be a whole new stash of well hidden objects to find.
Once in a location, watch the bottom of the screen for the items you will need to find. As you find objects, more will be revealed. You will only be able to "find" an object if it is shown on the bottom panel, so be sure to pay close attention. Most of the items on this panel are outlined in blue, however, a few will appear in green. Find these special green objects and they will float into your inventory panel on the right. These inventory tools will be necessary to help you locate or access hidden objects throughout the game. This was a bit of a change from some of the previous G5 games I have reviewed. Despite a few problems getting used to the controls in this interface, I really grew to like it an awful lot.
As you progress through the game, one of your primary goals is to gain stature in Rome, so that you can marry your true love. You can earn stature by finding the stolen relics, completing tasks for Roman citizens, and buying various items. Each time you find an item, you will earn gold, which can be used to purchase clothing and other accoutrements of power and stature.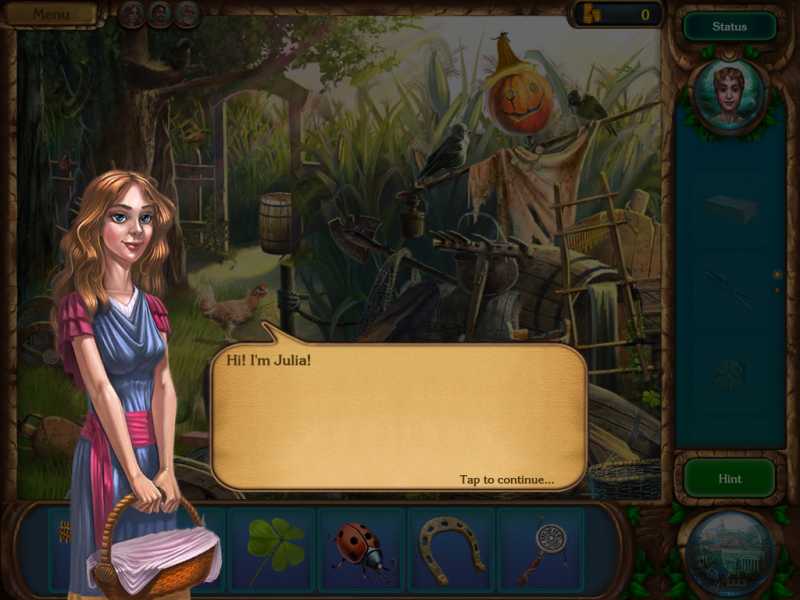 I really was not sure what to expect from this game. I have to admit that the name was a bit of a put off. What I found, however, was one of the best games yet from G5. The hidden objects were challenging without getting frustrating (and when you do get frustrated, there is always the hint button). I also really liked the interface, as well as the comic stylings used to tell the story. In the end, I found this to be one of the best G5 games I have played to date. I really preferred the gameplay interface, which requires you to use some of the hidden objects as tools to find other objects. Sure, the story got a little cheesy at times…OK, maybe even a lot cheesy. But let's be honest, this is a hidden object game. The point of the story is really just to guide you from one puzzle to the next, and to that end, this story worked perfectly well. I have been playing G5 hidden object games for some time on my iPad, and it seems like each one is just better than the last. They are really doing a great job of perfecting the genre. I, for one, cannot wait to see what they come up with next.
Romance of Rome is availablefor the iPad in the iTunes App Store for $6.99. There is also a limited free version.