By Doug Goldring updated on 08/01/2011
Hi, my name is Doug.  I am a Facebook addict.  Something tells me, though, I am in pretty good company here, as I suspect many of you, dear readers, spend more time on Facebook than you would care to admit.  Since I spend most of my time on the iPad, I am constantly on the lookout for avenues to access my Facebook account from my iPad.  Although I have tried many of the popular Facebook apps available for iPad, they all seem to lack a significant feature or functionality.  As a result, I keep finding myself drifting back toward the standard mobile Internet interface, and trolling the App Store for a better option.  Recently, we received an email from the folks at College Mobile advertising their new Facebook interface, FaceMobile.  Could this be the answer my iPad has been seeking?  Is this the app I have been looking for?  Let's take a closer look.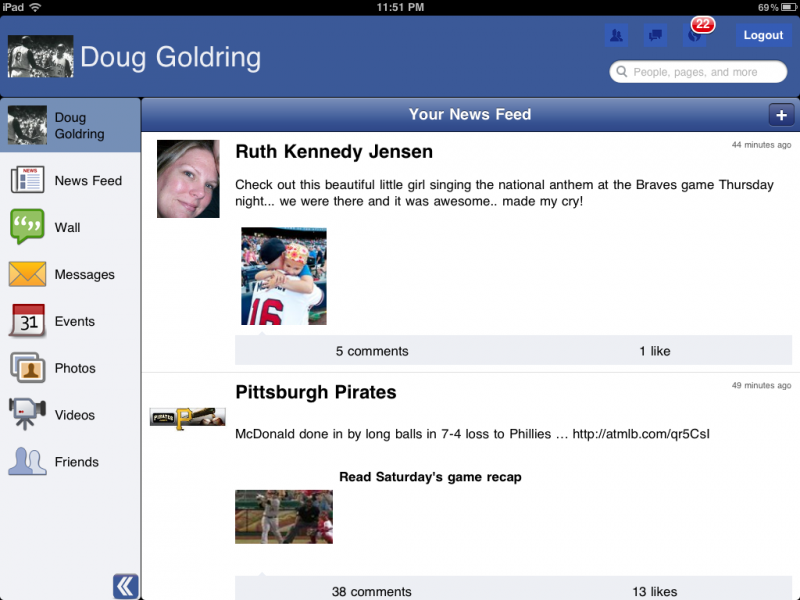 Let's start with the interface.  I am a huge fan of clean and simple interfaces, without a lot of clutter.  So, you can imagine I was thrilled with the interface on FaceMobile.  It does not get much simpler than this.  The bulk of the screen is taken up by your content feed.  By default, this will be your newsfeed.  Unlike most Facebook apps, there is no way to toggle this between the two standard Facebook feeds: Most recent and Top News.  This was fine with me since I prefer to stick with the Most Recent feed, but some of you probably have different user habits and might find this to be a problem.   I loved the look and feel of the interface, with its large print and finger friendly format, but I was sad to say that I I did find it to be a bit buggy.  As you can see below, some neighboring status updates mash together and overlap inadvertently...unless my sister-in-law really wants to keep me posted on the latest Pittsburgh Pirates news.
Master your iPhone in one minute a day:
Sign up to iPhone Life's Tip of the Day Newsletter and we'll send you a tip each day to save time and get the most out of your iPhone or iPad.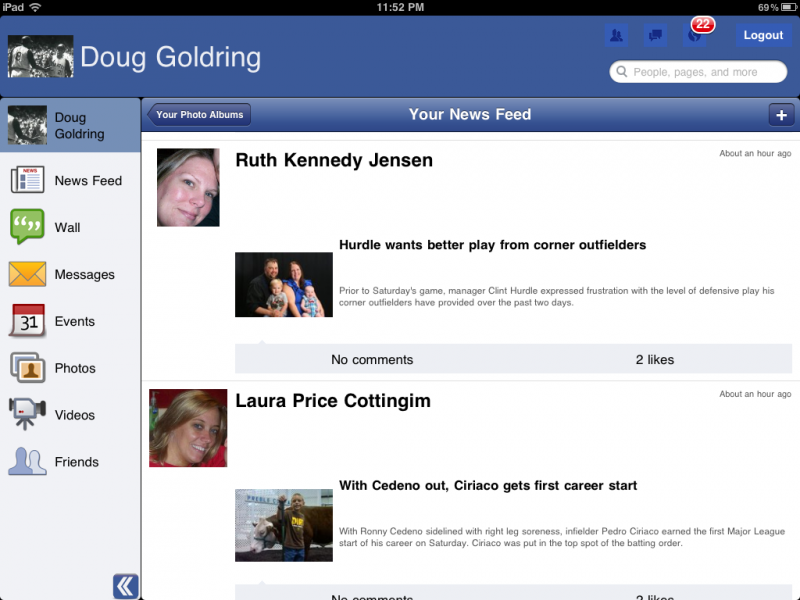 Updating your status is easy enough.  Simply tap the plus button in the upper right corner of your news feed to open the new post window.  Commenting on a friend's post, however, does not work quite as well.  If there is already a comment on the post, then tap the comment indicator to open the comments popup.  From here, you can read all of the comments, like the post, or add your own comment.  The problem comes in, however, in what we can call a pristine post.  In other words, a post with no existing likes or comments.  In this instance, there is no way to add a new comment or open the comments box.   I guess the developers felt no one really likes to leave the first comments, anyway...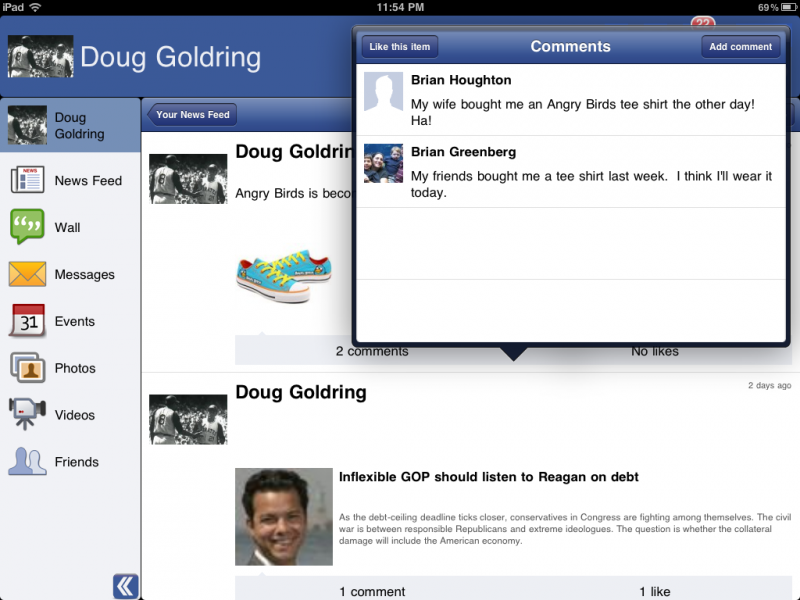 Finally, from your News Feed, you can also tap any of your friend's entries in order to open their profile and comment on their wall.  From here, you can also view their scheduled events (a Facebook function which I always found to be particularly useless), photos, videos, and friends.  Perplexingly, however, you cannot view their personal profile information, which is generally the information I am seeking when I access a friend's profile.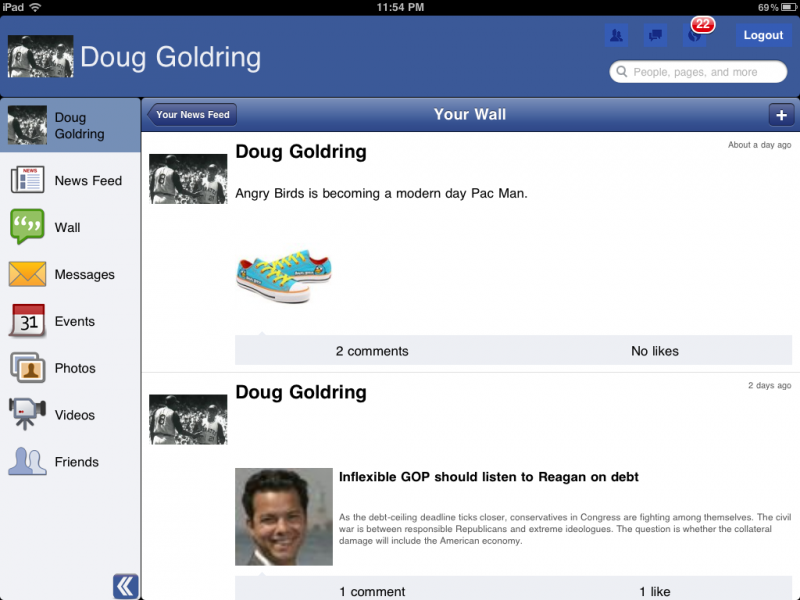 Back to your main page, the primary controls for accessing information are along the left hand side.  From here, you can toggle between your newsfeed, wall, messages, events, photos, videos, and friends.   Two notable omissions here included Groups, which cannot be accessed from within the app; and birthdays, which are also not displayed.  I use Facebook birthday reminders constantly, so I was disappointed not to find that feature here.  Additionally, there is no photo uploader, which means you will need to use another app to upload photos and videos from your iPad.  That is a real disappointment as well.  I frequently add photos from my iPad, and the fact that I will need a second Facebook app to do so is an annoyance, to say the least.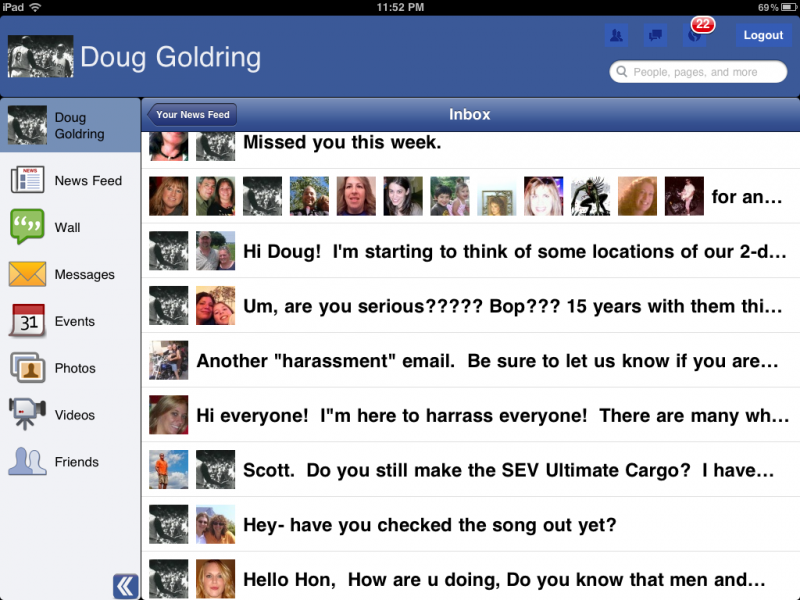 Finally, across the top are your standard Facebook navigation buttons: pending friend requests, inbox, and notifications.  This worked pretty much exactly like they do in the standard Facebook interface.
I really wanted to like FaceMobile a lot.  I thought College Mobile did a fantastic job with the design of the app.  Unfortunately, I found it to be a bit too lacking in functionality, and a little too buggy for me to recommend it today.  Hopefully, though, the developers at College Mobile will continue to develop this one and build on the solid foundation they have created.  I cannot recommend the app today, but hopefully it will not be long before I can recommend this one tomorrow.  Stay tuned…
Facemobile is available from the iTunes App Store for $1.99.