By Doug Goldring on Fri, 06/24/2011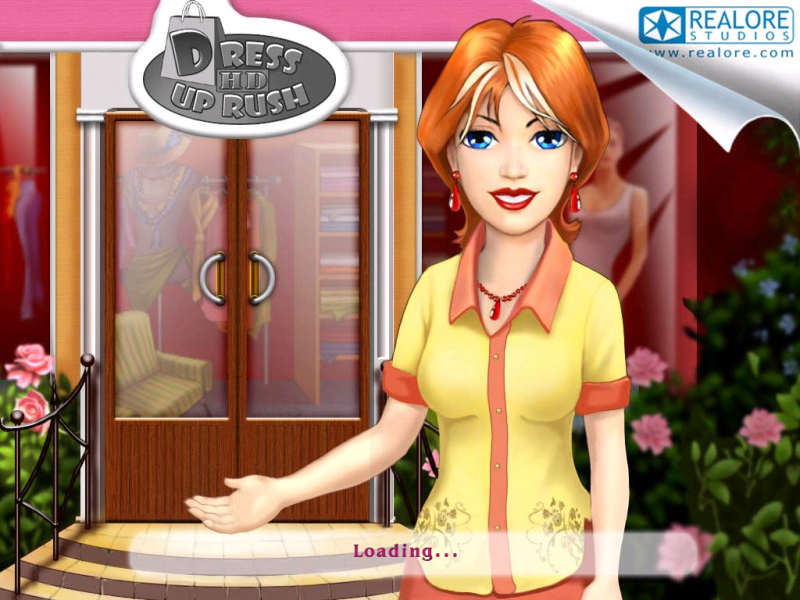 OK.  confession time.  When G5 Entertainment contacted me about reviewing this game, I was not terribly enthusiastic.  I mean really, the game is described in terms of fashion, which is really not my thing (I can barely coordinate my suit and tie), and it involves running a clothing store.  Retail and clothing.  Again, not my thing.  Still, the folks at G5 were kind enough to send along a promotion code, so I decided to check it out.  After all, I have been incredibly impressed by many of the G5 games I have played in the past, so I knew it was coming from a quality team of developers.
Master your iPhone in one minute a day:
Sign up to iPhone Life's Tip of the Day Newsletter and we'll send you a tip each day to save time and get the most out of your iPhone or iPad.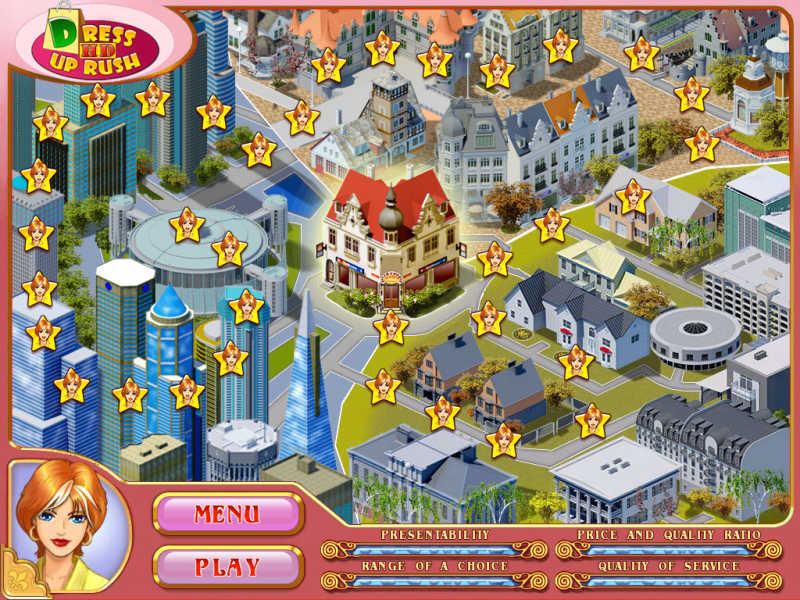 Despite my initial trepidation, I found myself really enjoying this game.  Although the retail clothing world provides the backdrop of the game, it is really secondary to the gameplay, which fits well into a classic genre.  Typically, games in this genre take place in a restaurant or bar, where you have to wait tables, bus tables, handle the money, and even make sure orders are correct.  Dress Up Rush takes that exact same gameplay to the world of high fashion.  Here, rather than serving hungry (or thirsty) patrons, you are serving shoppers in a boutique clothing store.  You must fulfill their clothing desires...and quickly.  The faster you move people through the store, the more patrons you will be able to serve...and the more money you will take home at the end of the day.  Which is really the name of the game.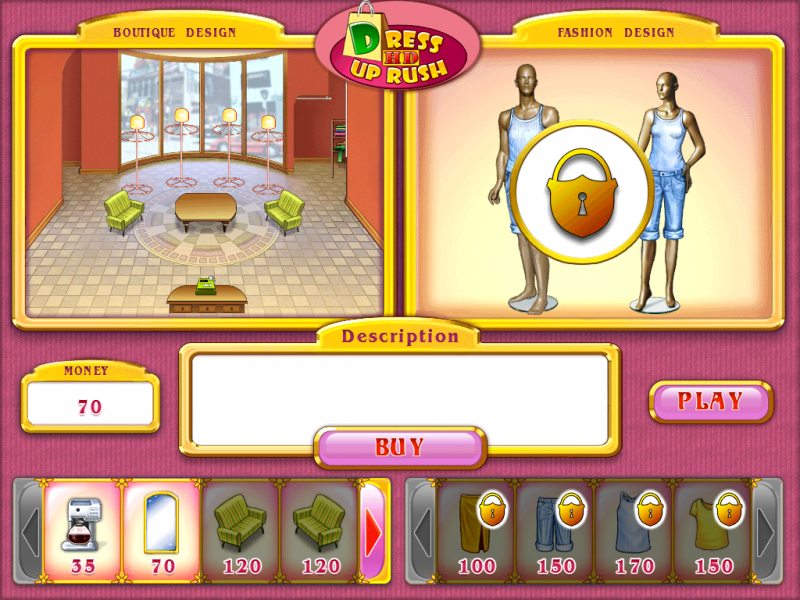 As you progress through the game, you can use the money you earn to purchase upgrades for your shop or clothing line, which will allow you to service more, and a higher quality of customers.  This means that you will earn more money…which you can use to make additional upgrades.  On the other hand, these upgrades also mean that the difficulty level of the game will increase quickly as you have more customers in the store at a time, and more merchandise from which to choose.   Ultimately, this ability to upgrade the experience at the end of every level helps to ensure that the game remains engaging, whether you play for five minutes or five hours.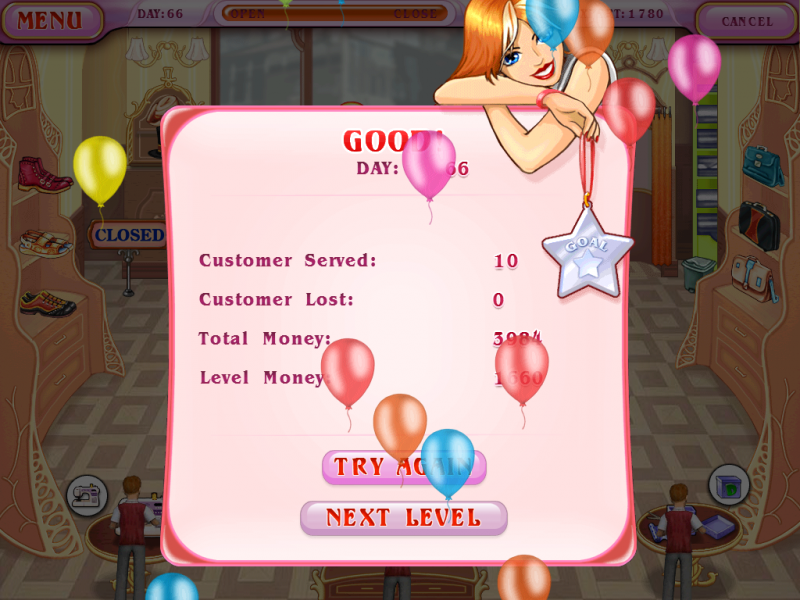 Your score in the game is based upon the amount of money you earn each day.  Pass the minimum level and you will earn a silver medal for the day.  Pass the expert goal and you will earn a gold medal.  Oddly, there is no distinction in the game or special award for making the expert goal.  If there are going to be two goals, then there should be a meaningful difference within the game for meeting the higher goal versus the lower.  Yet both simply advance you to the next stage.  Additionally, there is no way to go back and replay a level once you have cleared it, which was frustrating as well.   If you are going to give me a goal, then let me at least go back and keep trying to earn it.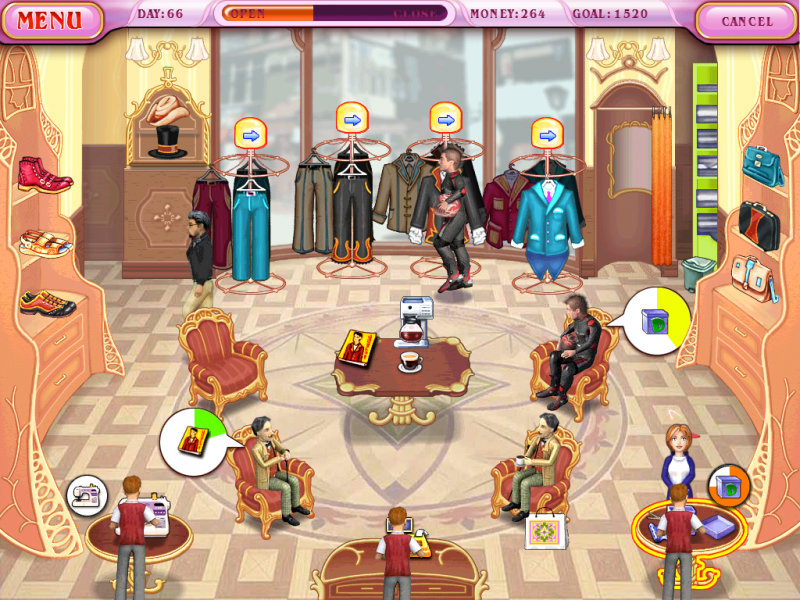 I will say, however, there were a few minor details and inconsistencies which just did not fit.  These were all things which could have been easily remedied, but really ended up making it extremely difficult for me to suspend my disbelief during gameplay.  Mainly, these inconsistencies included things like taking an item off the rack on a hanger, but then finding the customer opening a box to examine it.  The box simply materialized.  Additionally, I found it odd that the game did not really distinguish between men's clothing and women's.  There was a real lack of context to the customer's requests.  Again, this should have been easy to fix. 
Finally, G5 would do well to add better editing to the games.  Many of the cut scenes (which are done in comic book form) and instructions/on screen tips are simply poorly written.  The language and grammar ranges from awkward to barely comprehendible.   It is a real shame because these are the kinds of details which can really distract the user from an otherwise well made game. 
At the end of the day, I have to say I was impressed with the gameplay here.  I did not expect to like this game.  Not the I expected there was anything wrong with it, but simply because the description of the game did not sound like something which would hold my interest at all.  Like I said…Retail…Shopping…Clothes…none of these are areas which I want much to do with in real life, let alone in a computer game.  So, it is a real testament to the developers that the game forced me to overcome these hesitations and find a truly engaging and even addictive game hidden under that soft retail exterior.  Still, there were quite a few niggling details which really detracted from the overall delivery of the game.  G5 Entertainment has done a fantastic job of adding a new twist to the established time management genre, hopefully they can continue to improve it and iron out the remaining wrinkles to really make this a great game.
Dress Up Rush is available in the iTunes App Store from G5 Entertainment for $4.99.