By Doug Goldring on Fri, 02/18/2011
I have always been a fan of brick breaking games, ever since the good old days of playing Breakout and Arkanoid on consoles like the Atari 2600 and my original Apple II+.  Since that time, I have enjoyed watching this genre develop and grow into a more sophisticated arcade platform.   As such, I was absolutely thrilled when we were contacted not long ago by the developers of the latest entrant into this genre, Atomic Ball HD.  The developers were kind enough to send along a copy of the game for me to check out, so let's go ahead and dive right into it.
Master your iPhone in one minute a day:
Sign up to iPhone Life's Tip of the Day Newsletter and we'll send you a tip each day to save time and get the most out of your iPhone or iPad.
Atomic Ball utilizes many of the elements we have seen since the founding of this genre.  Each level consists of a single screen, with an assortment of "bricks".  You control a  paddle on the bottom of the screen, which you must use to bat the ball into the air and keep it from dropping off the screen.  Of course, careful aim and a strong knowledge of geometry will help you clear the bricks from the screen.  To help you along the way, some bricks contain power ups which can affect the size or abilities of your paddle as well as the ball.  Find the coveted cosmic ball in order to move immediately to the next level.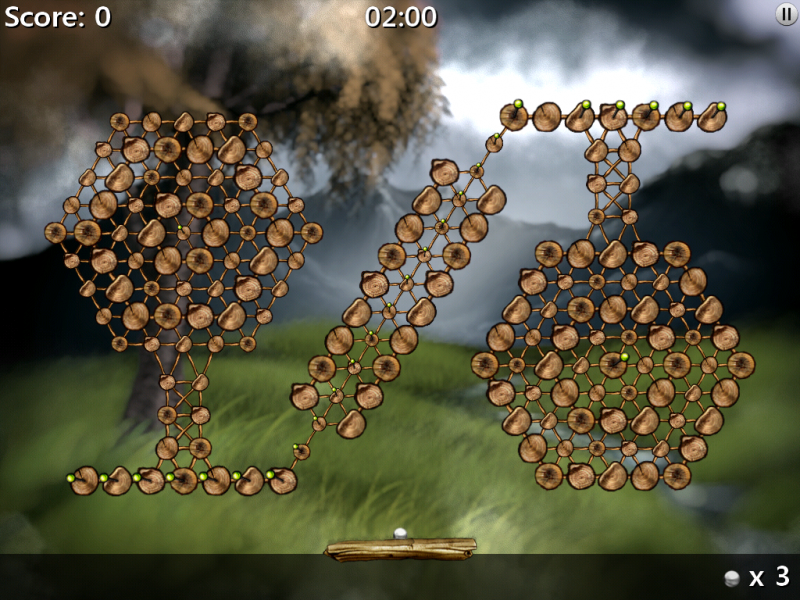 So, right about now, you are thinking, OK, great…just another brick busting game.  We have seen this a million times, so what makes this one so special.   Well, let's go ahead and get to that.  In most brick busting games, you are facing a static arrangement of square bricks.  The really wild ones might get crazy by changing the rectangular bricks into circles or (gasp) triangles.   Some might even arrange the bricks so that they make a picture on the screen.  No matter what they do, however, they all have one important component in common.  They are all static. 
Atomic Ball really stands out here.  Rather than static bricks, this game features interconnected orbs.  These interconnected orbs give each level the look and feel of molecules, hence the name of the game.  Adding to the complexity of the game, once you start knocking away those orbs, the whole things starts moving, with the now dislocated orbs drifting and spinning around the screen.   This motion really added a whole new element to the game, as you are attempting to strike numerous moving targets with that tiny ball.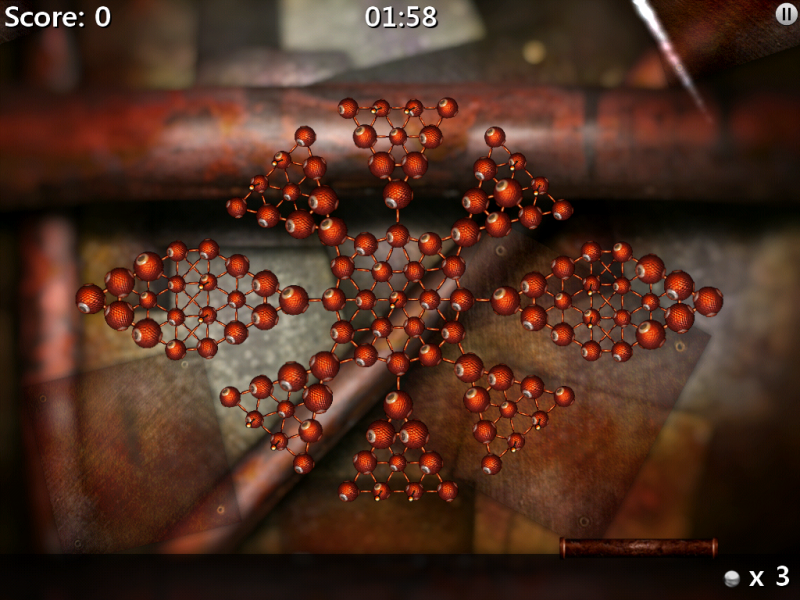 The game only includes 50 levels, which was a bit of a disappointment.  I would have liked to see more regular updates with new levels.  This is exactly the kind of game which lends itself to a strong user community and level developer, and those features would have been a nice addition here.  Nonetheless, the levels are divided into eight different worlds, each with its own unique themes and graphics.  I was really quite impressed by the graphics in this game as well.   Each world features a three dimensional background, and some pretty spectacular animation in the foreground as well.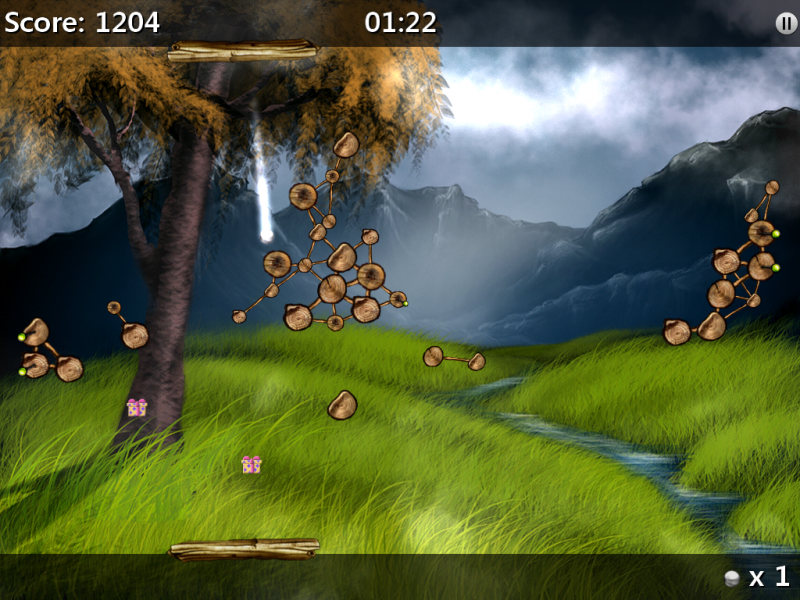 Once you have mastered the 50 levels offered, then it is time to really crank things to a new level.  Experienced players will find a whole new game in Skirmish Mode.  Here, a second paddle is added to the game…on the top of the screen.  This paddle will mirror the original paddle, remaining directly above it, meaning you need to be aware of balls flying in all directions, because losing one off the top of the screen is going to hurt just as much as losing one the traditional way on the bottom. 
Death Match takes skirmish to a whole new level, allowing a friend to control that second paddle.  You and a friend (and your paddles) will compete in a head-to-head deathmatch, trying to score the most points before time runs out.
If you are a fan of brick breaking games, you are really going to love this one.  The combination of spectacularly drawn graphics and unique look and feel of the atomic targets makes this an outstanding game.  As if that is not enough, Atomic Ball takes brick busting to a whole new level with the head-to-head Deathmatch Mode and Skirmish Mode, which literally adds another dimension to the game by adding a paddle on top of the screen.  This is by far the most original brick busting game I have played, on the iPad or anywhere else.  Atomic Ball HD is available from Meritum Software for $1.99.  If you are an iPod touch or iPhone user, you will find atomic Ball in the App Store for $0.99, with a free version also available.