By Doug Goldring on Mon, 01/02/2012
Who was the 27th President of the United States? Who was the President when the 24th Amendment was ratified? What was the Volstead Act and Who was the President when it was signed? Who was the President when the United States Supreme Court decided Plessy v. Ferguson? If you are an American history buff, like me, then this is the app you want to download. In fact, calling this app American Presidents is a dreadful misnomer, as it contains so much more than that. This app would be better called A Treasure Trove of Trivia About American History and Presidents…or something like that.
Master your iPhone in one minute a day:
Sign up to iPhone Life's Tip of the Day Newsletter and we'll send you a tip each day to save time and get the most out of your iPhone or iPad.
That being said, the app does open to a timeline featuring cartoon images of every President of the United States from George Washington to Barack Obama. What I really liked here, in addition to the fun cartoon images, was the spacing, which visually depicted the length of each presidency. Above each image is the name of the President and the years during which they were president. Below these images there is a timeline depicting significant historic events, allowing you to link each event to the president who was in power at the time.
I think if this main screen was all the app offered, I would be prepared to say that it was a well made and educational app. Fortunately for students (and history buffs) everywhere, there is a lot more going on in this one. From the main screen, tap any president's image to jump to a full biography of that president, complete with images, and other external links.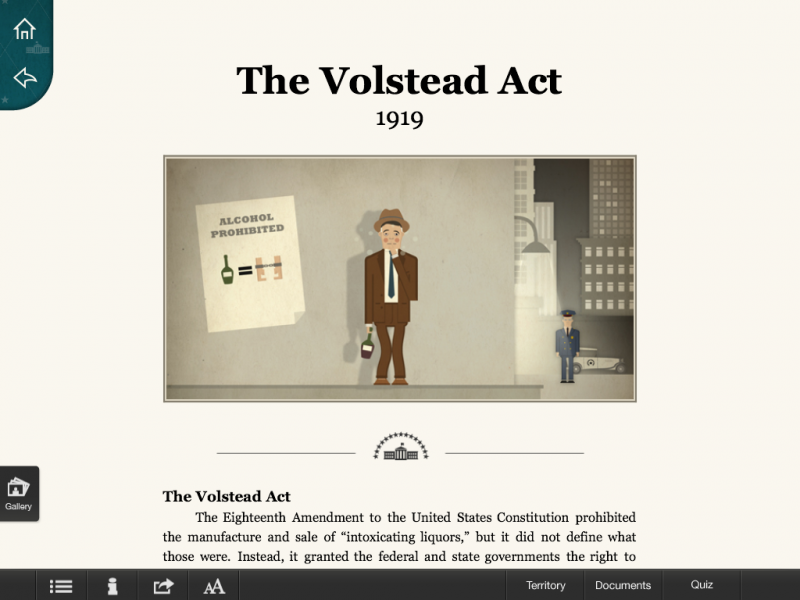 In addition, some of the timeline events can be tapped as well, opening a complete article of the event. Those events which have in-depth articles are highlighted in red. I will say, however, that I found too few of the events featured complete and in-depth articles. This could have been an even better reference app for history buffs and students alike, had it featured a more complete library of articles and events.
In addition to the red highlighted events, there is also a chronology of the Constitution, showing significant events related to the Constitution of the United States and its Amendments. These are highlighted in blue. Tapping these blue events will open the text of the item. This was fantastic, but I would have loved to see this treatment offered for other significant Acts of Congress.
In addition to navigating the app using the graphical interface, there is also a pull-up menu, which gives you complete access to all of the presidential bios, events, documents, historic maps, and even a series of quizzes about presidential history. While I loved all of this content, I hated the menu system itself, which really just did not seem to fit the rest of the app. Not only was this menu system poorly designed and cramped, but it was also redundant of the more accessible main interface. 
I absolutely loved this app. The cartoon, graphical interface presents a fantastic backdrop against which to learn about the Presidents of the United States and United States history in general. Toss in the timeline which helped place each President into their historic context, and this is an incredibly valuable app. My only criticism is that there was simply not enough...of everything. While the treatment of the presidents was extremely thorough, I felt there could have been an awful lot more information about historic context and events, including Supreme Court Opinions, Acts of Congress, and other significant events. Only a select few events offer expanded articles or descriptions.
Oh and the answers to the questions at the beginning of the review (all of which came directly from the app) are: William Howard Taft, Lyndon Johnson, the Volstead Act further defined prohibition which was instituted by the 18th Amendment, and became law during Woodrow Wilson's presidency, and Plessy v. Ferguson was decided during Grover Cleveland's Presidency.
American Presidents is available from Peripatetic for $4.99 for the iPad only.