By Doug Goldring on Sat, 02/04/2012
I think I have said before that I ride the train for several hours a day to get to work. Which means I need quite a few distractions in order to ignore the fact that I am wasting several hours daily. The iPad has been a real boon in that regard, offering a seemingly endless font of activity with which I may waste those countless hours I spend commuting. By far, my favorite way to spend that time is playing games on the iPad, and for the most part that means puzzle games.  In fact, I like these games so much, ten games were just not enough.  Which is why this article goes all the way to eleven.  As usual, the games will be presented in alphabetical order.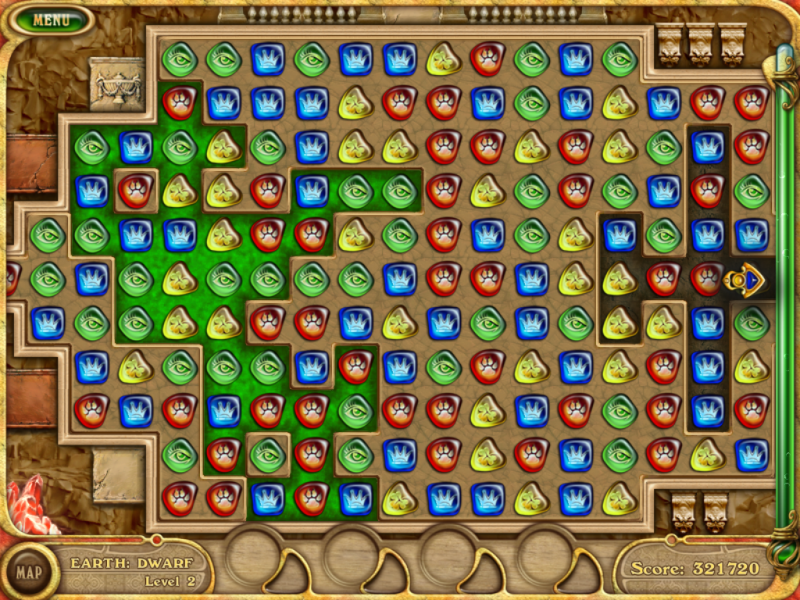 Master your iPhone in one minute a day:
Sign up to iPhone Life's Tip of the Day Newsletter and we'll send you a tip each day to save time and get the most out of your iPhone or iPad.
4 Elements ($4.99 Playrix) I have always liked the color matching genre, which was made famous by gabout half of Astraware's library. This genre, which requires you to tap regions of like-colored objects to remove them from the playing surface, was actually popularized by Microsoft when it included the Jawbreaker game with original Windows Mobile devices, primarily to teach users how to use the stylus and touch screen interface. I was not sure there was much left to add to this genre. As usual, Playrix, though,  proved me wrong, finding a way to add a fresh new approach to the well known genre. In 4 Element, your object is to progress through the levels by guiding one of four life elements (earth, fire, air, and water) through the board to the collection point at the end. To do this, trace a line connecting adjacent matching colors to remove the tiles underneath them. As the tiles are removed, the life force will flow behind you. One of the real challenges of this game is that the playing surface scrolls to the most forward point the life force has reached, which means you cannot see the full board at once.  Additionally, watch out for obstacles like boulders which would block your path, making it more difficult to clear the tiles beneath them.  Helping you along the way are four special tools which will help you past difficult sections.  Each tool is charged by clearing a particular color, so use them wisely to make sure they are properly charged when you need them most.  This is a terrific and fresh new look at a classic genre.  Download 4 Elements.
10 Talismans ($1.99 Nevosoft) We are heading straight from one of my favorite puzzle game developers to another. I have long been a fan of Nevosoft, and reviewed many of their games in this space. 10 Talismans is an oriental themed Match-3 style color matching game, in which you must swap any tile with its neighbor in order to make a group of three matching tiles in a row. Do that to break through the tiles underneath. Once you have destroyed all of the tiles, the level is cleared. Watch the board carefully so you do not miss the glowing Dragon Power tiles, which will destroy a whole area of tiles at once.  Complete the levels in order to unlock all of the game's talismans.  Download 10 Talismans.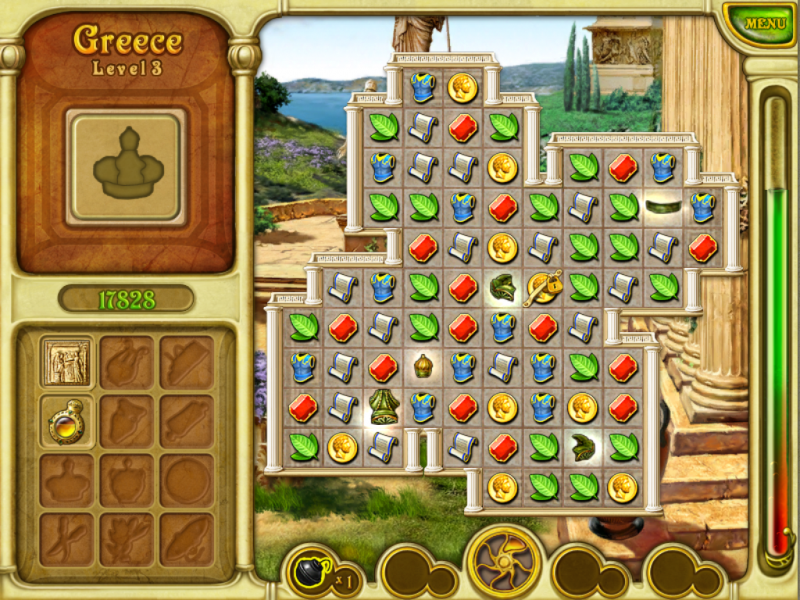 Call of Atlantis ($4.99 Playrix): This is another classic Match-3 style game.  Call of Atlantis features a historic twist, which will see you travelling through seven ancient worlds, collecting all of the pieces of seven lost crystals. In order to do this, you must build the tools necessary to complete each level. The parts of the tools are hidden within the puzzle. Free them by matching the shapes in the puzzle and dropping them off the bottom of the board. The real twist on this one, though, are the historic nuggets which follow each level. Pay attention, and you just might learn something.  Download Call of Atlantis.
Kingdom Rush ($2.99 Armorsoft Games) I have been truly impressed by Armorsoft Games, a relative newcomer to the iPad platform. (As an aside, if you have not tried their unique catapult games, Siege Hero, then do yourself a favor and check it out.) Their latest offering is a tower defense game which offers a fresh look at the classic genre. In this one, you control the armies of King Denas, protecting all the lands in the kingdom from raiders, invading armies, and quite a few creatures of one sort or another. To do this, you can use archers, who obviously fire arrows at oncoming enemies; soldiers, who block the way and fight enemies in hand to hand combat; mages, who use magic to attack enemies; and an assortment of explosive attacks. You can even recruit locals to fight alongside your troops. You can also upgrade your troops using the upgrade menu or by spending money you earn on each level to improve the skills and abilities of a particular tower.  I have always loved tower defense games, and I was truly impressed by the fresh and creative approach this one offered.  Download Kingdom Rush.
Letters From Nowhere ($6.99 G5 Entertainment): I have to admit, for most of the time I played this game, I had absolutely no clue what was happening. The hidden object puzzles were terrific, but the plot seemed to be getting lost along the way. I felt like we were skipping from one location to the next, collecting seemingly unrelated objects, and reading letters which seemed to make almost no sense. A funny thing happened midway through the game, though.  The seemingly random objects started following a related path. The letters which seemed to be nothing more than random, cryptic messages, suddenly started making sense and weaving the storyline together. By the end, of course, I was glad I stuck with the game, because the developers did a terrific job of tying it all together, creating one of those "Aha" moments at which everything makes sense, and you cannot believe you missed the significance of all those objects from the beginning. It is the kind of game that makes you want to go back and play it again from the beginning so that you can pay closer attention to the hidden clues you missed the first time through.  The hidden object locations, and other puzzles in this game are extremely well designed and drawn. They are challenging, probably more difficult than they need to be, but certainly solvable.  Download Letters from Nowhere.
The Magician's Handbook: Cursed Valley ($4.99 G5 Entertainment): The premise of G5's second new game is as simple as Letters from Nowhere was complex. You have been beckoned to the Cursed Valley to…well, what else…lift the curse. To do that, you have been given the Magician's Handbook, a book filled with sorceries and spells. As you progress through the various locations in the Cursed Valley, you will need to solve a variety of puzzles and hidden object games in order to learn new spells. This one proceeds with tongue firmly planted in cheek as it tells you what you would have been doing had you attended magic school rather than simply reading this book (things like scrubbing floors and washing dishes of senior magicians). The cool part is that the spells you learn will come back to help you later as you can use them to aid your progress in subsequent levels. This is a terrific hidden object and puzzle game. The only problem here was that there is a limited number of areas, meaning you see the same locations time and again throughout the game. Notwithstanding that drawback, I found The Magician's Handbook to be a fun, campy approach to this classic genre.  Download Magician's Handbook.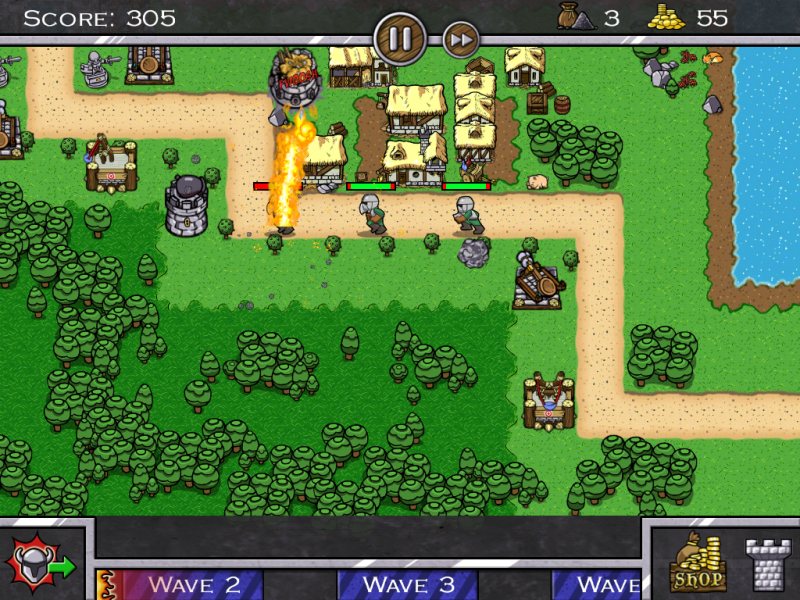 The Minor Lords: Archibald and Remus (Free 7Sixty). If this is not the best Tower Defense game in the App Store, it certainly is the funniest. Follow the adventures of Archibald and Remus, two brothers looking for a castle in which to squat and live their lives. Sounds easy enough, but each time they get settled, a horde of angry attackers and monsters begins the assault. Use a bevy of oddball and hilarious weapons, including cows, sharks, and even angry bees. The only thing I did not like about this one was the fact that it keeps asking for more money. You get a handful of weapons free, but after that little taste, you will need to start paying for bigger and better weapons. Likewise, you only get 15 levels for free. Just enough to learn how terrific (and challenging) this game can be. Once you get through those, though, you will need to start buying additional level packs. I am really nota fan of this Freemium approach which seems to have overrun the iTunes App store.  I would have rather the developers charged a few dollars up front for the game, instead of nickel and diming you the whole was through.  Download The Minor Lords.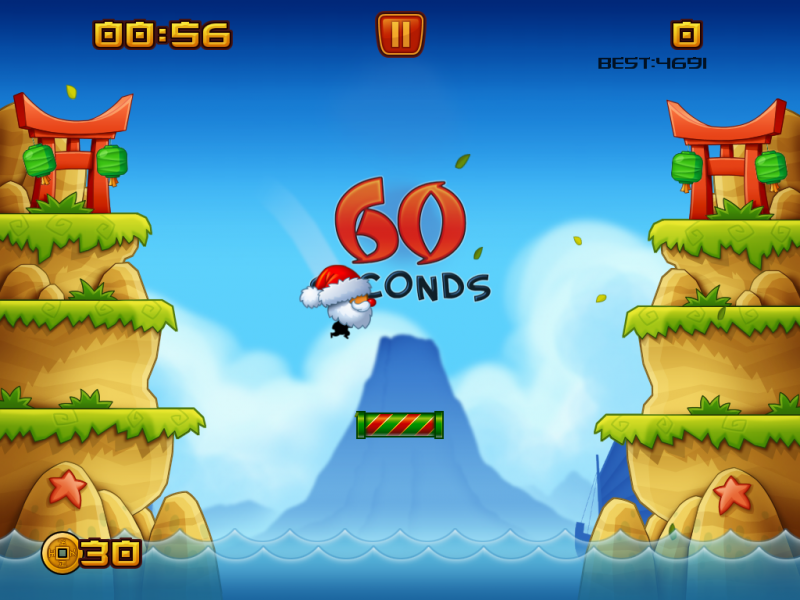 Ninja Ponk ($0.99 Alien Worm): This may not be a puzzle game, but it is one of the best games I have played lately. The game drags the simplicity of Pong (yes, that Pong) into the 21st Century. As you would expect, you control a paddle lodged in the middle of the screen. Your job is to aid the ninja warriors invading the fortress on the right side of the screen. The problem for them is the chasm they must cross from the left side of the screen is too wide. They will jump as far as they can, your job is to bounce them off your paddle to help them reach the other side…and attack. Helping you along the way will be a variety of power ups and coins, which you can use in the in-game shop to buy upgrades and features. Watch out, though, because the enemy army is defending the other side, and their weapons can paralyze or destroy your paddle if they hit you. Paddle games have literally been around since the beginning of computer gaming, and it is fantastic to see them continuing to evolve and keep up with the times today.  Download Ninja Ponk.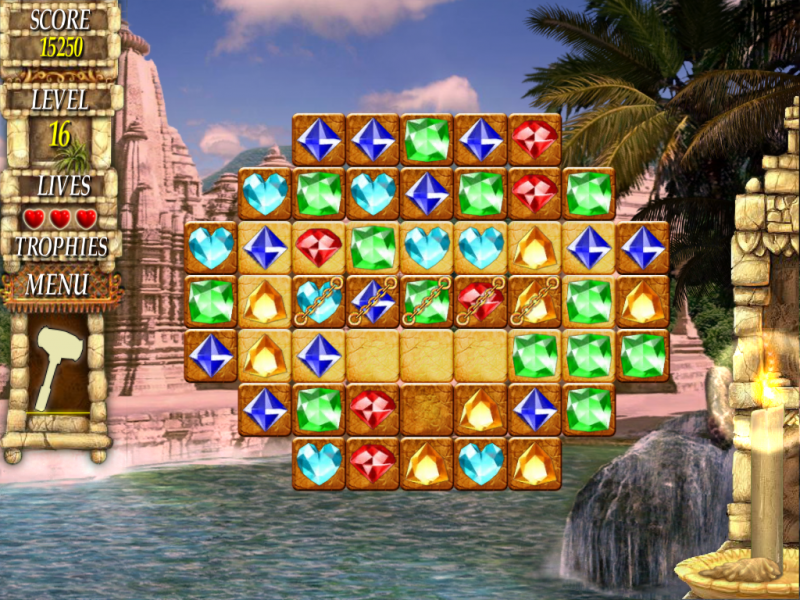 Pantheon ($1.99 Nevosoft): Here we go with another color matching game. This one brings the genre to seeming simplicity. A flat board is covered with gems. Your job is to remove groups of two or more matching gems, thereby destroying the tiles beneath. Just like 10 Talismans, all you have to do is clear all of the tiles before time runs out. Helping you along the way is the Power of Krishna, which will supercharge one gem on the board, creating a powerful explosion when it is cleared. Each time you clear a level, you will reveal a part of that stage's mural. With each mural, you will learn a little more about the mythology and culture of Hinduism. Who knew learning new things could be such fun.  Download Pantheon.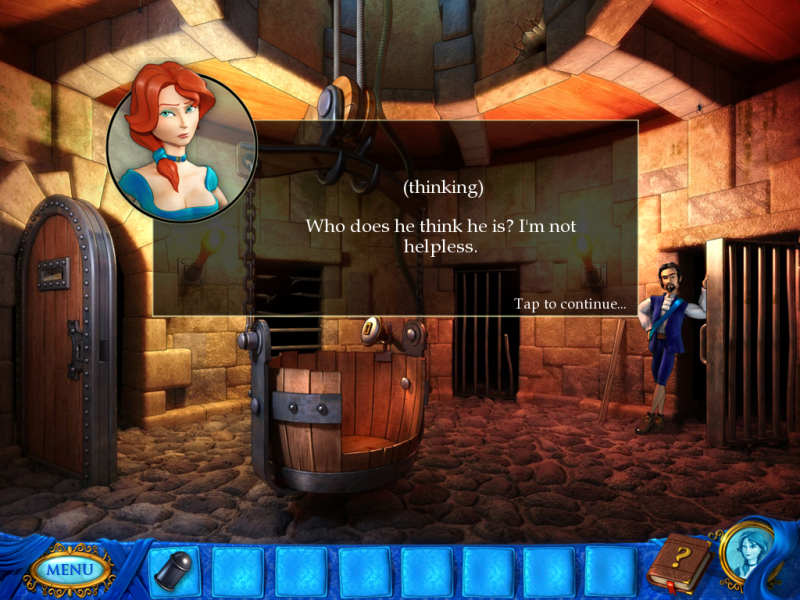 Royal Trouble ($6.99 G5 Entertainment): One of the things I love about G5 is the way they find/develop games which take a well worn genre and turn it upside down. Royal Trouble may not have been the longest or most difficult game I have played on the iPad, but it was one of the most original. In this irreverent adventure game, you must guide both the Prince and Princess as they attempt to escape from captivity. Despite the fact that the pair cannot stand each other, they must find ways to work together (and so must you) if they are going to escape.  Making this more difficult, the pair are almost immediately seperated.  Meaning you will be folowing two related storylines as you guide both characters through the game.  G5 did a terrific job weaving together the two dangling threads as you cut between the two.  In this game, solving a mission with one character, often leads to a complimentary mission with the other character. The two will need to learn to work together quickly if they are to have any hope of escaping. Along the way, you will need to complete over a dozen original mini-puzzles.  The storyline is irreverent and fun, the puzzles are challenging (though a few could have used a bit more instruction), and the game is overall terrific.  My only complaint is that the $6.99 price tag for the full version feels high enough to be almost disrespectful to their loyal customers.  Download Royal Trouble.
Spirit of Wandering – The Legend ($4.99 G5 Entertainment): Those of you who have been paying attention to this article have probably noticed a few of the same names popping up more than a few times. G5 and Playrix, for example, have each been mentioned several times so far. Which begs the question, what if these two giants of puzzle and hidden object games teamed up to create a game together. The answer to that question is Spirit of Wandering. In this hidden object game, you must find important objects in each puzzle which will help you rescue the crew of a lost ship which was imprisoned in the spirit world. This was a fun game, which utilized a creative approach to hidden objects.  Not only must you find ordinary objects in each puzzle, but you will also use a special lens to find cherished objects in each level. With only six locations, however, the game felt entirely too short. Still, the premise and approach to the game were original and creative, and did a fantastic job keeping me engaged as the story developed.  Download Spirit of Wandering.