By Doug Goldring on Thu, 11/10/2011
Not long ago, I did a fairly extensive roundup of a few of the great games which were gracing my iPad at that time.  Since I can hardly go two days without downloading a new game, I now have a host of new and exciting games on my iPad to share with all of you.   By now I have accumulated far too many games to contain them all in just one article.  So, we'll go ahead and call this group Part I of the Let's Play series.  I'll keep them coming in groups of ten as long as you promise to keep reading.  So, without further adieu, let's go ahead and get started.
Master your iPhone in one minute a day:
Sign up to iPhone Life's Tip of the Day Newsletter and we'll send you a tip each day to save time and get the most out of your iPhone or iPad.
Astroslugs:  We kick off this roundup with a truly original and creative puzzle board game from Bit Barons, GmbH.  Now, this one does come complete with a backstory, but that is really not terribly important.  In fact, the story had little to do with the game, other than creating the environment in which you play.  The game itself consists of a series of gameboards (organized around different planetary environments).  On each board, you will be given a number of shapes composed of  3-5 connected orbs.  Your job is to draw the shapes onto the gameboard in order to make all of the shapes fit.   Sounds easy enough, but just wait because the complexity increases the longer you play.  Each level will earn you a number of points (more difficult levels obviously earn more points).  Earn enough points and you will advance to the next planet (group of levels).   With eight planets and nearly 80 levels (with more coming soon) this is a game which will grab…and hold…your interests for hours at a time.
Astroslugs is available from Bit Barons, GmbH for $3.99.  A free trial is also available. 
Anomoly Warzone Earth: I have always been a fan of Tower Defense games.  However, there does tend to be a certain level of similarity between most of the games in this genre.  Set up a defensive network of weapons in order to stop the advancing marauders from reaching their goal…usually some kind of base or power plant.  Fun…but repetitive.  Which is why I was so enamored with Anomoly Warzone Earth.  This game turns the whole tower defense genre upside down...literally.  In this one, Earth has been invaded and overrun by aliens.  Your job is to clear the path through the alien forces, destroying their towers and defenses along the way.  In other words, instead of wave after wave of creatures attacking you…you will go on the offensive, sending wave after wave of attackers against the alien base.  Tower defense…in reverse.  This is more like a tower offense game.  I absolutely love it when creative developers twist a common game theme, like this one, and create something entirely new.
Anomoly Warzone Earth is available from Chillingo for $3.99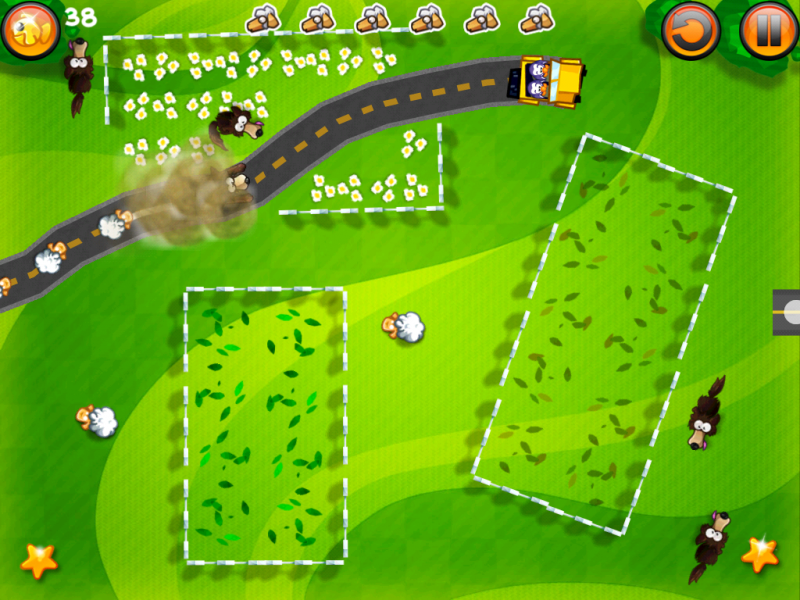 Crazy Escape:  I have always loved Bulky Pix games.  They generally start with a cartoonish quality, but underneath the silly exterior, you almost always find a completely original and creative game.  I would seriously love to meet the minds behind some of these absolutely twisted and engaging ideas.  Which is the context in which we find Crazy Escape.  Here, a pack of wolves have kidnapped the sheep.  Your job, as the penguin rescuers, is to drive a jeep around the screen and collect the sheep.  To do this, all you need to do is draw the road on which your car will drive.  Run over the sheep (which seems a bit counterintuitive) to collect them.  Once you have all of the sheep, just drive off the other side to end the level.  The shorter the road, the more points you will earn.  Like so many BulkyPix games, this one is creative, original, and most of all, incredibly fun.
Crazy Escape is available from Bulkypix for $0.99.
Crimson: Steam Pirates: I am a little new to this genre of turn-based strategy games.  OK…I am brand new to it, so I was really not sure what to expect from this one.   After testing it out, I have to admit I was pleasantly surprised.  Right off the bat, the game impressed me with its light, jovial storylines.  The missions are not easy, but they also do not take themselves terribly seriously as they develop a storyline of warring pirate factions, and love gone terribly wrong.  Gameplay fits right in with the backstory as you command a growing fleet of steampunkesque ships…and even a Zeppelin or two.  As the game progresses, you can engage in warfare against enemy ships, bombard land-based forts, and even fight hand to hand as you send boarding parties onto enemy ships.  It is not often that you find something really new, and I was excited to find it in a game as well made as Crimson: Steam Pirates.
Crimson: Steam Pirates is available from Bungie Aerospace Corp for Free.  Additional missions are available as an in app purchase for $1.99.
Death Rally: I have never really liked car racing games.  I don't really have a particular reason for disliking them, they are just not really my speed (pun intended).  That being said, I do love blowing things up (digitally, of course).  Which is probably why, despite my general dislike of racing games, I loved Death Rally.  In this one, you are not just trying to win the races, but take out your opponents in the process.  Points will be awarded based upon how many opponents you destroy as well as your place in the race.  In addition to all of this, keep your eyes peeled during the races for power-ups, turbo boosts, and pieces of new cars and weapons which you can build to assist you with future races.  As if that is not enough, there are a variety of named opponents, one in each race.  Defeat or destroy them for an added bonus.  I found this to be less of a care racing game, and much more of an action game which happened to take place in cars.
Death Rally is available from Remedy Entertainment, Ltd. for $0.99.
Face Fighter Ultimate: Let's face it, we all have those people in our lives who make us just want to hit something.  Of course, most reasonable people keep those thoughts to themselves, and restrain themselves from acting on it.  Well, now there is no longer a need to keep that pent up frustration…pent up.  With Face Fighter you can sock it right to anyone who has been annoying you lately.  Just grab a photo of them and load it into the game.  Suddenly, they become your next opponent in this one-of-a-kind Martial Arts dojo.  In addition to fighting against your friends, you can also spar with a motley crew of characters in the game in order to earn money and upgrade your weapons, locations, and animations.   This is a terrifically comical game, which is made even better by the fact that you can finally live out that dream of sticking it to your boss, spouse, friend, whomever...with no fear of repurcussions. 
Face Fighter Ultimate is available from Appy Entertainment for Free.  Turn of the ads for an additional $0.99.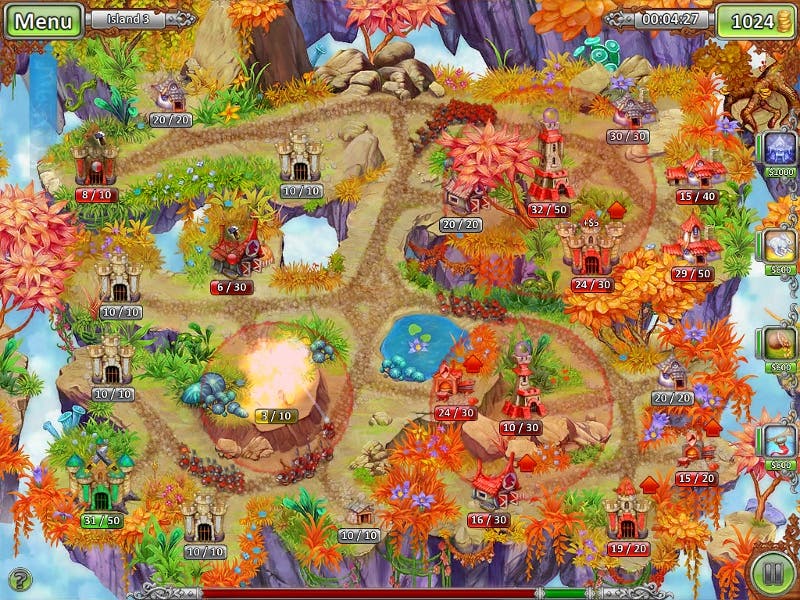 Landgrabbers: I think one of the highest compliments I can pay to any game is that my 6-year old son loves it…and my 6-year old son LOVES Landgrabbers.  LOVES!! Not only would he rather play Landgrabbers than just about any other iOS game; he would really rather play Landgrabbers than pretty much anything else.  Which makes my life a little tricky since it is only available for the iPad, and we only have one iPad in the house right now.  Which begs the obvious question, what exactly does he love so much.  Well, this is a real-time strategy game, which takes place in a land resembling medieval times.  Your goal is to lead your army of knights and horsemen to overtake all of the buildings and castles on a particular map area.  Watch out, though.  There are up to three other teams on every map trying to do exactly the same thing.  In order to win, you will need to carefully monitor your population in order to ensure your buildings are being used to their maximum effectiveness.  And if you need any tips…maybe my 6-year old can help you…if he can tear himself away from the game long enough to answer your question.
Landgrabbers is available from NevoSoft for Free, though it will require a $4.99 in app purchase to unlock the full game.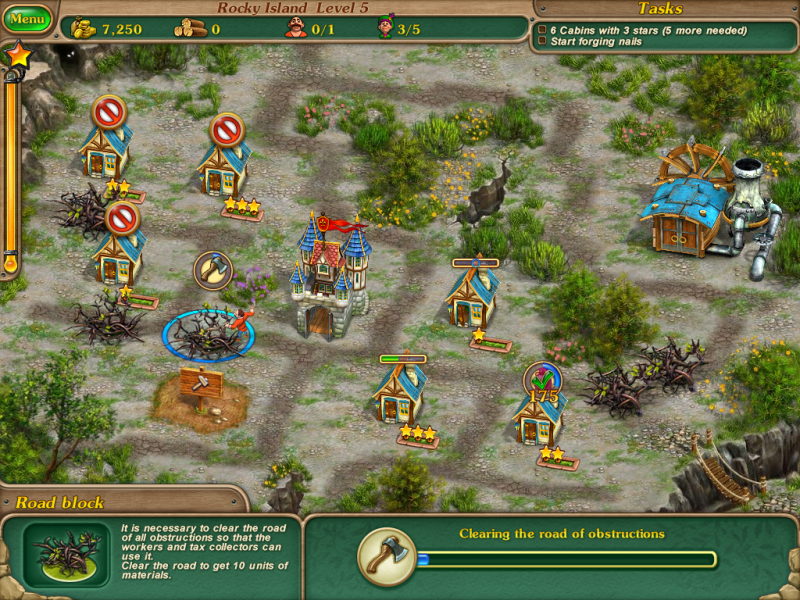 Royal Envoy: Time management games are a relatively new (at least to me) and growing genre, which I have grown to love.  They offer a challenging, although not overly complex puzzle game.  The object of the games in this genre is pretty simple.  Complete a series of tasks before time runs out.   The action in Royal Envoy takes place in the island kingdom of Islandshire, which consists of a chain of volcanic islands.  The islands of Islandshire have been ravaged by storms.  The King summoned you to travel through Islansdshire, rebuilding the villages throughout the islands.  As you travel from one island to the next, you will need to clear brush, build buildings, and of course, manage your resources.  Watch out for friendly…and not-so-friendly pirates, who may try to impede your progress.   Playrix did a terrific job weaving a storyline into the action to create an engaging and challenging game.
Royal Envoy is available for $6.99 from Playrix.  A free trial version is also available.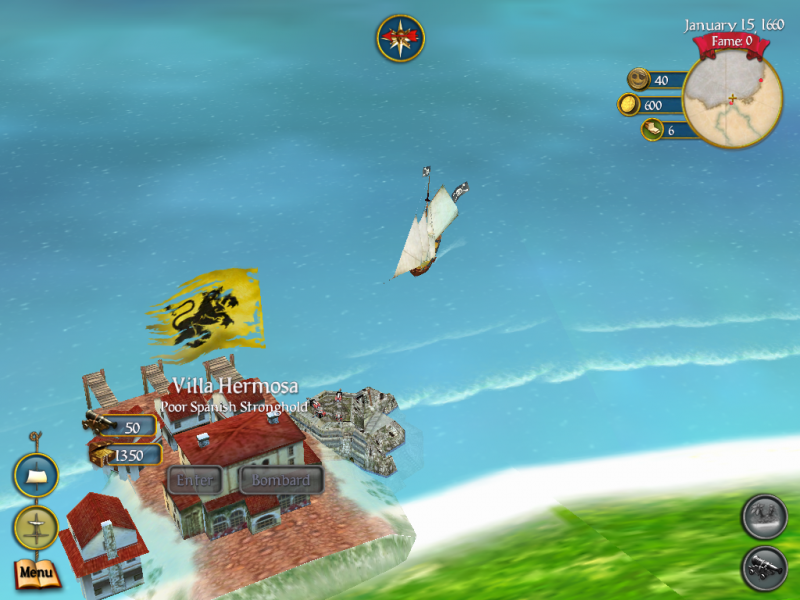 Sid Meier's Pirates!: Avast Mateys.  Get ready to hoist the main sail and attack in this two-time time machine.  Not only will the game's action take you back to the 17th century, but also this game will transport you back to the 1990's, a time when Sid Meier's games were the best games available for computer platforms.  Pirates! was among the best of Sid Meier's creations.   Set sail as a newly minted captain of a pirate ship sailing throughout the American colonies.  Choose your alliances, trade with your allies, and go to war with your enemies.  All the while trying to track down the members of your missing family and rise through the ranks of the world's most notorious Pirates.  This is a terrific game.  I will say, however, that gameplay became a bit redundant.  Each location featured the same buildings and the similar cast of characters, so the various locations all tended to look a lot alike.  Nonetheless, gameplay is exciting and keeps moving you through the story as increasingly difficult (and rewarding) challenges beckon.  Tally-ho, get ready to set sail.  Adventure awaits!
Sid Meier's Pirates! is available from 2K Games for $4.99.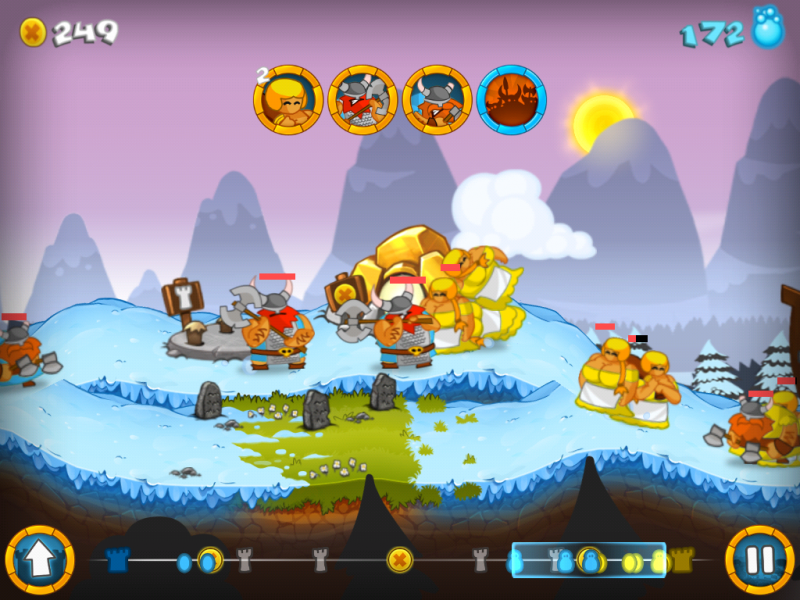 Swords and Soldiers HD: I promise you have never seen Vikings like this before.  You command an army of Viking marauders with one goal in mind.  No, not conquest or even treasure.  These Vikings want only to create the ultimate BBQ sauce.  The problem comes in the form of enemy armies who will stop at nothing to destroy the Viking barbeque.  In order to protect your dinner, you must utilize your resources to summon various soldiers who will march through the battlefield, attacking any enemies they encounter.  A variety of different soldiers and weapons, each with their own manner of attacking, keeping this game moving at breakneck…and delicious…speed.  This is a fantastically hilarious action/strategy game, and provides a tower defense environment unlike any you have seen before.  Just when you think you have completed the game, you can head back to the start and take over one of the enemy armies and start over again with all new resources and armies. 
Sword and Soldiers HD is available from Chillingo for $4.99.