By Doug Goldring on Tue, 06/07/2011
Games.  iPad.  Ipad.  Games.  As they say, this is another of those chocolate and peanut butter moments.  The two go together so well, most other gaming systems were rendered nearly obsolete by the quantity and quality of games available for the iPad.  So many games, in fact, that a reviewer like me struggles to keep up.  Looking through the apps on my iPad, I noticed quite a few games on my device which I have not had the opportunity to share, but many of which are well worth a look.  The great thing about these games is that there is something here for everyone.  Quick, single screen games, long term adventure games, puzzle games, board games, and everything in between.  So, without further adieu, here is a quick overview of some of the game I have been enjoying these past few weeks, but have not had a chance to properly cover in this space until now.
Master your iPhone in one minute a day:
Sign up to iPhone Life's Tip of the Day Newsletter and we'll send you a tip each day to save time and get the most out of your iPhone or iPad.
Outsmart ($0.99, Fizz Software):  This quick and easy game is a fantastic variation on the classic Tic-Tac-Toe game we all know and love.  Coming at us from one of my all time favorite developers (full disclosure, Fizz Software for Windows Mobile was the first app I owned on any device), this is the perfect game for killing those free minutes between appointments or meetings.  You play on a 4x4 grid of 16 squares.  Each player starts with eight balls, numbered 1-8 (pretty obvious so far).  Players alternate playing a single ball onto the gameboard.  The goal is to play three in a row (vertically, horizontally, or diagonally).  When you do so, you earn a number of points equal to the values on the three balls.  The highest score at the end of six rounds wins the game.  On the other hand, if you can manage to play four in a row then the game ends with an automatic win…like an Outsmart Knockout.  you can play solo against a computer, pass 'n' play against a friend, or online against any Game Center connected opponents.
Hit The Deck Baseball ($0.99, Mike Miller): Another hi-tech take on a low-tech classic.   This is a throwback…and perfect simulation of the classic pinball game of the 1980's.  Right down to the flashing lights and electronic sounds.   For those not familiar with this pinball game of yore, gameplay is pretty simple.  The pitcher throws the ball (you can choose between three pitches) and the batter swings away (depending upon the game mode, you can play either or both roles).  Targets in the back of the screen determine the result of the swing (but keep an eye on the flashing double play lights which can serve to abort any kind of scoring rally you might  attempt.   You can play solo against the computer (in easy or hard) or in Arcade Mode, Home Run Derby, or against a live opponent.  think you have some game?  Then go ahead and compare your scores to the global leader board.
Download Hit The Deck Baseball.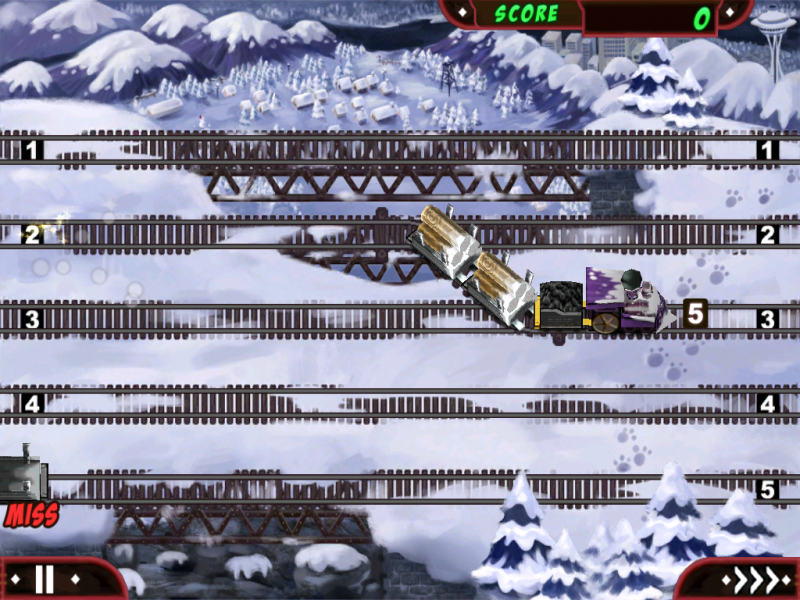 Train Conductor and Train Conductor 2: USA ($0.99 each, Voxel Agents): This game and its sequel provide an interesting take on the line drawing genre.  Here, you must control the switches between tracks on various train lines, moving the correct trains to their proper tracks.  Be careful though, as a collision will end your run before you are even able to begin it.  As you progress, the obstacles will become more challenging with variable speeds, bridges to be built, and even ghosts in the night.  The original game took place in cities throughout Australia, while the sequel features cities in the United States.  Both games feature various unique challenges at each location.
Download Train Conductor.  Download Train Conductor 2: USA.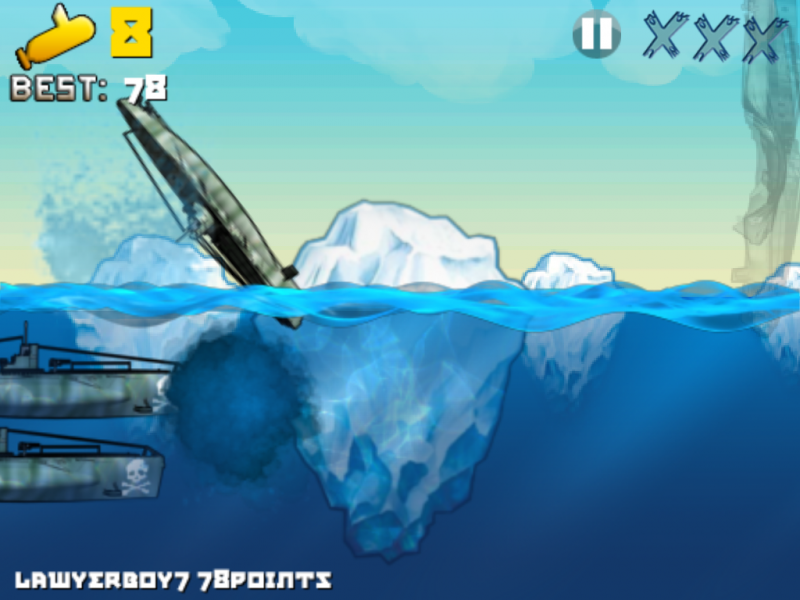 Pirate Subs ($0.99, Super Boise):  When I was younger, I used to love slasher movies.  That seems to have given way to the slasher game, in which your goal is to slash the targets one by one.  In this case, your targets are submarines attacking the sub-freezing waters of Antarctica.  Just tap a sub to blast it with a torpedo, which will send it flying out of the water.  Slash across it while it is in the air to send the subs flying into oblivion.  Watch out, though, swimming along with the subs are polar bears and a variety of wales.  Make sure you do not accidentally shoot any indigenous species or you will lose a life (you will also lose a life for letting a sub escape off the screen).  Lose three lives and the game will end.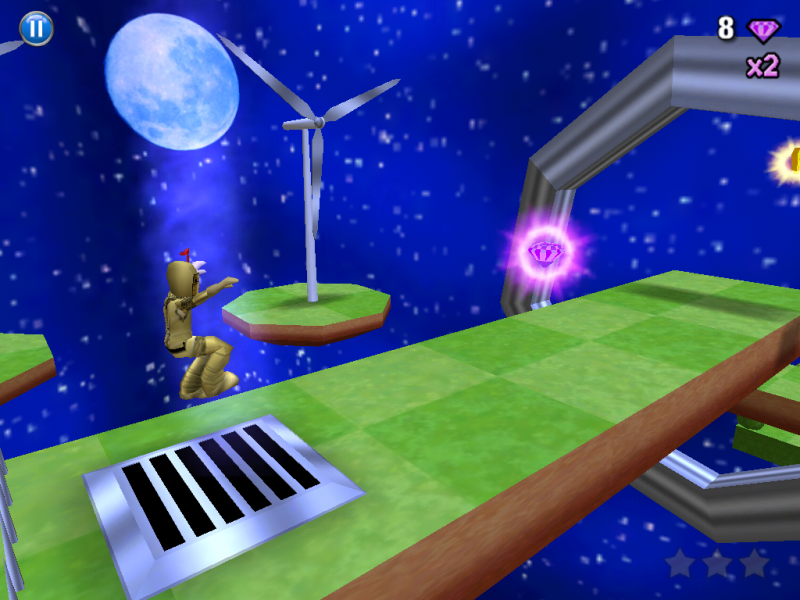 Diversion (currently on sale for $0.99, normal price $1.99, Ezone): Talk about a game which really lives up to its name.  This is a side, scrolling, three dimensional "runner" game.  Just run through the maze, collecting gems and stars, which can be used to unlock the over 150 different characters in the game.  This means there are plenty of milestones and achievements to collect along the way.  You can play as any unlocked character, though  I was a bit disappointed that the different characters did not offer different attributes.  It would have been nice if different characters were better suited for specific levels, or ill suited for others, forcing you to learn the various benefits of each character.  What sets this game apart from others in the genre, however, are the controls, all of which are handled by a single tap on the screen.  Anytime you approach an obstacle, just tap (unlike others which require you to swipe a certain direction) to jump, climb, hang, swim, fly, and take any other actions the game requires.  With over 100 levels, and plenty of bonuses to earn, this game features hours upon hours of replay ability.  In other words, it is the perfect DIVERSION anytime you need it.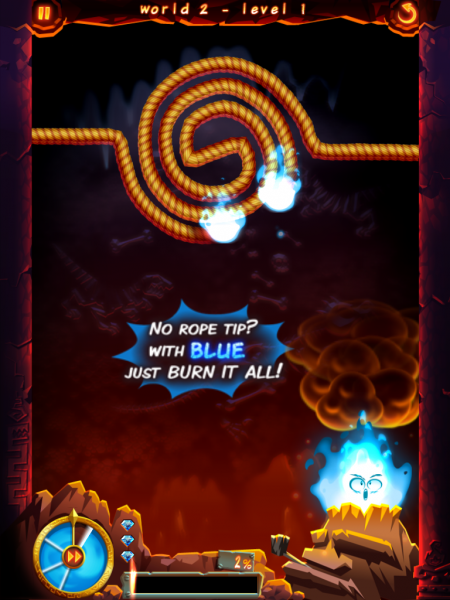 Burn It All – Journey To The Sun ($0.99, Bulkypix): In the short time I have been playing and reviewing Bulkypix games, one thing has become abudantly clear about them.  They develop among the most original games available for the iPad.  not a single one of their games can be said to be based upon, inspired by, or even really in the same genre as most other games.  That is where we pick up the action with Burn It All.   This is the perfect game for you firebugs out there, as it requires you to control three different firebugs as they burn their way from the center of the Earth to the sun.   To play, just drag the firebug to the item you wish to burn.  After each burn, he will need to return to the volcano to recharge, so make sure you plan your moves wisely in order to conserve time.  In the first group of levels, you will have only the red firebug available.  He can burn only one thing at a time, and must start at the ends of ropes.  Later, you will meet the blue firebug, which can burn a rope from any location, not just at the ends.  The green firebug can burn several items at once without a recharge.  Along the way, you will also face a variety of materials to burn, including slow burners, quick burners, and wooden shapes; and obstacles, such as dripping water and air currents which can help or hinder your progress.  See if you can burn through all of the obstacles and reunite the three little firebugs at the Sun.
Download Burn It All – Journey To The Sun.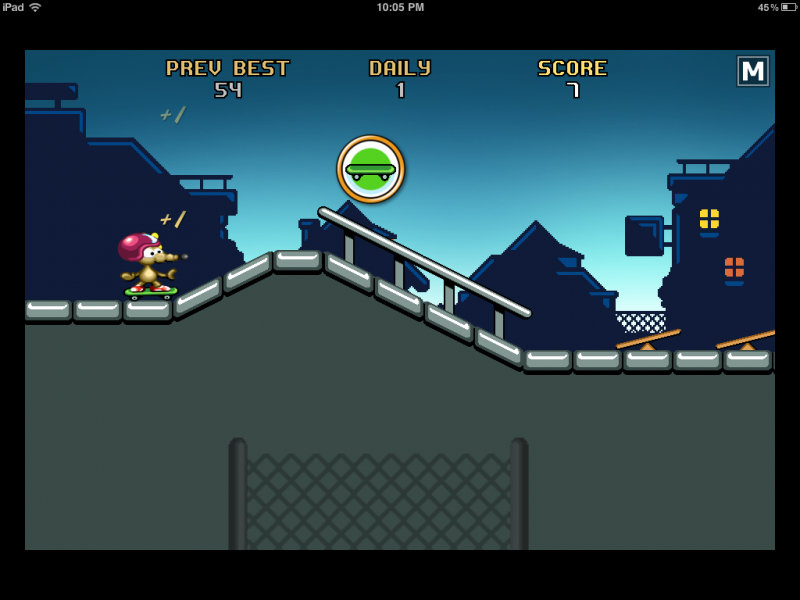 Rat On A Skateboard ($0.99, Donut Games).  Donut Games is another developer which has created an extensive and impressive library of original and creative iOS games.  While I am sure many of you have heard of Skate Rats, how many of you have ever heard of Skating Rats.  More specifically, Ratty, the Skating Rat.  In this one, you must guide Ratty on his skateboard through a playground course, avoiding obstacles and performing tricks for points.  Perform consecutive tricks for multiple bonus points.  There are dozens of predesigned tracks, as well as an endless mode which is randomly redrawn every time you play, meaning this one promises hours upon hours of enjoyment.  Just watch out for those basketballs, which can bounce in at any time and end your run before it even begins.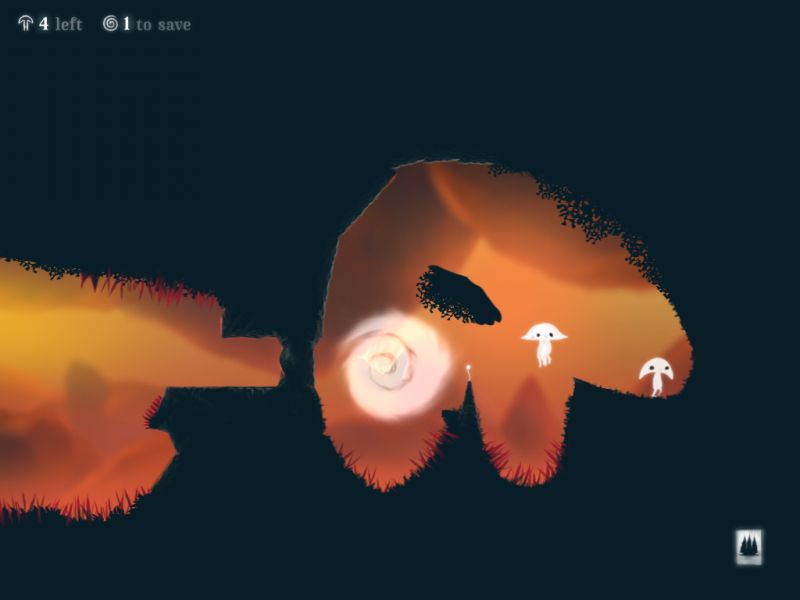 Spirits ($4.99, Spaces of Play): I was lucky to get this game when it was on a special $0.99 sale.  Even if you missed that sale, this one is well worth the $4.99 price tag.   I was initially attracted to this game because of the comparisons to Lemmings, which was one of my all time favorite puzzle games, and this one plays just as well, if not better.  Like Lemmings, you do not just control a character, but an entire community.  In this case, a community of spirits.  Your goal is to get the spirits from the entry point to the swirling vortex, which is a portal to the next level.   Rescue the predetermined number of spirits in order to advance to the next level.  Now, in most levels, there will not be a clear shot from beginning to end.  You will need to use some of the spirits in order to guide the others in the right direction.  Tap any spirit and a menu of available actions will appear.  You can do things like turn a spirit into a wind blowing in any direction, digging, or even growing into a vine which can be climbed by other spirits.   Toss in some exceptional graphics, which truly make use of the iPad's outstanding display.  This is just about the best $5.00 you will spend on your iPad.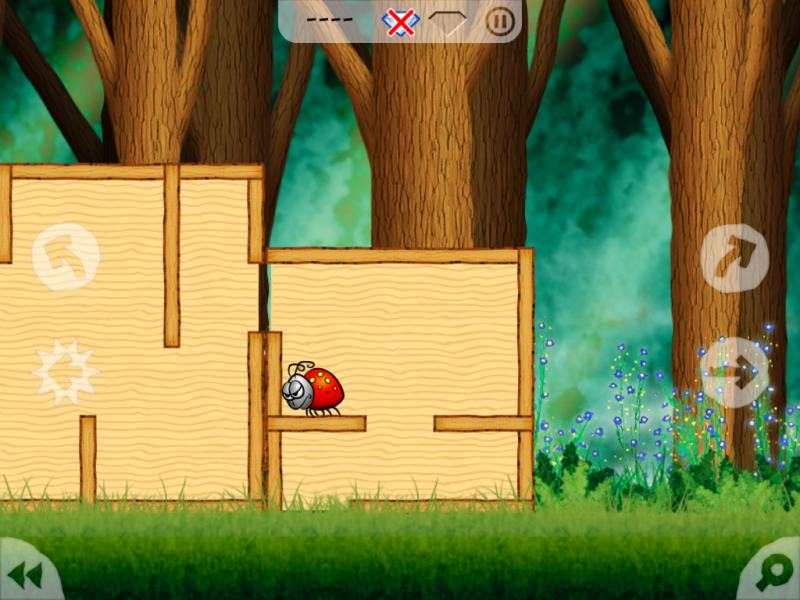 Beyond Ynth ($2.99, FDG Entertainment): Speaking of unique puzzle games, let's take a look at Beyond Ynth, an exceptional sideways look at mazes.  In this game, you represent the Kribble, a small bug on a quest to bring back light to his world.  Along the way, you will venture through four different environments, each with its own attributes and hazards.  What sets this apart from other puzzle and maze games is the way the Kribble move about in the world.  You cannot just walk outside, as some elements could cause certain doom (others just create unnecessary hazards).  Instead, you must manipulate a series of boxes and obstacles in order to allow you to pass from one to the next.  Along the way, you will find jewels which you will want to try to collect (easier said than done).  So, push, climb, jump, slide, and fall through the world of Kriblonia, all the while avoiding the many hazards you will encounter along the way, in order to help the Kribble complete his quest.  This is one game which you will truly need to see in order to believe.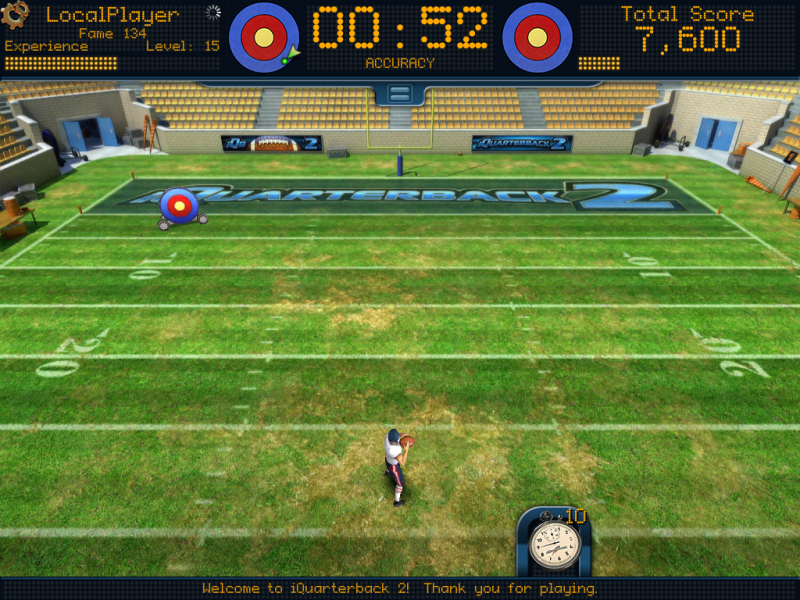 iQuarterback 2 (Free, Fuzzy Cube Software): This is a classic target shooting game with a twist.  Instead of firing a gun at the targets, you throw a football.  Hit the targets in order to earn "Fame" points, which can be used to purchase upgrades such as different balls, hats suits, elements, and even stadiums.  The only thing I found odd here was that using your Fame to purchase an item only gives you a onetime use of that item.  You will need to repurchase it the next time you play.  This makes it impossible to build up an arsenal of features to use.  I got quickly frustrated by purchasing the same item time and again.  Otherwise, this was a fantastic game.  Multiple gameplay modes ensure plenty of replayability, meaning you will get far more than your money's worth out of this free game.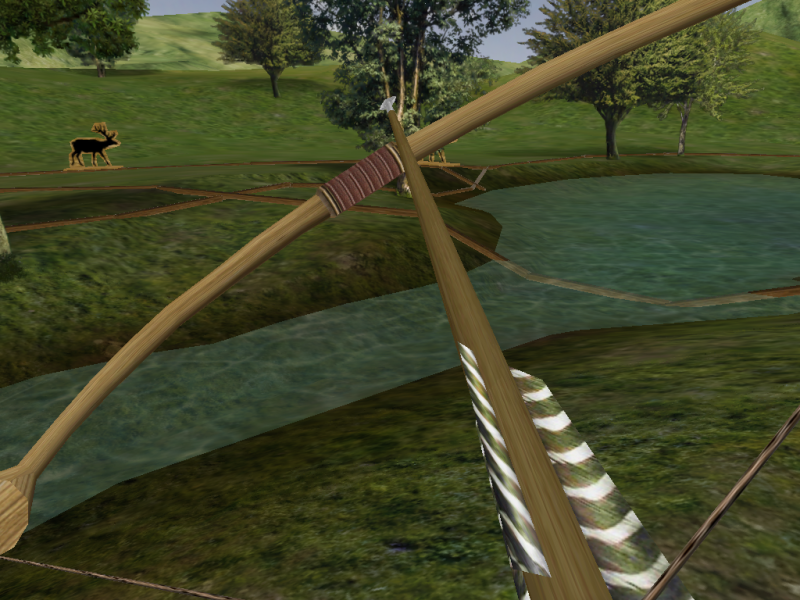 Bowmaster (Free, but requires a $1.99 in-app purchase to unlock all levels, iOccam): One for the archery lovers out there.  This game features a massive, Robin Hood style, archery competition.  I absolutely loved the graphics, which featured wooden animal targets moving along tracks, as you attempt to "kill" them with your arrows.  Watch out, because each level features a different opponent trying to outscore you.  I was impressed by the way the game slowly guided you into more difficult territory and opponents.  I did find the controls to be a bit tricky to master.  You need to tilt the screen to move your view and aim, then slide your fingers to cock your arrow and fire.  A bit much going on for the controls, but otherwise, a terrific and creative game.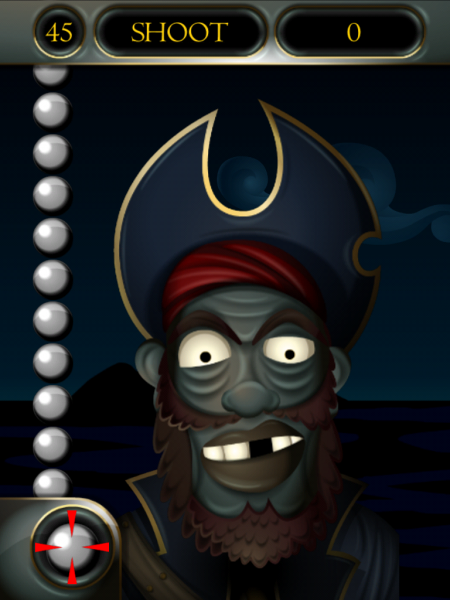 iShot Pirates ($0.99 Daily App Dream): I am always interested in testing out games from small, independent developers.  There is often a level of creativity which can be stymied in larger companies.  With that in mind, I set out to check out iShot Pirates.  The premise is simple on this one.  There is a pirate.  You need to shoot him.  To do this, your must track the target, which is floating around the screen, and drag your weapon to fire when the target is aimed at the pirate.  There is a creative premise at work in this one.  Unfortunately, I did not feel the execution lived up to the promise of the creativity on this one.  The game consists of a simple static image of a pirate.  No story, no real point to the game.  Just firing at a static image of a pirate, which could have just been a paper target,  until you run out of ammo.  I have played much better shooting gallery games on the iPad and other platforms.  Simply put, I was expecting quite a bit more out of this one, and simply did not find it.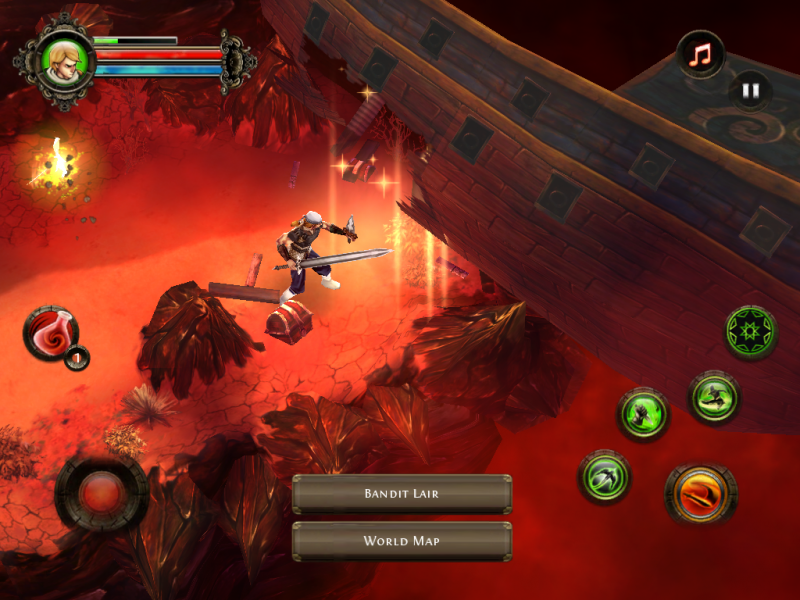 Dungeon Hunter 2 HD $6.99, Gameloft): I have been a fan of role playing games since the days of paper maps, dice, and hundreds of books featuring a myriad of characters and creatures.  I still remember the time when we had to invite one player whom no one really liked at all, just because he had, "The Blue Book."  The one with all of the monsters in it.  Since that time, all of this information has been packed away into dozens of electronic games.  Gone are the days of inviting people you don't like on your adventures, just to get the correct book.  Now, just grab your iPad and enter a world of your choosing.  The best of this new generation of electronic role playing games comes from Gameloft, in the form of Dungeon Hunters 2.  Simply put, this is the best role playing game, and one of the best games overall I have played on the iPad.  The controls are superb, and the game does an excellent job of keeping the action moving with dozens of different characters and a myriad of missions and side missions.  If you are looking for the kind of game which can fill this idle moments in a day, then this is not the game for you.  This is a game for a true gaming-lover.  The kind who has an afternoon…or more to kill (and you will kill quite a bit on this one).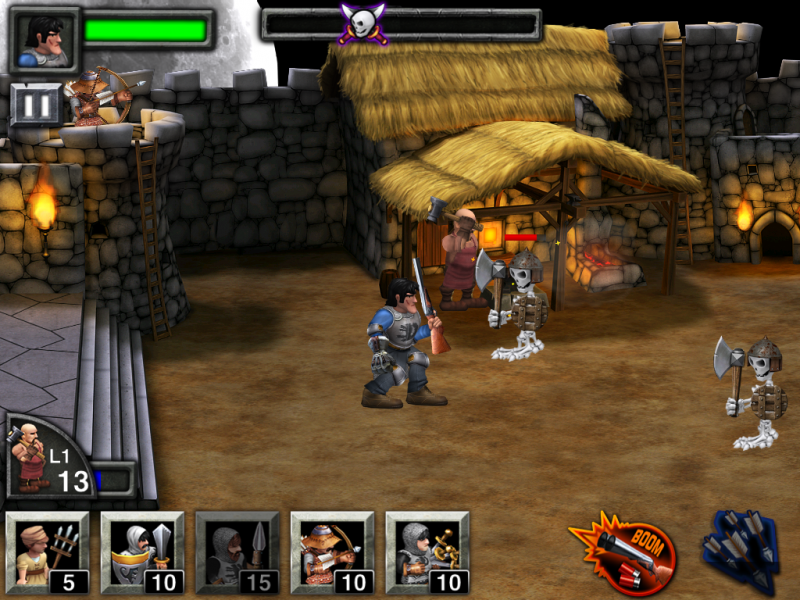 Army of Darkness ($2.99 (currently on sale) Backflip Studios): This is what happens when you unleash one of the top casual game developers on the cult classic sequel to Evil Dead.  Of course, the movie featured a store clerk (played by Bruce Campbell) who was transported back in time to the 14th century, where he had to battle an army of undead soldiers.   The game eschews much of the plot, and fashions the characters into a clever tower defense style game.   Your job, as Bruce Campbell's Ash, is to protect the Necromancer Book from the hordes of undead warriors swarming your position.  Don't worry, though, you are not completely on your own.  You can raise as many warriors as you can afford.  Pick up gold along on the way in order to upgrade your skills and available warriors which you can use to fend off the hordes.  I thought Backflip did a fantastic job of creating an engaging and challenging game without losing the tongue-in-cheek campiness of the original movie.
My Kingdom for the Princess 1 and 2 ($4.99 each with free LITE versions also available, Nevosoft): This is among the most addictive strategy games I have ever played, and one of the few games in which the sequel outshines the original.  In this game, all you need to do is find a path from your cottage to the screen exit.  Along the way there will be plenty of obstacles, including broken roads, stones, mines, logs, and plenty of others.  In order to overcome these obstacles, you will need to gather food, wood, stone, and gold.  Each will bring you different abilities and allow you to gather various objects.  Complete your assigned tasks and exit the screen before nightfall and you will earn a piece of your castle.  Complete all of the levels in order to build your majestic palace and spend the rest of your days with the princess…at least until the next sequel.  This is a truly original game, whose design is only outmatched by its execution.
Download My Kingdom for the Princess.
Download My Kingdom for the Princess 2.
These are a few of the games I have been enjoying on my iPad lately.  Stay tuned though.  Games rarely last long with me, and a new batch is already coming .  So, do not be surprised to find a follow up to this article before too long.  In the meantime, leave us a comment, and let us know what games you have been enjoying on the iPad.  Maybe you will see it featured in this space soon.