By Steve Overton on Mon, 08/01/2011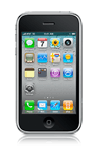 I have a confession to make. I have never owned an iPhone. There I've said it.
I own an iPad Touch 2, iPad 1 and numerous macs. My wife has an iPhone 3G and an iPad 1. So, I have had my hands on the iPhone, but I haven't owned one myself. I have opted to go with phones that fellow realors have, so I could understand them and be able to help them  when things go wrong (as they often do with phones other than iPhones). I have owned a Palm, Blackberry and currently have an Android. Personally, I do all my web surfing on either my iPad or my iPod Touch. Android is a formidable competitor to the iPhone, but still is a distant second, in my opinion.
I am telling you all this because as of today, I will own an iPhone. My story has been that I didn't want to buy myself out of my Sprint contract AND buy a $200 phone. That was until AT&T began an amazing offer. Refurbished iPhone 3GS for $9. You can even get a refurb with blemishes for......wait for it....one penny. That's right that copper coin with Lincoln on it!
Master your iPhone in one minute a day:
Sign up to iPhone Life's Tip of the Day Newsletter and we'll send you a tip each day to save time and get the most out of your iPhone or iPad.
I will no longer be cursing at my droid because it waits 15-20 seconds to connect a call. I will no longer be making the excuse that I "am still under contract", I will finally be fully Apple accessorized. I know, I know, I will still have to listen to those that will give me grief that it is not the latest and greatest, but $9? Really, how could I say no? And, I have enough left over to buy out my contract. All I can say is Ahhhhhhhhhhhhhhhhhhhhh!