By Steve Overton on Thu, 12/09/2010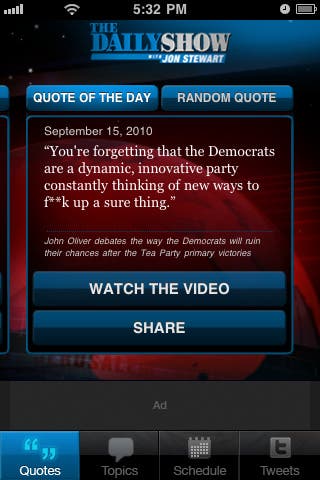 TV news has changed quite a bit in the last number of years. When a comedian takes over Walter Cronkite's "Most Trusted Name In News" title, I can only shake my head and wonder. That being said, I love the Daily Show. So much so, I download it from iTunes to watch it on my iPad, since I don't have cable. I think it is a bargain at $10 for 16 episodes.
But wait! now, for a mere $1.99, you can watch most of the content by downloading the Daily Show app. What it is, is a large collection of segments from the show. You can search by guests who appeared on the show or quoteable quotes or even topics and segments. It looks as though they have segments back to 2009 for viewing. If you like Jon Stewart, this is a must have app.