By Adam Harvey on Wed, 06/26/2013
After testing the two products I'm reviewing for you today, I am now a huge fan of SnowLizard. I am impressed, and that's saying something, because gadgets are kind of my thing. I love them, so I'm always getting different ones to tinker around with. These two products from SnowLizard are my new favorites.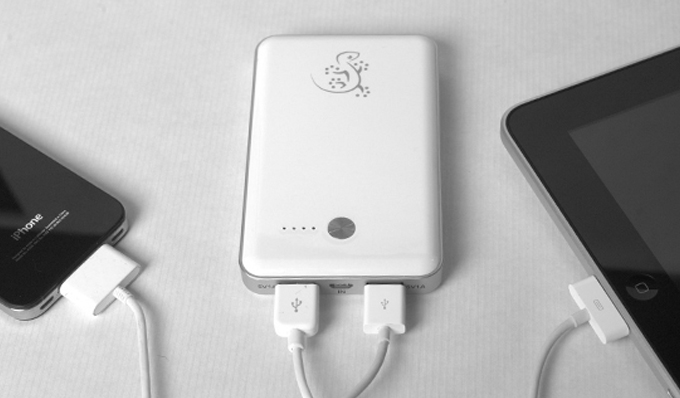 Master your iPhone in one minute a day:
Sign up to iPhone Life's Tip of the Day Newsletter and we'll send you a tip each day to save time and get the most out of your iPhone or iPad.
If you're anything like me, you have more than one rechargeable device. Between my wife and I, we have several of them so being able to charge two things at the same time is really important. It's a marriage saver, really. That's what makes the SnowLizard Power Tek 7000 Charger so perfect for us. It holds 7000 mAh (milliamp hours) of power and can charge two devices at a time in the flick of a lizard's tongue.
Here are a few specs for you before we launch into the review:
•            Dimensions: L 4.7 x W 2.9 x H.7 in., Weight: 9 oz.
•            Capacity: 7000mAh
•            USB #1 Only: 2.1A max.
•            USB #2 Only: 2.1A max.
•            2 USB output in Use:
•            1A max. for each port
•            Input: 5V,1A max
The charger feels just a little bit heavier than your average smartphone, and the material it's made of is very smooth so that it slides easily in and out of bags and pockets. My wife likes the simple and sleek design with the battery charge indicator right on the front, so you can easily tell how much juice you've got. She also likes how easily she can slip it in and out of her purse, but not so fast! That's MY Power Tek!  I just let you use it sometimes.
With 7000 mAh of power and 2 USB ports, the SnowLizard Power Tek 7000 Charger can charge two tablets or smart phones at the same time or one iPhone three times. That's a heck of a lot of power contained in such a small device. In fact, at 7000 mAh, it's one of the most powerful ones I've seen. The average charge time for two iPhones is about 4 hours, so it's pretty quick too!
I get a lot of juice out of this charger before having to recharge the Power Tek itself. Fully recharging the Power Tek takes about 7 hours or so. I feel like that's a reasonable amount of time for how much you get out of it afterward.
At the end of the day, I have no criticisms for this product at all. It does what it's supposed to do and it does a good job.
Rating: 5 out of 5 stars
Next!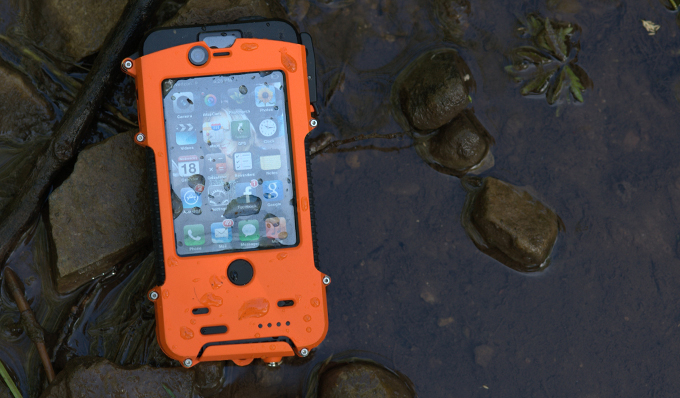 As you guys know, my phone goes everywhere with me. Whether I'm at the office or sitting poolside sipping an ice cold margarita, I gotta have my phone. So, it's really important to me that it's protected when I'm around water. I've reviewed other waterproof cases before, and they've all been pretty good, but I like this one a little better.
The Aqua Tek has a solar battery booster panel on the back! So, while my margarita goes down, my battery power goes up!  And with this case, I can access all the ports and buttons and get full phone functionality. I feel a little more secure putting my phone in this one too since it's top loading, which reduces the area where leakage could occur. The phone fits in very tightly and has to be naked in order to get it in the case, but that's ok. Other than having to take your other case off to get your phone into this one, it's very easy to load your phone in. I like the locking feature on the top too. That way, you know you're good to go and the phone is sealed in tight.
There's a clip and lanyard on the outside of the case, and it comes in a variety of bright colors, so you can see it in the water if you drop it. Just hope it doesn't sink down below 20 feet, because there's no guarantee your phone will still be safe at that depth.
The only complaint I have about this product is that it doesn't fit my iPhone 5. That model has yet to come out. With another new iPhone coming out soon, I'm afraid they're always going to be one model behind. Hurry SnowLizard! I don't want to live without you!
Rating: 5 out of 5 stars for the Aqua Tek case too!
So there you have it, iPhone Lifers! These are two terrific products from a company that got its start on Kickstarter. It's definitely one to watch!