By Adam Harvey on Wed, 08/07/2013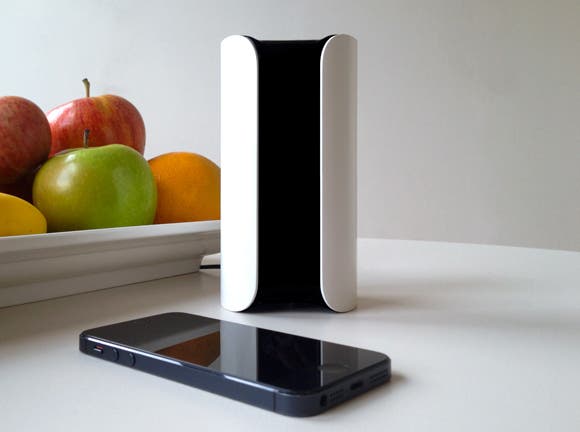 I like to think of myself as a pretty tech savvy guy, but I have to tell you that setting up my own home security system was a major pain. It was complicated and time consuming and I'm not looking forward to the day when I have to upgrade and do it all over again. But maybe I won't have to now that the Canary home security system ($199) is coming on the scene.
When I first heard about this revolutionary system on Indiegogo, I felt as if my prayers had been answered! The Canary is a single device home security system that tracks motion, temperature, air quality, vibration and sound in your home. You control it through an iPhone or Android device where you receive instant alerts if there's a sudden change like a rise in temperature (indicating a fire) or loud noise (from a possible break in).
Master your iPhone in one minute a day:
Sign up to iPhone Life's Tip of the Day Newsletter and we'll send you a tip each day to save time and get the most out of your iPhone or iPad.
The Canary takes just 30 seconds to set up. This is a far cry from anything else on the market and it has great potential to bring reliable and easy to use home security to everyone—not just the wealthy. The Canary is also very versatile and can be set up anywhere from a small space like an apartment to a large house. The system is connected to the cloud and there are no monthly service fees.
The device itself is shaped like a soda can, and it's packed with digital sensors, an IP camera that can see in the dark, a 100-decible siren, a microphone, and an 802.11 b/g/n Wi-Fi adapter for connecting Canary to your home network. But that's not all!  There's also a motion detector, an air-quality sampler, a humidity sensor, temperature gauge and an accelerometer.
What I think is pretty cool about the Canary is that it learns about the activity inside your home. It knows when you've come home and the motion detector learns the difference between your movements and those of your pets. When someone is in the house when you expect it to be empty, Canary will tell you through a purpose-built smartphone app. The app can also be used to arm and disarm the Canary so users don't have to enter a code every time they enter or leave their home.
The Canary is clearly a great solution for anyone who wants to protect their home, their pets and everything they hold dear. It's no wonder that it's already met its crowd funding goals on Indiegogo.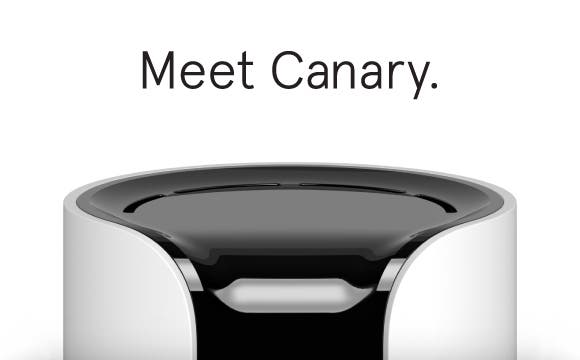 While I have not had a chance to use the Canary, I had an opportunity to interview the founder and CEO, Adam Sager, who is a former sergeant with the Israeli Defense Forces. He has acted as a security consultant to large corporations before founding Canary. Adam had some interesting things to say with regard to bringing his product from idea into production:
iPhone Life: What's the inspiration behind Canary?
Sager: About a year and a half ago, I was returning home from vacation with my family, and as I got close to home, I felt a sudden and deep sense of vulnerability. I didn't know what had happened in my home while I was away. I think that's a common experience. I looked to buy something to solve that problem, but was surprised to find that there is no real consumer security product available. Everything I found was either do-it-yourself or professionally installed; both options are expensive, complicated, and fraught with false alarms. I knew there had to be a better way, and Canary was born.
iPL: How did you assemble your core team? Are they people you've known for a long time or did you search for them?
Sager: The core team started to come together after a conversation with a friend of mine from the NY Tech Community, Chris Rill. It turned out Chris had had a very similar experience while living in London as a startup co-founder. He also returned home from vacation to find his apartment door broken down and covered with plywood. He found out later that the police had broken down his door (they had the wrong apartment), and being an engineer with experience in building embedded systems for the military and in software he built a monitoring system for himself. He was very enthusiastic about refining the concept to create a consumer security solution. Likewise, I knew Jon from when he first came to New York to work at General Assembly, and the three of us worked so naturally together that we built Canary. The rest of the team has been built over the past year.
iPL: What are some of the core values or beliefs that drive your company?
Sager: Canary believes in a very transparent approach to doing business, internally and externally. That includes an open dialogue with our customers, which is important to build the trust needed with security solutions.
We also believe that everything we do—from customer interaction to product development—must be beautiful. Everything we do must be done with the intention to create an experience like none other. It drives everything we do, and how we look at the market and at the world. We are fiercely focused on meaningfully impacting the world through the products and services we create at Canary.
iPL: Who do you see using Canary and benefiting from it the most?
Sager: Young families and professionals that rent are primary examples. We also expect tech savvy adults to consider purchasing one for parents who live far away. Essentially those who need it most are people who think traditional security systems are prohibitively priced and largely ineffective. Do-it-yourself solutions are also complicated, and still pricey. Canary is the easiest way to connect to a physical place, and changes the way people from around the world think about home security.
iPL: How has the design/prototype/production process been?
Sager: It wasn't free of difficulties, but we have an incredibly smart team, working through the designs and prototypes over the past year has been a very rewarding experience. We are all tremendously invested in the success of the product and company. At this point, we are lucky that some of the world's most prestigious technology, infrastructure and manufacturing companies love what we are doing, so creating the right partnerships will only increase the chances of our success.
iPL: What was your biggest challenge? How did you overcome that?
Sager: The biggest challenge comes right now, as we head into production. We deliberately held off on a crowdfunding campaign until we had working prototypes, because we've seen too many companies struggle to hit deadlines and ship dates as unforeseen issues crop up. Being farther along in the process helps give us confidence in our timeline. The tremendous response from customers, peers and the media has been incredible. So many people have reached out with outstanding questions and ideas that it is tempting to make changes and tweaks. But we have been ruthless about cutting out anything that diverts us from delivering the product we promised, and that our backers expect.
iPL: You got a great response on Indiegogo. How does this change your plans?
Sager: It's inspired us to keep pushing, providing the best experience possible for customers. A lot of people are watching now. Canary must, and will be a revolutionary experience. The most exciting thing about Canary is that the more people use the device, the better it gets, from a data perspective, a learning perspective and in many other ways. By having so much interest early on, it ensures that the software will get better, faster.
iPL: Are there any future enhancements or sister products for Canary that you're hoping to be able to implement once it's in the hands of consumers? 
Sager: Right now we're focused on getting this right. But we've got lots of great ideas, including some from people who are following our launch. We're not planning any significant hardware updates to Canary, but down the line we expect to have updates to the software that will make the product better than ever. Our technology roadmap looks really exciting.
I enjoyed communicating with Adam, and it's great that Canary is getting such a strong response. It's the only thing like it out there right now, and it has great potential. Keep an eye out for it in 2014!