By Adam Harvey updated on 02/23/2013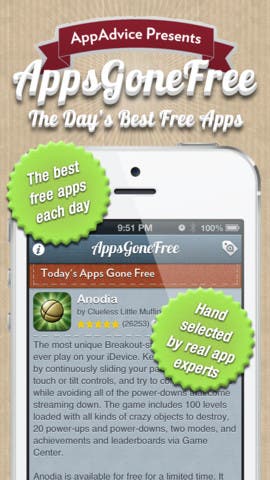 Sometimes you don't know you need something until someone shows it to you, and you realize, "That's so cool! I need that!"
That's why I'm totally digging Apps Gone Free (FREE) right now. Unlike AppGratis, which offers one free app per day, Apps Gone Free offers several paid apps free for a limited time. Some days there are more; some days less, but every day there's fun! It's awesome because you get a random bunch of apps to browse through and decide if it interests you or not. I love it so much I've actually found myself checking it first thing in the morning even before I've had my coffee or checked my email!
Master your iPhone in one minute a day:
Sign up to iPhone Life's Tip of the Day Newsletter and we'll send you a tip each day to save time and get the most out of your iPhone or iPad.
It's that serious guys.
Part of the appeal for me is I get overwhelmed by how many apps are out there. It's like shopping at a convenience store as opposed to the supermarket. Your choices are limited, and sometimes that's a really good thing. I hope it helps you wade through the sea of endless possibilities. I'm willing to give all kinds of apps a try, just so you don't have to. What can I say? I'm a giver! (Just like the folks over at Apps Gone Free).
Here are a few of my favorite finds so far. These apps may not be free anymore, but gives you an idea of what's possible:
1. Runtastic Heart Rate PRO (Usually $0.99)
This app is well worth the $0.99 — It's cool to be able to whip out your phone and check your heart rate. All you have to do is lightly place your index finger on the LED camera flash. Within seconds, you have a surprisingly accurate heart rate. I checked it against the wearable heart rate monitor I normally use and it showed the same reading. The only drawback is you have to stay still while it taking a reading. If you're in the middle of a run, you have to stop to get your heart rate. If that doesn't bother you, you'll be all set
2. Taskable (Usually $1.99)
Taskable is a fun and functional task management app. I like its colorful and clean user interface more than some of the more austere and businesslike ones I've tried in the past. It's not a terribly complex app, but it's nice for storing everyday reminders and to-do lists, which you can share with family and friends via email or text.
3. Smart Office 2 (Usually $9.99)
Smart Office 2 seems a bit pricey for an app, but you get a software suite that lets you review, create, edit, and share Microsoft Office files as well as PDFs. It's much less expensive than similar apps. Some apps, for example, need an Internet connection while others have a monthly fee. But this one doesn't! The user interface is clean and intuitive and for the price, you really cannot beat Smart Office 2. I'm so glad I found it!
4. Focality! (Usually $0.99)
Before you read my review, you MUST click this link and watch the demo video. 
It's not in English, but it doesn't matter. I have four words for you: Eye of the Tiger!
Now that we've gotten that out of the way, I like Focality!  Have you ever wanted to zoom in on something in a picture so that everyone could see what's so interesting about it?  That's what this app does. All you do is take a shot or choose an existing one from your library. Then, choose a spot to focus on and zoom in until you're satisfied. Choose a layout and share it on your social networks. You'll get a kick out of it.
Have you guys tried either AppGratis or Apps Gone Free?  What are your favorite finds?