By Todd Bernhard updated on 04/01/2014
Recently, I wrote about the XSPIN, a handy gadget that connects to your stationary bicycle (or traditional bicycle on a stationary mount) but I wanted an expert opinion. My colleague, Dennis Wurster, is both an avid cycler and a Mac and iPhone expert.  Here is his expert review:
It's that time of year again. The wind is blowing, the snow is falling. If you're trapped indoors this winter, and find yourself riding your trainer, you'll be looking for a distraction.
Master your iPhone in one minute a day:
Sign up to iPhone Life's Tip of the Day Newsletter and we'll send you a tip each day to save time and get the most out of your iPhone or iPad.
Indoor training is a great way to maintain your fitness. You'll start the cycling season stronger and keep your metabolism up,too.
The problem is, indoor training can be a dull proposition: spinning for hours, with no breeze, no sun, and no interaction with the road. There's nothing to look at either. At my house, I'm in the basement, looking at the clothes dryer. It's hardly motivating.
XSPIN, by Pafers, aims to improve this situation. It's a clever solution that ties together a number of disparate technologies to help you track your workout progress and to keep track of your cumulative totals. They claim that it's "The ultimate indoor cycling experience."  Is that true? Let's find out!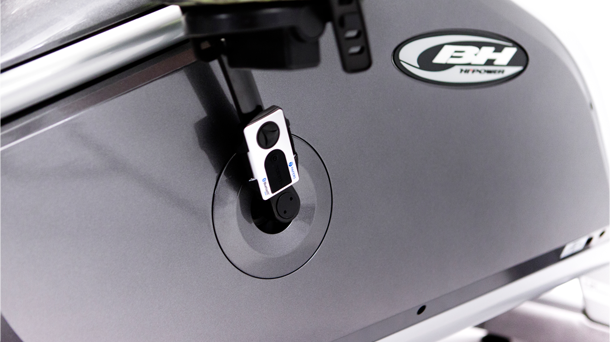 In the box, you'll get a battery-powered, Bluetooth-equipped fob that mounts to a crankarm. It keeps track of when your pedals are moving, and how quickly you're pedaling. It connects with a hook-and-loop closure and holds securely. The battery is included, and there's only a single button on the unit to pair it with your iOS device, so it's really easy to set up on a stationary bike, indoor spinning bike, elliptical machine, or bicycle on a trainer. You also get a multi-language sheet of instructions, and a user manual.
To use XSPIN, you'll need at least iOS 6 on an iPhone 4S, iPad 3, iPad mini, or iPod Touch 5th Generation or later.
You can get a pair of free apps from Pafers to pair with the sensor, Cycle Rush 2 and Cycle on Earth. I tested each of these with an iPad Air.
Cycle Rush 2 tracks your workouts and can provide statistics and history. It also can provide a set of structured workouts to follow. You get some workouts for free, and others are available as in-app upgrades. One notable feature is that you can also pair your heart-rate monitor to the app, too. This provides a well-rounded view of your workout.
Cycle on Earth is somewhat different. Using StreetView technology from Google, Cycle on Earth lets you draw out a route on a map. This could be your favorite summertime loop, or something more exotic. Ever wanted to ride around Paris? Toronto? Your hometown? No problem! After you specify the route, start pedaling. You'll be shown the StreetView images along your route. The faster you pedal, the faster the images advance. It's a very clever system that keeps me from having one-sided conversations with the washing machine during a workout. When I tried this app, I was a little surprised to find that the Street View images were of the side of the road, as if you were looking to your right. This was different than a typical outdoor ride, where you'd be looking straight-ahead.
There are a couple of practical considerations. Namely, how do I view the iPad while I'm riding? A traditional elliptical or stationary bike might have an integrated reading stand, but spin-bikes or bikes on trainers typically don't. In those cases, a handlebar-mounted iPhone or iPod touch might be a better choice.
Overall, XSPIN truly delivers on its goal to add some measurement and entertainment to the often mundane task of exercising during the off-season. If you're trapped indoors this winter, I think it's worth a try!