By Todd Bernhard on Mon, 06/10/2013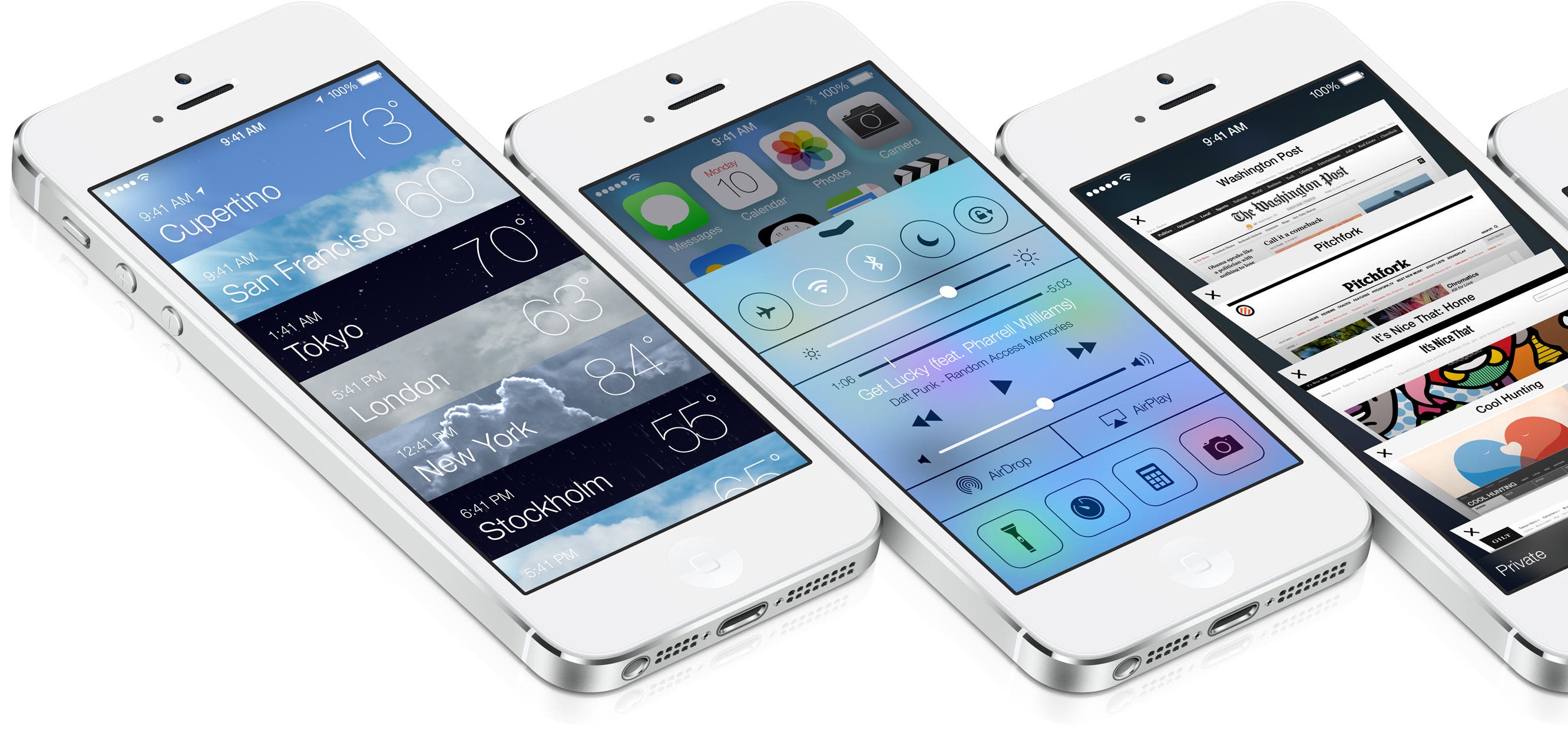 It's time for Apple's annual Worldwide Developer Conference (WWDC) and with it a new version of the company's mobile operating system and more!
Apple had a lot to announce regarding Macs and Mac OS, including the new OS X Mavericks in a break from cat-based names. But this is iPhone Life, so here's what's new in the iOS world:
Master your iPhone in one minute a day:
Sign up to iPhone Life's Tip of the Day Newsletter and we'll send you a tip each day to save time and get the most out of your iPhone or iPad.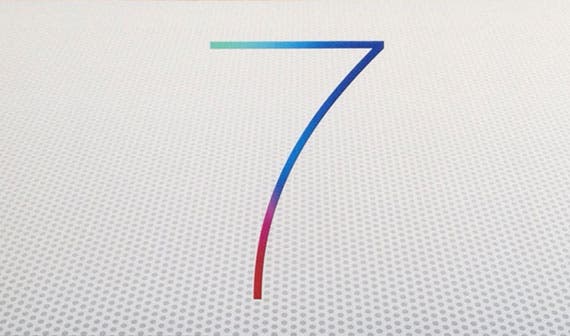 The first thing you will notice about iOS 7 is the flat, almost simple design. Jony Ive, Apple's celebrated hardware design guru, has added software to his responsibilities and has brought his Braun and Dieter Rams inspired philosophy to iOS. There are still gradients but gone are the skeuomorphic elements of trying to represent the real world inside apps. There will be fans and detractors, but it's clear this is the future of iOS. So get used to it! As Sir Jony Ive stated, "The interface is purposely unobtrusive. Conspicuous ornamentation has been stripped away. Unnecessary bars and buttons have been removed. And in taking away design elements that don't add value, suddenly there's greater focus on what matters most: your content."
There are some special effects, such as parallax and translucency between planes of views, to create depth. The screen comes alive as you rotate the device. I've noticed the biggest change is an emphasis of white background versus black. This could have the unintended consequence of drawing more battery power, and being difficult to use in the dark, as the brightness could be a problem.
Apple's internal apps, like the Calendar, Weather, Calculator, and even the Compass embrace this cleaner design. Even the status bar is streamlined with a simpler signal strength bar that will probably have its detractors. A lot of this look owes itself to Microsoft Windows Phone, for better or worse, and it's only fair as all of the phone providers have done their share of imitation.
Folders can now hold pages of apps, which is long overdue. With 900,000 apps in the app store, we need a better way to keep track of them all. You can access Notification Center from the lockscreen without unlocking the device. This will be more convenient, but perhaps less secure. Control Center is accessible from a quick swipe up, from anywhere, giving access to the most commonly used tasks, like Bluetooth settings and even a built-in flashlight, which will quickly obsolete several apps!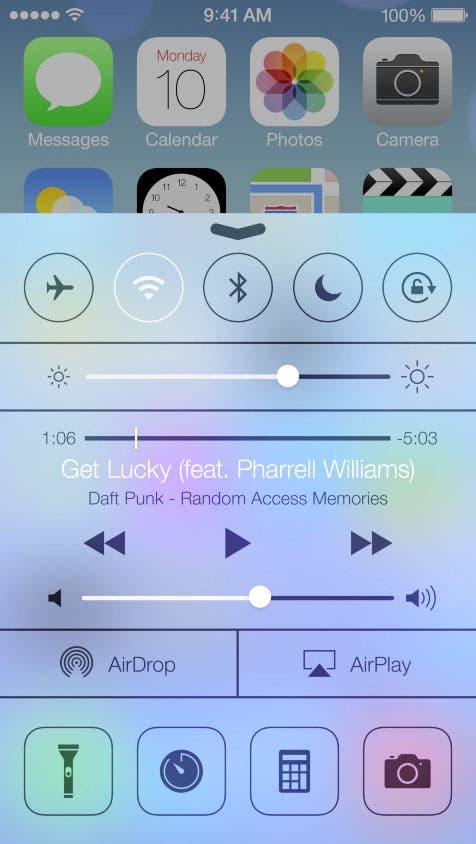 All apps will be able to multitask without impacting battery life. iOS 7 will notice which apps you use frequently and give them plenty of background cycles. You can double click to enter a multitasking view, similar to CoverView, letting you switch between active apps by viewing a decent size thumbnail of the screen as opposed to just the app icon. Safari also has a similar view on theoretically unlimited windows instead of the previous limitation of 8 tabs.
AirDrop will let you share media with other AirDrop-capable devices without having to physically touch the devices of those other folks. This was a direct hit against Samsung's commercials featuring high fiving phone owners swapping videos by touch.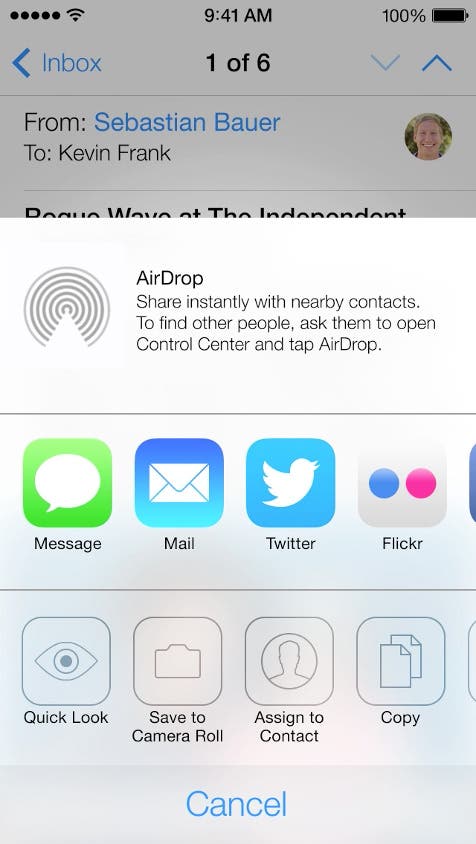 Siri has been enhanced, with more voices, including male and female English options.  And Siri has been integrated with several car manufacturers.
The App Store has been enhanced to help you find apps popular near you, which will be great for location-based apps and tourists, and you can also search by age range. The App Store will also be able to update your apps without making it a manual process.
iTunes Radio is a shot across the bow to Pandora, Spotify, and other such services. iTunes Radio is built right into the Music app and offers popular categories of music. And as you can imagine, it's dead simple to buy a song from within the app. iTunes Radio is free with ads, or if you are a paying iTunes Match customer, as I am, it's free with no ads.  And it works on Apple TV, too!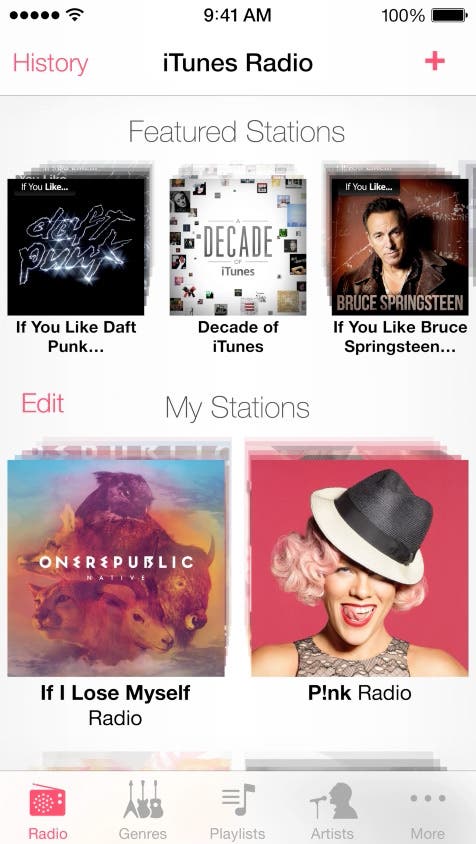 One Mac OS feature that helps iOS users is the ability to send maps and directions right to your iPhone. Those directions appear on the iPhone's lockscreen so you are ready to swipe and go! Another area of overlap between Mac OS and iOS is the addition of iBooks for the Mac, so you can leverage your investment in electronic books and then use the large screen of your computer to read it. iCloud Keychain keeps track of your passwords across all Apple devices, so this should make life easier.
There are a lot more features that Apple didn't cover, but one that caught my eye is blocking for phone calls, Facetime, and Messages.  My wife gets a lot of unwanted text messages and now she can block them at no charge!
iPhones are wildly successful, which also makes them a popular target for thieves. Now, you can prevent activations without access to your iCloud password, after a wipe. This should make iPhone theft less attractive.
As CEO Tim Cook said, iOS 7 is, "the biggest thing to happen to iOS since the iPhone." And you already know how to use it. Apple may not have introduced a new iPhone, but with iOS 7, Apple has turned your old iPhone into something new.