By Todd Bernhard on Thu, 02/10/2011
Today, millions of new users are joining the iOS ecosystem, thank to the Verizon iPhone, and for many it will be there first introduction to iTunes and the App Store.  Those of us who have lived with an iPhone for years take many things for granted, but I thought I'd point out some of the idiosyncrasies in iTunes for our new friends.
First, you cannot sync wirelessly.  Yes, three years ago, my old Nokia phone could sync my media wirelessly and I took it for granted.  Maybe Apple wants to sell docks and cables or they just don't have their cloud act together yet, or they realize that people store a ton of apps, music and movies on iTunes and it would take forever to transfer over Bluetooth or WiFi.  But I'd like the option.
Master your iPhone in one minute a day:
Sign up to iPhone Life's Tip of the Day Newsletter and we'll send you a tip each day to save time and get the most out of your iPhone or iPad.
The App Store is a mess.  The categories are crowded with unrelated apps.  Apple hasn't really added any categories despite growing to 350,000+ apps.  For example, today in Lifestyle, the Confession app is #1 followed closely by Mixologist and several Sex Positions apps.  Apple should have an Adult/17+ section (or filter) and consider more categories like Religion, Cooking, etc.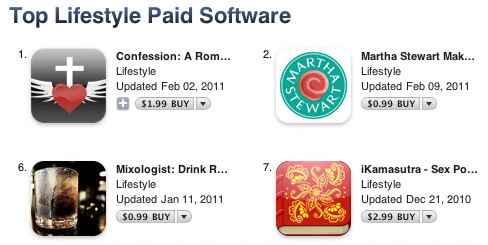 Don't believe everything you read in the reviews.  I won't name names, but I know of several developers who write their own fake reviews on a grand scale.  They've also taken to writing bad reviews of competitor's apps, and recommending their own within the review!  Even rankings are suspect.  One developer has created a separate business that pays people to buy their app and others, just to increase rankings.  I recommend you find a reliable site like AppShopper.com or 148apps.com to do your searching and to find recommendations.
Nothing is perfect, including the App Store, iTunes or even the iPhone.  But it's pretty darn good and getting better.  Welcome aboard!