By Todd Bernhard on Fri, 05/14/2010
I admit it, I am a self-confessed movie junkie. When watching animated movies, I love to identify the actors from their voices, and on the rare occasion when I can't place the name, I have the IMDb (Internet Movie Database) app and website close at hand. So I looked forward to playing with Ultimate Movie Buff, $0.99, from Super Monko Studio, especially since it is billed as "dedicated to cinemaholic people"!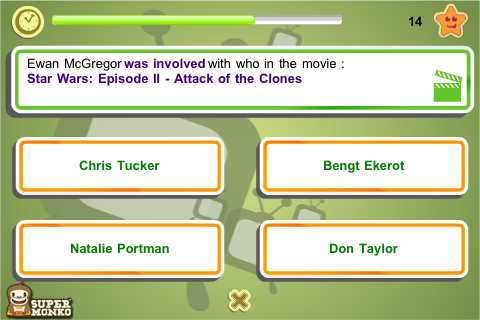 Sure enough, the app has about 5,000 questions in fifteen categories, including director, actor, year, and location. It's pretty apparent that many of the questions come from a source like IMDb, where they "scraped" those items from a database. I think I'd get bored just guessing what year a film was released. But what I found most interesting were what appeared to be 'handpicked' questions, where the app shows a photo or video and you have to identify the actor, etc.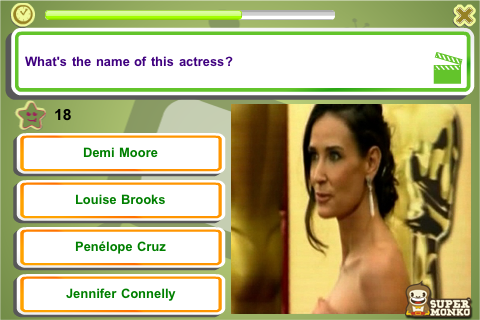 The graphics are well done, and the app supports solo, head-to-head, and turn-based play. Unfortunately, there is not an iPad-specific version of the app, and videos look choppy when scaled up, but perhaps that will be enhanced in future versions. They offer a "non-ultimate" i.e. free version simply called "Movie Buff" so you can see if this is your cup of tea… or slice of Hollywood!