By Todd Bernhard updated on 10/14/2011
AT&T.  Nothing inspires more conversation among iPhone owners than those few letters.  AT&T has benefitted from their exclusive contract, but their coverage has been an easy target for competitors and late night comics.  What is an iPhone road warrior to do?
I had the chance to try the Sleek from Wilson Electronics, Inc.  ($130 MSRP).  True to the name, the Sleek is smaller than Wilson's previous models and more portable than hardwired models.  I had always been hesitant to try any device that needed to be permanently wired into my car or that worked exclusively with one phone.
Master your iPhone in one minute a day:
Sign up to iPhone Life's Tip of the Day Newsletter and we'll send you a tip each day to save time and get the most out of your iPhone or iPad.
The Sleek piqued my interest, as it is both universal and somewhat portable, although you may want to hide the wiring for the external magnetic antenna.  Wilson offers the iBooster, specifically for the iPhone, which is a combination charger, cradle, and antenna so you don't even need to mount an external antenna.  With either booster, you might have to remove your phone from its case for it to fit, depending on the bulk of your case.
Skeptical by nature, I wanted to see for myself if the Sleek could improve reception. Styling, pricing, and packaging are irrelevant if it doesn't improve reception!  The good news is, Wilson Technologies' Sleek booster worked, for me and for my iPhone 3G.
Initially, I took a road trip to some diverse areas around Rochester, NY to see how it performed.  I went to the airport, downtown, suburbs, and the highway where I've experienced dropped calls before.  I made and received calls throughout the journey and never experienced a dropped call.  Then I decided to push the limit!
With the help of http://www.DeadCellZones.com, I located some dead zones within driving distance and spent a half a tank of gas (and most of my birthday!) testing these spots.  I went to the end of the earth, or at least the edge of the United States, to the northern border of New York, along Lake Ontario.  Sure enough, without the booster, I could watch the bars disappear as the lake approached, until there was no signal, just "Searching".  I plugged in the Sleek.  Unfortunately, dead means dead, and even the Sleek couldn't get a signal at that remote location.  But I drove around for a minute and as soon as I could get a signal, I measured the results both with and without the Sleek and it was significant.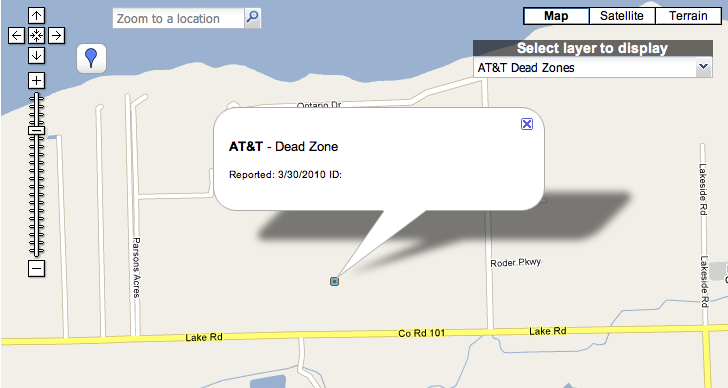 I didn't want to rely on 'bars' as an indicator, and fortunately the iPhone provides a mechanism to test signal strength. Enter the following phone number *3001#12345#* and touch 'Call'.
Instead of making a phone call, it will launch the Field Test.  The number in the top left represents the signal strength, in decibels.  It is always negative and closer to zero is better.  For example, -70 is good and -90 is weak.
| | | |
| --- | --- | --- |
| LOCATION | No Booster (Decibels) | With Sleek (Decibels) |
| Suburbs | -71 to -73 | -51 |
| Downtown | -57 | -51 |
| Airport | -71 to -75 | -51 |
| Highway | -83 to -99 | -51 |
| Lakefront Border | -105 to -113 | -71 to -77 |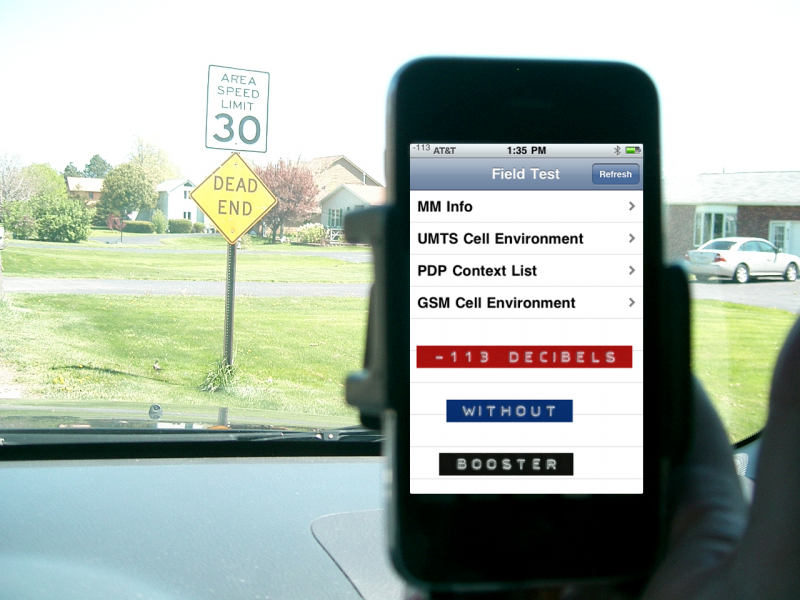 NOTE: Retro embossed labels applied using Pocket Labeler app.  The "-113" is in the very top left, where the AT&T bars would normally appear.
As with any tech gear, there is room for improvement.  Some of these suggestions are nitpicking, but I would like to see the following:
1) Offer vent clips instead of or in addition to the permanent adhesive mounting.  The Sleek is somewhat portable, but by making the mount permanent, it's hard to move from car to car.  Wilson could sell such clips separately on their website.  Of course, you could buy a Sleek for each car, especially since you might want to conceal the antenna cable.
2) I would like to see a dual port USB charger so I could charge my phone at the same time, without requiring a second cigarette adaptor.  For long trips, this is important.  Fortunately, my SUV has a lot of cigarette adaptors, and I don't smoke!  The Sleek does include an accessory USB port (miniUSB) but it would require a special cable to power an iPhone.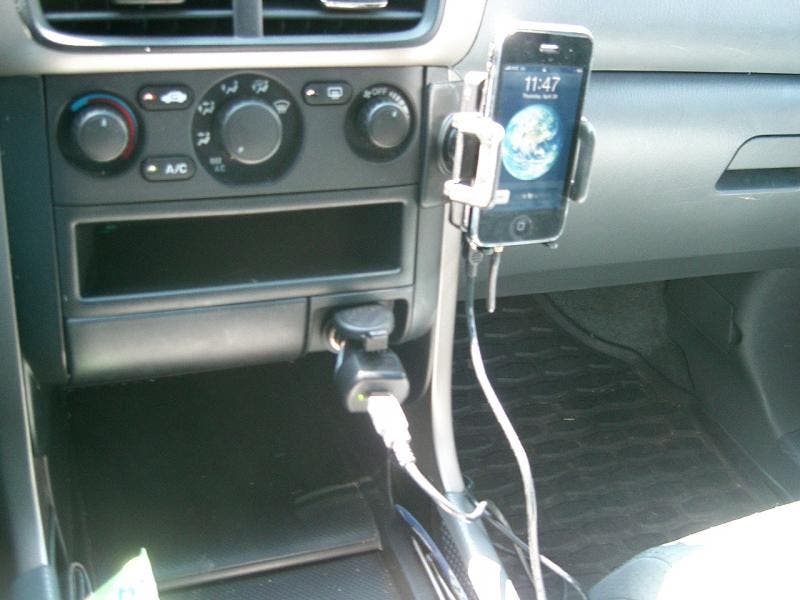 Wilson's Sleek is a no brainer for road warriors, especially if they spend a lot of time doing highway driving.  As always, please use a hands-free device if you must make or take calls, or pull over to a safe spot.  But if you must stay in touch, the Sleek is a great way to do so.