By Todd Bernhard on Mon, 08/18/2014
BestBuy may have jumped the gun, but for now at least, their website shows the Moto 360 with pricing ($249.99) and specs, and states "Coming Soon" for availability. The page might come down, so here's a screengrab and the specifications. The pricing is actually pretty attractive (as is the watch) given that it is voice actived, waterproof, and manages to fit in a 1.5-inch round LCD touch screen.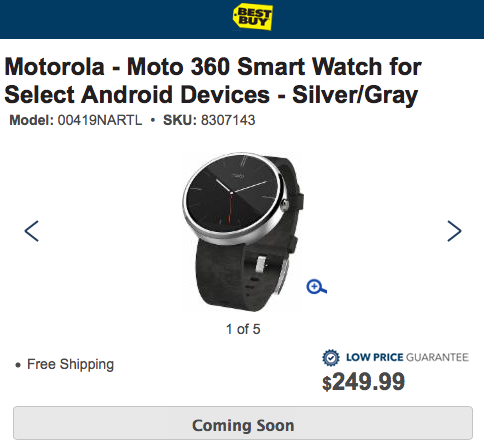 Of course, the Moto 360 requires an Android 4.3 or newer device, so Apple users will have to wait for an iWatch. The most impressive feature of the Moto 360 is the round screen, which doesn't quite use all of the surface area. Technical limitations make the bottom section completely black, so some have called this the "flat tire" design! Still, it's an impressive piece of engineering. Apple, your move!