By Todd Bernhard updated on 07/14/2010
The Chinese word for Challenge also means Opportunity.  I kept this in mind when my cable modem Internet connection stopped working today.  Fortunately, I have a review unit of the Novatel MiFi 2200 Intelligent Mobile Hotspot.  It's basically a wireless 3G modem.  I was planning to seek out a remote location to test it.  But suddenly not having any Internet here in the suburbs proved to be an opportunity to test out this device in the comfort of my own home, and get some work done!
Master your iPhone in one minute a day:
Sign up to iPhone Life's Tip of the Day Newsletter and we'll send you a tip each day to save time and get the most out of your iPhone or iPad.
The Novatel MiFi 2200
The unit is compact and fairly well-designed, with a faux metal front and a single button for power.  It goes well with any mobile Apple product, and that works out because the MiFi can bring the Internet to your non-3G iPad as well as 4 additional WiFi clients, simultaneously.  You can create a mini LAN and piggyback off the MiFi's 3G connection.  There is a small bit of setup, basically identifying the SSID of the unit and entering the password.  My unit had that info on a sticker on the bottom, but the SSID was wrong.  Fortunately, my iPad found the SSID when it did a search and within seconds I was connected and back in business.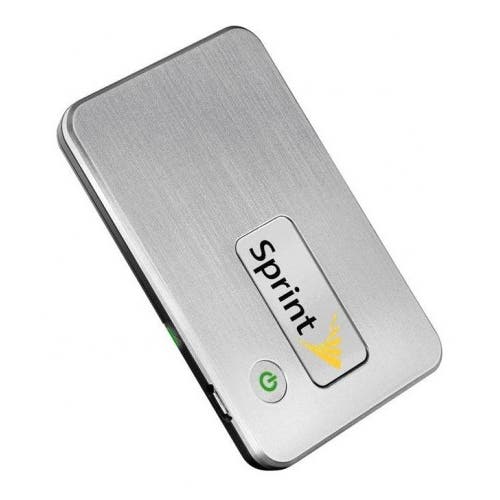 There are some downsides to the MiFi approach.  You have yet another device to carry around, albeit it tiny.  The MiFi is about the size of eight credit cards and weighs just 2 ounces.  Also, the microUSB charger is another device to carry.  You have to remember to charge the MiFi and turn it off when not in use.  The battery lasts about 4 hours or 40 hours on standby.  You can use it indefinitely when it's plugged into the wall, or computer users can plug the MiFi into a USB port but then only that computer can go online.  Verizon offers the MiFi for as little as $50 with either a $60/month 5GB data plan or a $40/month 250MB data plan and a two year contract.  Sprint goes even further and offers the MiFi for free with a two year contract but their only plan is $60/month for 5GB.
There are alternatives to the MiFi that are worth a look.  
Alternative #1: iPad 3G
The MiFi presents an attractive alternative to a 3G-equipped iPad.  I didn't buy an iPad 3G because I didn't like the idea of spending too much on an iPad.  I knew I would upgrade to the next model as soon as it came out.  So for $500 I bought the WiFi iPad and next year, I can get the next generation iPad for another $500 and hand down the old one to my kids. But at $1,000 for the cheapest iPad 3G ($630 plus $360/year with the unlimited data plan) I'd be less likely to upgrade.  When AT&T eliminated the unlimited plan, I was even more sold on the WiFi model.  Yes, you can turn the plan off and on, but you lose the unlimited option assuming you had it in the first place and if you're not using 3G at least once a month, you paid a $130 premium.  Finally, unlike the MiFi unit, the 3G data plan for the iPad only applies to that device.  You cannot share your iPad 3G bandwidth with a laptop.
Alternative #2: Tethering with AT&T
AT&T now supports tethering your iPhone but you will have to use a non-unlimited data plan and pay a $20/month surcharge just for the option to tether.  Finally, you can only share the bandwidth with one client at a time.  The MiFi allows my MacBook and my iPad to access the Internet and has room for 3 more devices.  Note that AT&T-based tethering requires a Bluetooth or USB connection between the iPhone and the tethering client, and this is currently not supported with the iPad.  
Alternative #3: Jailbreaking
Other users have "jailbroken" their iPhones to allow tethering over WiFi, but I don't recommend jailbreaking.  There was a time when Apple hadn't made many features available, such as multitasking, wallpapers, etc., but that gap has narrowed and there is less reason to jailbreak an iPhone.  In the early days, I had jailbroken my original iPhone because it was the only way to run apps.  One day the iPhone malfunctioned (it wouldn't turn off and became burning hot).  I don't know if the failure was related to jailbreaking, but when I brought it in to the Apple store, I was worried I might not be able to get it serviced.  Fortunately, they swapped it out at no charge.  I would rather stay "kosher" and not have to worry.
Alternative #4: Non-Apple smartphones
There are competitors to the iPhone that offer a built-in WiFi hotspot capability.  As much as I appreciate and recommend the iPhone, this is an attractive option as well.  If you always have your phone, and you're paying for data anyway, it would be nice to use that plan for the different devices you use.  Imagine if you had to pay more for each TV hooked up to your cable signal, even if the TV sets are all cable ready.  The HTC EVO 4G from Sprint acts as a Mobile Hotspot for up to eight WiFi devices, out of the box.  And Sprint's offers unlimited 4G service although 4G is only available in a few areas, so the 5GB limit for 3G service may be your effective limit.
The results
It's important to keep in mind that 3G, while ubiquitous, is slower than your typical WiFi connection.  When WiFi is available, you will want to use that.  I ran the free Speedtest.net app on my iPad and the web service for my MacBook to compare WiFi speed with my traditional cable modem (when it came back online) and the MiFi. 
Speedtest.net Results
 
MiFi 3G (Sprint)
Macbook Pro

18.29Mbps download

920kbps upload

940 kbps download

650 kbps upload

iPad (WiFi)

11.3Mbps download

945kbps upload

528 kbps download

559 kbps upload
iPhone 4 users might like the ability to use FaceTime anywhere they can get a 3G signal, instead of seeking out a WiFi connection, but the download speeds might make that impractical.  Then again, if you can't get an AT&T signal, you could use Skype or another VoIP app to make phone calls using the MiFi with 3G service from Verizon or Sprint! 
In conclusion, the MiFi delivers a wireless connection just about anywhere for your iPhone, iPad plus a variety of devices in a compact, versatile package.  The monthly fee may be more than the alternatives but if you think you might use the MiFi with more than one device, it could be worth it.