By Todd Bernhard on Tue, 09/10/2013
The new iPhones are here! So what does it mean for us developers? For the first time ever, Apple is introducing two tiers of iPhones simultaneously. In the past, the previous generation of iPhones were kept around at a discounted price. The problem with that scheme is that older platforms stuck around past their freshness date. For example, up to this day, the iPhone 4S with its 30-pin connector was still being sold by Apple. From a developer standpoint, this practice means we have to support things like the smaller screen and older versions of iOS that much longer. By introducing a low-end but still pretty much state-of-the-art iPhone 5c, anyone who buys an iPhone going forward will have access to current operating system and latest features and the lowest common denominator is higher than it used to be. And that means A6 32-bit chip at a minimum (A7 64-bit on the iPhone 5s) and Bluetooth 4.0 standard.
Master your iPhone in one minute a day:
Sign up to iPhone Life's Tip of the Day Newsletter and we'll send you a tip each day to save time and get the most out of your iPhone or iPad.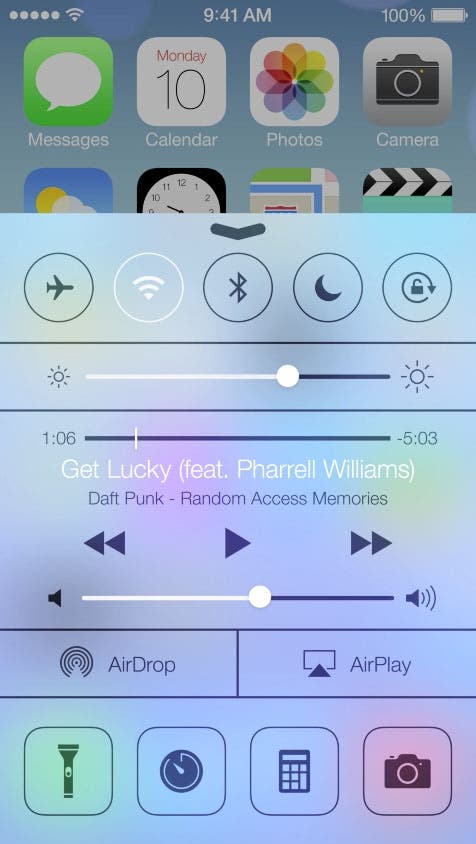 So what's new from a developer's perspective?  The fingerprint scanner, dubbed Touch ID, is perhaps the biggest feature of the iPhone 5s.  What will developers do with this gear?  If there is an app-addressable SDK, companies like PayPal could easily embrace this method as a way to authenticate before paying.  But it could be a way to address one of the iPad's biggest complaints. My family shares an iPad but that means all of our documents are intermingled. My Keynote presentations and Pages documents are accessible to my daughter and vice versa. It would be nice if Touch ID was a gateway to custom documents and experiences.
Apple introduced a new chip, the M7, which helps analyze motion beyond the traditional accelerometer and gyroscope. Health and fitness apps can leverage this and avoid the need for external gadgets like FitBit and more.
Of course, NFC (Near Field Communication) would have been nice to have, but Apple is trying to use AirDrop as an alternative. Apple is rarely first with new technology, and indeed Android and others have had NFC (and fingerprint readers) for some time, but Apple does often do a good job of learning from competitors and successfully commercialize newer tech.
iOS 7 is, of course, the other major Apple technology new, launching for free September 18th and if affects developers big-time. But a lot has been written about iOS 7, including my cover story in the issue of iPhone Life Magazine on newsstands now.
I wasn't really excited about the colors at first, but it will help with families like mine. We have four iPhones in our household, and multiple colors could help distinguish them at a glance.  I've usually relied on a case for that. And with a low-cost ($99 for 16GB) iPhone 5c, that really helps make it more practical for the whole family to have an iPhone. Anything that makes iPhones easier to buy is good for developers. I would have preferred a free-with-contract version, to really help adoption, but maybe over time carriers will offer more discounts, as BestBuy, Wal-Mart, and Radio Shack have done from time to time.