By Todd Bernhard on Sat, 03/03/2012
For centuries, man has searched for a perpetual motion machine... Unlimited power that never runs out. Now a true perpetual motion machine doesn't exist but with the iBattz Mojo Battery Case, you can come close.
For the past few days, even after a full day of heavy iMovie video editing use, my iPhone still reports 100% battery remaining. How is this possible? The iBattz Mojo case is not the first case with a built-in battery but it goes a step further. It has a swappable 1500mAh battery so you can carry a spare fully charged battery, and continue without tethering your iPhone to the wall or a portable battery pack. Mind you the single battery has been enough for me to go all day, but at a tradeshow like CES or MacWorld, or a long flight, the iBattz system would be invaluable.
Master your iPhone in one minute a day:
Sign up to iPhone Life's Tip of the Day Newsletter and we'll send you a tip each day to save time and get the most out of your iPhone or iPad.
There is a side benefit as well. I noticed the iPhone's WiFi sync icon was activated. Since the iPhone can be setup to sync automatically via WiFi when in range of your network and while docked, the iBattz case tells the iPhone it is 'docked' so syncing occurs. This means you are always up to date, as well as full of power. This is a nice touch, courtesy of iOS 5.
The iBattz case comes in black or white, and with two bundled bumpers in silver or red, so you can change your iPhone's appearance as desired. I really liked that it comes with two batteries so you get 3,000mAh worth of power. It would be nice if they offered a separate charger so you could just have a stash of batteries charging without needed to charge each battery using the actual Mojo case and included microUSB cable.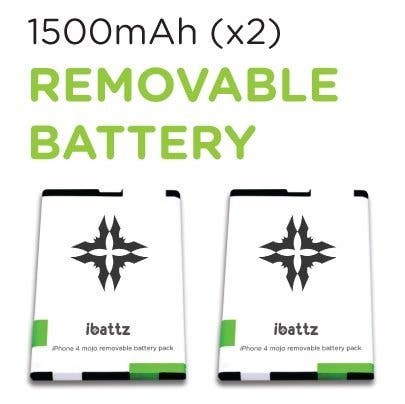 The Mojo case does indeed add some noticeable heft and thickness but that's to be expected. By making the batteries swappable, the case can provide more power while not taking up the thickness a 3,000mAh case would. The case itself is sleek and elegant. Four blue LEDs tell you how much charge the swappable battery has. The case is available in white or black and both have interchangeable silver and red bumpers. My white iPhone 4S with the white iBattz case and silver bumper looks terrific. I think I've become spoiled by the 100% capacity. In the past, when I would start to approach 20%, I would dial back my iPhone usage but with the iBattz, no worries!