By Todd Bernhard updated on 06/30/2014
I'm on a train back from CE Week, blogging by iPad with a compact Bluetooth keyboard. While it's convenient to travel light, I will be glad to get back to my 15-inch MacBook Pro with Retina display. In fact, I won't be using that Retina display all that much, because I now have my MacBook hooked up to a pair of 24-inch monitors and the MacBook is tucked away in the new Hengedock docking station.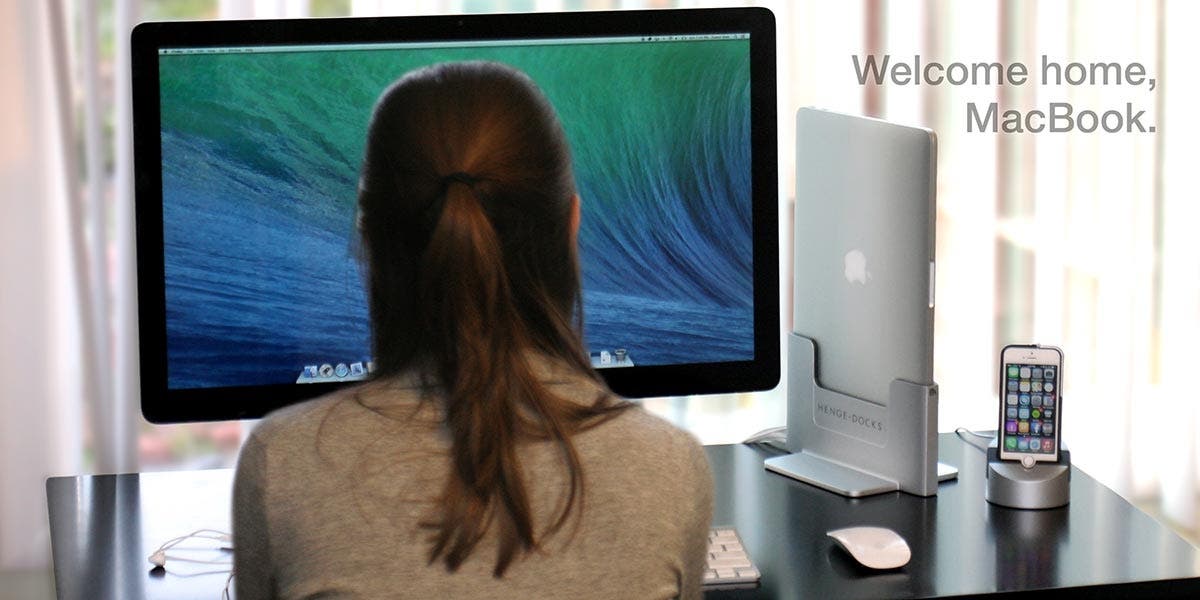 A Hengedock routes all the main cables from a MacBook into a docking station that makes it easy to grab the laptop and go. It works well for many MacBooks, since they have most of their ports on the left side. By lining up the cables just so, they can be plugged and unplugged relatively easily. It's almost as if Apple had the Hengedock in mind when designing their computers. But that's a testament to Hengedock reverse engineering what was needed to make such a dock.
Master your iPhone in one minute a day:
Sign up to iPhone Life's Tip of the Day Newsletter and we'll send you a tip each day to save time and get the most out of your iPhone or iPad.
I've been a customer of Hengedock since their early models, which were in such demand that I had to spend months on a waiting list. This wasn't a preorder situation, but just a problem meeting demand. Those docking stations, while not perfect, made it easy to set your laptop aside and use a full-size keyboard, mouse, trackpad, monitor etc., and then when you needed portability, you could just pull the computer out of the dock, similar to what you would now do with an iPad or iPhone.
As I mentioned, those early units were not perfect. They were made of plastic and didn't always stay put. I artificially weighed mine down to keep it in line. The cables had to be installed manually, then tightened with a tiny wrench, which felt like a game of Operation. Trial and error was required until they were just right.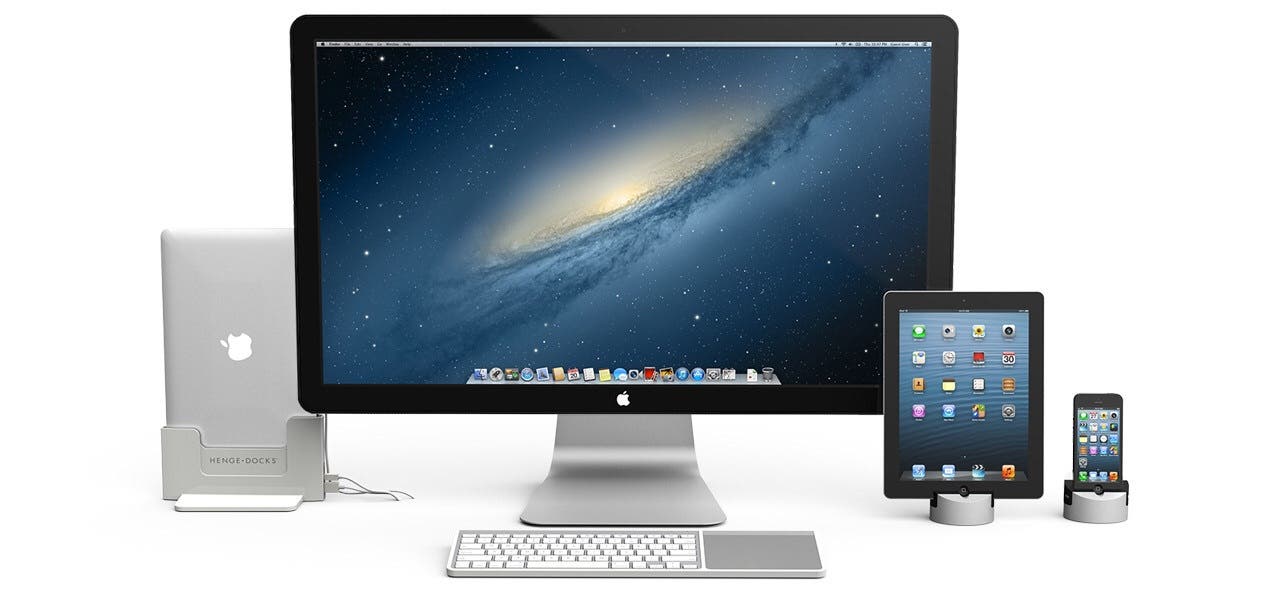 Now, the new generation of Hengedocks is here. The cables come pre-installed (hooray!) and the base is made of solid aluminum so it should stay put. It's elegant and a worthy companion for a MacBook. They include almost all the cables you might need, except a MagSafe charger. But that's because of Apple's patents. You can bring your own, and they even include adaptors because of the different generations of MagSafe connectors. While miniDisplayPort cables are included and installed, if you want to use Thunderbolt, you will have to resort to the manual installation method, and provide your own expensive cables!
The downside to the Hengedock solution is that it requires a specific dock for each type and size of MacBook. I just traded in my original 15-inch MacBook Pro with Retina display to SellYourMac.com. I purchased the same model, but with three times the disk space and twice the RAM, so for me, the Hengedock's model-specific nature hasn't been a problem. But if Apple changes the placement of ports in a future MacBook Pro, or I if want a MacBook Air, it would require a different Hengedock. Fortunately they're not as pricey as some of their competitors, so I can deal with it. And I could always sell the Hengedock with the MacBook, when I upgrade. Or I may keep the MacBook Pro for the kids and they can leverage the Hengedock.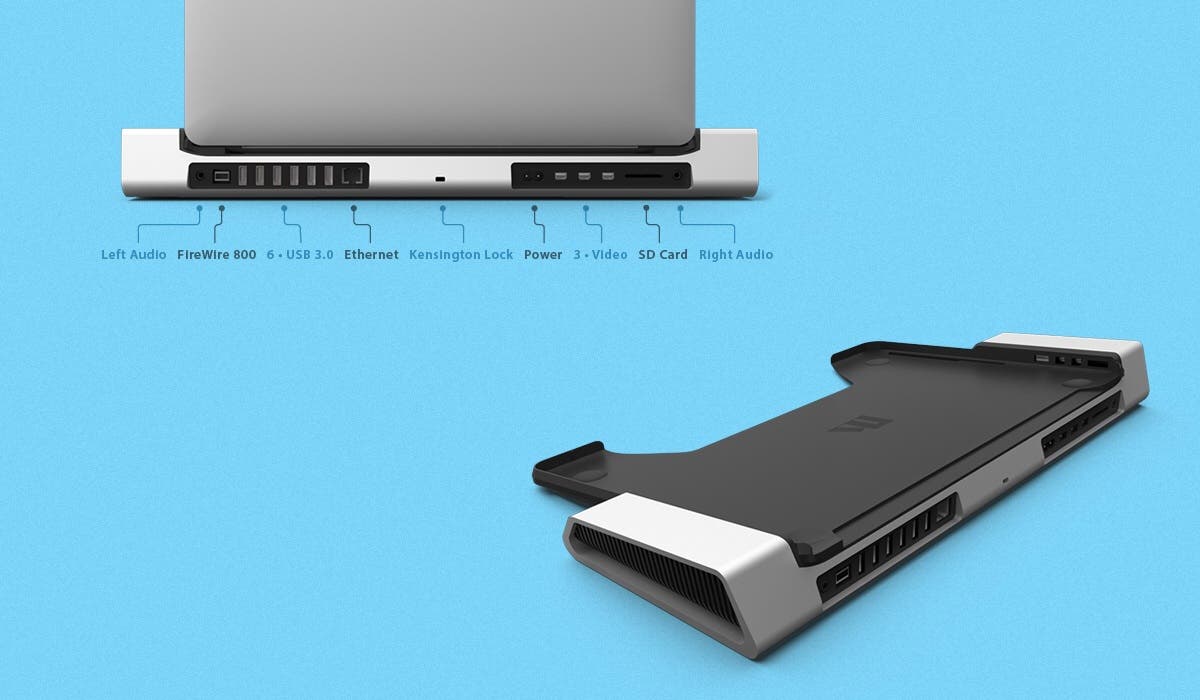 Another consideration is that I paid extra for that Retina display and with the MacBook closed up and mounted vertically, I don't see it. Still, my dual 24-inch screens make up for that, and of course I get to use the Retina display while mobile. But Hengedock has thought of this and preannounced a horizontal model, that lets you continue to use the MacBook keyboard, trackpad, and screen while docked, along with external displays and devices. This, combined with their heavy duty Lightning dock, which I've reviewed already, are part of Hengedock's efforts to take over your desktop! Fortunately, with the shift to beautiful aluminum docks, I don't mind!