By Todd Bernhard updated on 04/13/2011
Apple might control most of what you see when you turn on your iPad, but that shouldn't stop you from customizing the exterior. I recently had the opportunity to try three distinct customization options for my new iPad 2, and it was a lot of fun! I thought it would be neat to have my iPad look like an actual printed issue of iPhone Life Magazine! So I used our Buyer's Guide as my image. It worked well because the black background could mask any seams and be expanded or cropped as needed.
First, I ordered a sleeve from DesignerSleeves.com. I've seen them at the Consumer Electronics Show for the past couple of years, and they make some really cool sleeves for netbooks and tablets. But what's really neat is the ability to use your own image for the design. And these images are not screen printed. Images are embedded directly into the fabric through dye sublimation, so the sleeves will last for a long time... probably longer than your iPad! The sleeves are quite affordable, at around $25 or so, but custom designs require a minimum quantity. I ended up buying one for most of the iPad owners at iPhone Life Magazine's headquarters! The sleeve is high quality, with nice padding throughout and a zippered compartment for chargers, cables, etc. The folks at DesignerSleeves will do the actual mockup from your artwork and send you an email showing what it will look like once the case is made. They also have a wide variety of sleeve styles, including two different iPad ones, in case you want a more form fitting sleeve or a larger one that will accommodate an iPad in a traditional case. I went with the larger sleeve to allow for more flexibility.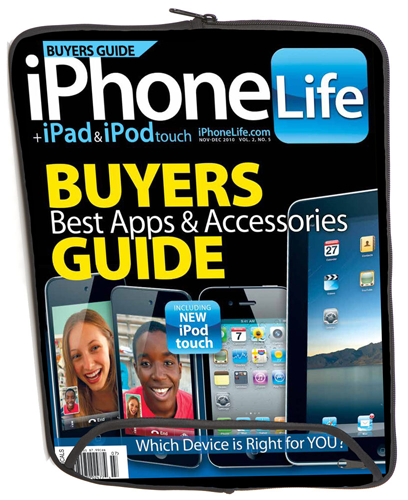 Next, I ordered a case from M-Edge. You've probably seen their readymade cases at Staples or Best Buy, but you might not know that they offer a custom option which is a bargain at $50, with no minimum quantity. You can't find a good case for much less and the ability to have your own design is a real differentiator! You customize the front, back and spine, so you could have different images on the front and back. You can choose from designs that your counterparts have created or create your own. Again, I used the iPhone Life magazine and made that design available for others to order, here: http://app.medgestore.com/stylelab/?user_design_id=126876 A nice touch is you can upload your image and immediately see what it will look like and make changes if necessary.
Finally, if you like to use your iPad outside of a case, you can still customize it with a skin from MusicSkins! For only $20, you can have your custom image printed on a skin pre-cut for the iPad 2 or other gadgets. MusicSkin is offering a 20% discount code for iPhone Life readers. Just enter SKINS in the coupon field! As with the M-Edge case, you can see what the skin will look like and align the image accordingly, in real-time. For example, I arranged it so the dot in iPhone would be where the iPad 2's camera is, so it makes for a nice effect!
If the choice of a black or white iPad doesn't give you the level of customization you want, the above options should give you plenty of ways to unleash your creativity! I went with a more corporate design, but you could certainly customize your iDevice with family photos, original artwork, favorite teams or musicians. If you do submit a custom design, feel free to share your images with us!