By Todd Bernhard on Sat, 03/27/2010
Shakespeare wrote "The play's the thing", in Hamlet, but with CrowdZone (FREE, http://www.crowdzone.com), that could easily become "The CROWD's the thing".  CrowdZone is a social networking tool focused on sporting events.  In fact, CrowdZone is probably the ultimate tailgating app!  You create a profile and see what events are happening today.  You join an event, whether you are at the game or watching at home or at a sports bar.  You can leverage the location-aware capabilities of the iPhone and find like-minded users nearby!  Root for your team, chat with others, and earn "trophies" for your own comments.  You can even earn real world rewards, like tickets!  As team owners try to harness the power of social networking, they can piggyback on apps like CrowdZone to reach a highly targeted audience.
When I was a kid, I would take a transistor radio to the baseball game, so I could listen to the radio announcer call the game, for a different perspective than the stadium announcer.  CrowdZone is the modern equivalent, but you get the analysis of your peers, and you can participate as well.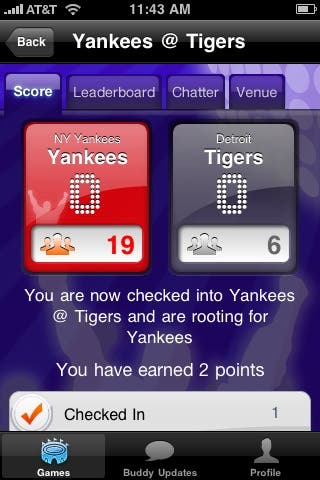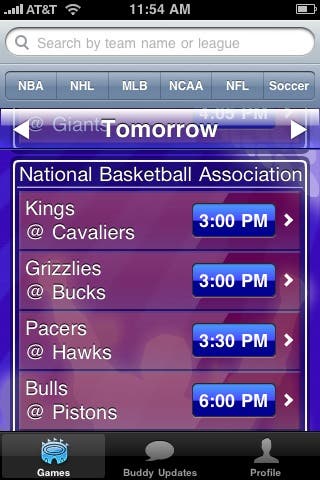 Master your iPhone in one minute a day:
Sign up to iPhone Life's Tip of the Day Newsletter and we'll send you a tip each day to save time and get the most out of your iPhone or iPad.
I would like to see some enhancements, like Facebook integration, so you don't have to enter your information from scratch, but it's not a big deal since you only do that once.  It would also be neat to have your status and chats posted on Facebook or Twitter, if you so desire.  For such apps to be valuable, they need to achieve a solid user base and spreading the word via existing social networks might help.  I would also like to create a nickname, other than "Todd B.", as there could be a lot of us.  For example, "Todd the #1 Bills Fan" would be unique.  Heck, these days, "Bills Fan" would probably be unique!  Another change I would make, speaking as a developer, is to include the app name and/or logo (which is a cool play on the MLB/NBA-style red/white/blue logos) within the app.  When I took these screenshots, it was apparent that the app name is nowhere to be found within the app.
Currently, CrowdZone lets you participate in NBA, NHL, MLB, NCAA, NFL, and Soccer events.  I imagine it could be expanded for other sports (Golf, Tennis, Olympics, etc.) as demanded or even non-sporting events such as political conventions!  Before, the play was the thing but now, with CrowdZone, you can be part of the action!