By Todd Bernhard on Wed, 09/12/2012
It was expected (indeed, people expected it a year ago, and again in June at WWDC) but now it's official!  The iPhone 5 was announced moments ago and it looks to be worth the wait.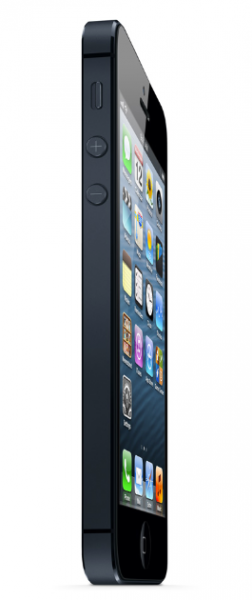 So what's new?  For starters, it has a taller screen, allowing for another row of apps, or widescreen movies in landscape.  The 4" screen offers 1136x640 resolution and retains the Retina display moniker with 326ppi.
Master your iPhone in one minute a day:
Sign up to iPhone Life's Tip of the Day Newsletter and we'll send you a tip each day to save time and get the most out of your iPhone or iPad.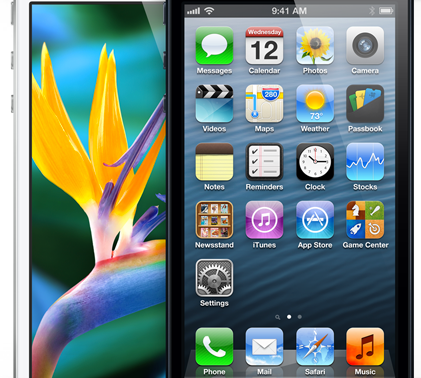 Built-in apps leverage the added space, so you get a five day view in iCal compared to 3 days, previously, in landscape mode.  Third party apps run 'centered' in the screen, with 'letterboxing' effect, at least until they update for the new resolution.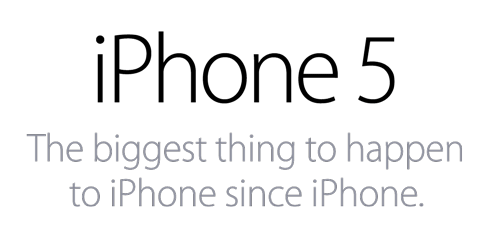 There's a two-tone back. as expected, with brushed aluminum replacing the glass on the back for hopefully a less fragile device.  Despite being taller, it's 18% thinner and 20% lighter than the iPhone 4S.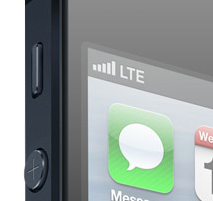 Wireless data is faster, thanks to built-in 4G LTE.  Check with your provider for coverage.  AT&T recently announced an expansion of their LTE network.  In theory you could have download speeds of 100Mbps!  Even WiFi gets a boost with 802.11n support.
Apple's own A6 chip will power the iPhone 5 and offers even better speed (Apple says 2X faster), especially for graphics.
One of my favorite apps, Real Racing, will have working rear view mirrors, which previously would have taxed the processor immensely.
So what does all this performance do to the battery life?  You still get 8 hours of cellular talk time and browsing, 10 hours of video or WiFi browsing, 40 hours of music or 225 hours of standby!
The camera is enhanced, with 8 megapixels (3264x2448), hybrid IR filter, five element lens and a fast f/2.4 aperture and more with a promised 40% faster image capture, thanks to  photo circuitry integrated into the A6 chip.  The camera app has a built-in panorama stitching feature... something that developers had been charging for.  Plus you can take photos while recording video, something Android-based competitors have been using as a distinction.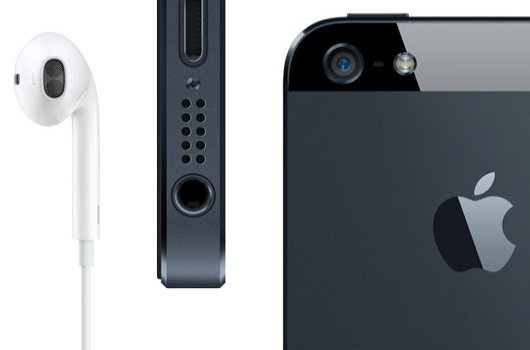 FaceTime can leverage cellular (AT&T requires a shared data plan though) and higher resolution front facing camera, at 720p.  Audio is improved, with a better speaker and thre different microphones to perform noise cancellation.
Much has been written about the new dock connector.  Since so much can be performed wirelessly now (audio and video via Bluetooth and AirPlay, syncing via WiFi) the time has come to offer 'Lightning' which complements their 'Thunderbolt' interface.  Accessory companies will be quick to respond, including Bose, JBL, Wilkins, Bang & Olufsen and others.  Of course, there's an adaptor for 30-pin accessories.
A lot of the news today focused on iOS 6, which you can download for most recent devices, but I've written about that in the current magazine and online, in my WWDC coverage.  Passbook looks cool but without NFC (Near Field Communication), alas, the best is yet to come.  NFC will remain a Google/Android advantage for now.
The iPod touch is updated to include the iPhone 5's 4" Retina display, but with the A5 processor, not A6, and is available in multiple colors with a brushed aluminum back and a new 'loop' to attach a wrist strap.  The iPod nano returns to rectangular form, albeit very slim and now with a touch interface.  You probably can't use it as a watch anymore but it's still very portable.  It adds Bluetooth so the possibilities are interesting.  The new Lightning dock connector is standard.  New 'EarPods' replace the uninspired earbuds that many didn't use anyway.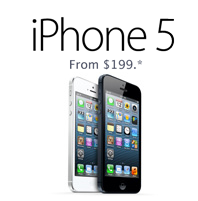 The Apple Store was taken down, as is customary, until the end of the announcement, and on September 14th you can head over to http://store.apple.com and preorder your iPhone 5!