By Todd Bernhard on Fri, 07/30/2010
Remember when the iPad came out and all the naysayers said "It's just a big iPod touch?"  Well, my response was "Yeah, but wouldn't a big iPod touch be GREAT?!"  It's like saying a 42" TV is just a big 13" TV.  Yes, and sign me up for the big one!  If I can have a larger screen, I'm all for it, and if I can have multiple screens, that's good too!
My colleague, Jim Karpen, wrote a preview of the $10 Air Display app from Avatron Software back in May and I've had a chance to play with the app, on my iPad and all I can say is "Holy Cow!"
Back then, Jim wrote about the ability to use the app as a second monitor.  Well, I already have a nice 23" TV/Monitor connected to my MacBook, but they say you can never be too rich, too thin, or have too many displays.  So I tried the app and it worked flawlessly as my THIRD display!
Master your iPhone in one minute a day:
Sign up to iPhone Life's Tip of the Day Newsletter and we'll send you a tip each day to save time and get the most out of your iPhone or iPad.
At ten dollars, it's one of the pricier apps in the App Store but it's a bargain when you consider what an external monitor would cost.  Plus, I couldn't even have a third display without some pricey USB gadget.
Plus, Air Display lets you do things you couldn't do with hardware alone!  You can walk around the room with your iPad displaying the computer's content!  The app also accepts touch input, so the developers suggest using it with the Mac calculator app or a painting program, etc.  You could put Photoshop palettes or video editing controls on the Air Display and free up your large screen for graphic intensive work.
You can "share" the wireless display with multiple Macs.  I have a MacBook Pro in the office and a Mac Mini connected to the big screen TV as a media center.  I can share the iPad between the computers, without any wires.
Air Display works in Portrait and Landscape mode, automatically adjusting when you rotate the iPad, although all of your screens will flash blue momentarily which is just Mac OS adjusting to the "new" display.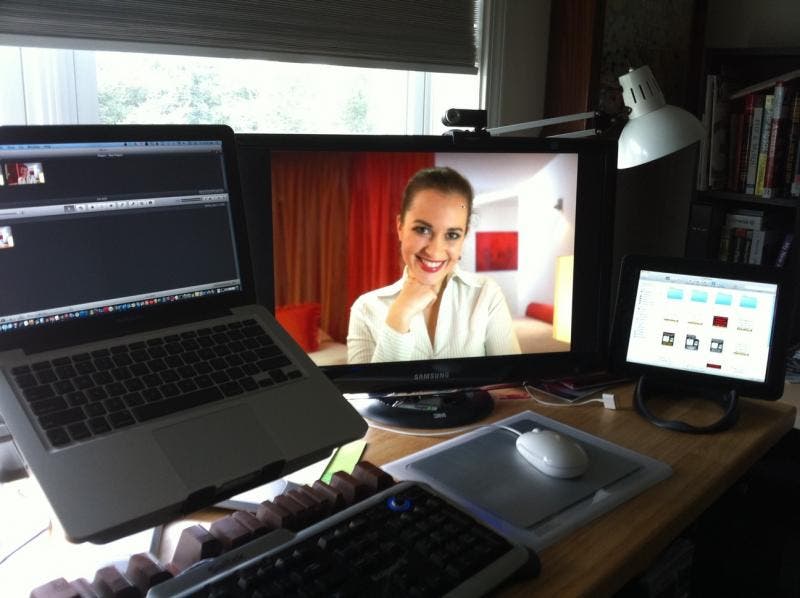 You have to have your iPad and computer (Mac only for now, Windows is in testing) on the same WiFi network or you can establish an Ad Hoc network between the two devices.  iPhone and iPod touch are supported by this Universal app, which at first might not seem practical, but you could use it on a small device in novel ways.  Perhaps stream video, although bandwidth might cause choppiness and you wouldn't get audio remotely.  But it's a neat idea and I appreciate when developers make their apps Universal.
In many ways, Air Display is an advantage over a traditional wired monitor. It allows you to have a second or even third display on devices that couldn't otherwise.  You can share the display among multiple computers.  It supports touch input.  And at just $10, it's a no brainer if you have an iPad and a Mac, and soon for PC users too.