By Giveaways updated on 05/18/2012
Thanks to everyone who entered the iPhone Life Weekly Weekend Giveaway. We have selected the winners of this Giveaway. We gave away 6 apps and 1 accessory!
And the winners are... (drumroll please):  Bonnie Rottstin, Harvey Smath, Christine Nilsen, Debra Katz, mittul burad, Patricia Rickey and our Trident Kraken AMS Kit winner is Jamie Senior!
And the Trident Kraken AMS Kit winner is... Jamie Senior!
Master your iPhone in one minute a day:
Sign up to iPhone Life's Tip of the Day Newsletter and we'll send you a tip each day to save time and get the most out of your iPhone or iPad.
Didn't win this week? No worries! Next week we have 2 exciting apps and 1 accessory kit to give away:
 Trident Kraken Adaptive Modular System (AMS)
Trident has offered up this iPhone 4/4S case with all of these accessories included in the box.  In the box: Trident Kraken AMS Case, Bike Rail Clip, Tripod Mount, Wire Organizer, Universal Clip and a WindShield Mount.  This box will be given away to one lucky individual.
 Battlefield Minesweeper for iPad
Bored with the original minesweeper game? Building off of the classic minesweeper appeal, enjoy a more exciting version with thundering explosions that will rock your iPad screen! If you're up to the challenge then take it to the next level in "Battlefield Mode". A column of military vehicles needs to cross the battlefield and time is of the essence. If they hit an unmarked mine then its game over (for you at least). Guaranteed to turn a relax game into a stressful but rewarding endeavor. Set in a military theme environment, enjoy countless hours playing this classic game!
YouTube Video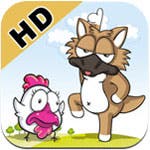 ChickyFox™HD
ChickyFox™ HD is a whimsical children's music video app that children can sing along with. ChickyFox™HD combines catchy melodies, whimsical lyrics, colorful artwork, and smooth animations to give children a music video app which they can have fun, enjoy, and sing along with. Children will definitely be playing with this again and again.
Thanks and Good Luck!