By Giveaways updated on 06/14/2013
This is the official announcement of the iPhone life Biweekly Giveaway! Be sure to enter the giveaway at iphoneLife.com/giveaways to win prizes, which we'll announce May 20th! We are raffling off tons of great apps and accessories for FREE.
Here's how it works: Every other Friday we will announce the prizes we're giving away through iphonelife.com, Facebook, Twitter, and Google+. To enter the giveaway, go to iphoneLife.com/giveaways. On the following Monday morning, we will randomly select the winners. If you win an app, we will email you the promo code to redeem the app for free. If you win an accessory, send us your address we will mail it to you.
Master your iPhone in one minute a day:
Sign up to iPhone Life's Tip of the Day Newsletter and we'll send you a tip each day to save time and get the most out of your iPhone or iPad.
1. CandyShell for iPhone 5:  Retail Price (34.95)
Sweet dual-layer protection: a hard outer shell and a soft, rubbery, shock-absorbent center. Two delicious layers of protection come together in this slimmer-than-ever single-piece iPhone 5 case. Two-toned color combinations make this CandyShell case a truly impressive piece of eye candy.
2. RevJams FlipBack Smart Case for iPhone 5: Retail Price $29.99
The FlipBack case is the smart and perfect choice for full protection of your iPhone 5. Its 2 in 1 solution offers the standard protection of a case, plus a flexible cover that protects your iPhone screen and keeps your messages, calls and app updates private. The back cover is treated with a protective and scratch resistant UV liquid plastic coating for maximum protection, while the front cover with built in magnets protects your touch screen and keeps the cover securely closed. The unique cover with its 3 panel design allows it to fold back (FlipBack) in just the right places to become the perfect movie & video-watching stand. Speak freely on your iPhone with the cover closed to protect the phones touch screen and prevent unintended dialing.
3. iPhone Life Toddy Cloth: Retail Price $9.99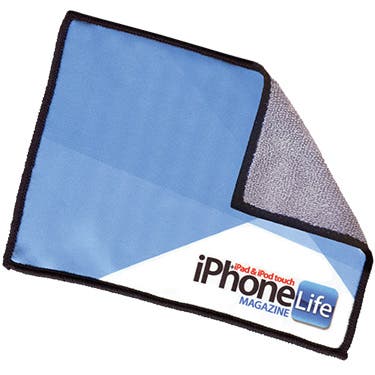 Customized with your favorite iPhone Life magazine logo, this toddy is multi-functional! It eliminates dirt, dust and smudges from iPhones, iPads, iPods, Androids, tablets, and even eyeglasses or camera lenses. Made from 100% premium microfiber for scratch free cleaning it doesn't need any messy liquids or sprays that can harm your screen and it's antimicrobial coating helps prevent the build up of mold and mildew.
4. Blessings365: Retail Price $0.99
Gratitude sets your attitude. Have you counted your blessings? What are you thankful for today? Keep a daily record and boost your well-being. Come on! What are you waiting for? Join the gratitude movement! Download this app and start recording and living a life with more blessings and joy.