By Christopher Peri on Thu, 07/30/2009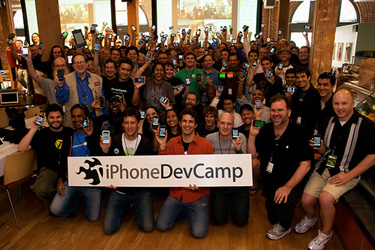 Yup, almost time for another iphonedevcamp.  What? You did not go last year?  What's wrong with you?  If you have an iPhone and have ANY interest to building or help build what everyone will see either at the end of this weekend or the end of the year, this is the place to be.
So, you say you are not an iPhone programmer.  Fine, they always need artist, backend programmers and anyone who can bring small Angle money.

But more importantly, iphonedevcamp is a place where you can hear, and perhaps offer new ideas on where the iphone can go.  Many of the things that were just 'kicked around' last year and already common place in many iphone apps.  But don't just believe me, read this..
Master your iPhone in one minute a day:
Sign up to iPhone Life's Tip of the Day Newsletter and we'll send you a tip each day to save time and get the most out of your iPhone or iPad.
iPhoneDevCamp is a not-for-profit organization that gathers regularly to develop applications for iPhone and iPod touch using both the native SDK and web standards. The event format is "unconference" or Barcamp-style, featuring content from the participants themselves. Read more about the history of iPhoneDevCamp at Barcamp.org.
The event is inspired by BarCamp, SuperHappyDevHouse, and MacHack, to develop Cocoa Touch and web based applications for iPhone and iPod touch. This follows the previous iPhoneDevCamp events held at Adobe Systems in San Francisco, July 2007 and August 2008. Out-of-town guests are welcome.
Attendees will include Cocoa Touch developers, web developers, UI designers, and testers, all working together over the weekend. Development projects will include both solo and team efforts. While some attendees will wish to work solo during the event, we encourage attendees to team up, based on expertise, to work in ad-hoc project development teams. All attendees should be prepared to work on a development project during the event.
Attendees will be able to:
Create new applications for iPhone and iPod touch.
Migrate Mac OS X applications to iPhone and iPod touch.
Test and optimize applications for iPhone and iPod touch.
Its a great place to find out just how much more an iphone is then just an iphone.

Sign up now.  Do it!  Sign up!