By Ben Stallings on Mon, 03/29/2010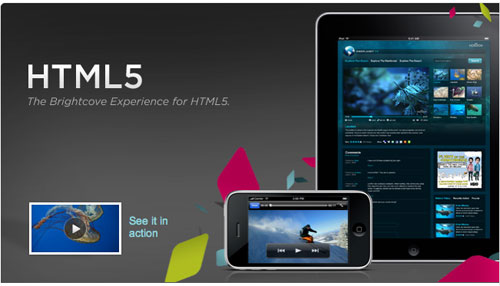 According to a story on MacRumors, the video provider Brightcove is making HTML5 video playback an option for their customers, including Time magazine and the New York Times.  This is big news for those of us who build Web sites with lots of videos -- like this one -- and would like them to work on the iPhone, iPad, and other Flash-free platforms.
For those of you who are behind on your Web standards, HTML5 is the long-awaited new version of HTML, replacing XHTML 1.1 which has been with us for nearly a decade.  Video has never worked quite right in XHTML, since the tags required to embed the video files directly are not part of the specification and so are not recognized by most browsers, let alone code validation services.  As a result, most sites rely on Flash to display video, and Apple has elected not to allow Flash on the iPhone/iPad platform.
The HTML5 specification is not finalized yet, and likely will not be for another year or two, but some elements of it are already supported in some browsers.  Specifically, the <video> tag is fully supported in Presto-based browsers (Opera, Opera Mobile, and Nintendo game system browsers) and partially supported by Gecko (Firefox, Mozilla, Flock) and Webkit (Safari, iPhone/iPad browser, Chrome, Palm WebOS and Symbian browsers).  So the good news is, the <video> tag can make a wider range of videos available to a wider range of browsers without resorting to Flash.  Read more on HTML5 browser support at Wikipedia.
Master your iPhone in one minute a day:
Sign up to iPhone Life's Tip of the Day Newsletter and we'll send you a tip each day to save time and get the most out of your iPhone or iPad.
The bad news is, for the <video> tag to work, the whole page has to be changed to HTML5 (or invalidated, which kind of defeats the purpose), and that's just not feasible for complex sites yet.  Plus it won't be supported in Internet Explorer until version 9 comes out.  But for some sites and some browsers, it's a brave new world!