By Randy Herring on Tue, 07/12/2011
I was lucky enough to get an iPad 2 at launch. One of the first apps I installed on my new iPad 2 was Zite. Zite is a news reader that helps you discover news that fits your interests. Having lived with this app for several months now, it seemed like a good choice for my first review.
Master your iPhone in one minute a day:
Sign up to iPhone Life's Tip of the Day Newsletter and we'll send you a tip each day to save time and get the most out of your iPhone or iPad.
When I first opened Zite, it allowed me the option of scanning my Twitter account to determine my interests. You can also use your Google Reader account for this purpose. In addition, Zite gives you a list of topics from which to choose. Zite then presents stories in each of the categories that either it chose for you based on you interests or that you selected. You can go back and change your selections at any time and Zite will refresh the list of stories it presents. Zite also allows you to add additional topics that are not in the standard list.
When you first open Zite, it presents a start screen with thumbnail images along the bottom. Once you swipe on that screen, Zite opens to a Top Stories section, which is the Home section. Along the right side are the other topic sections from your choices. Zite presents each story as a headline and summary. Most stories also contain a thumbnail image.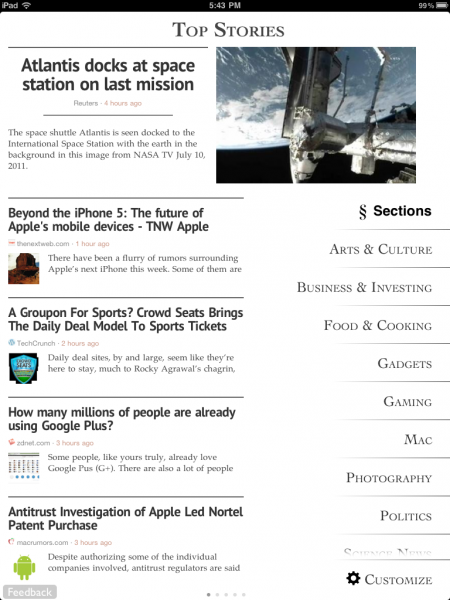 The thing I like most about the Zite is that it has introduced me to many new sources of news and interesting blogs that I would have never found otherwise. I love the World News section as it presents stories from newspapers around the world. Living in the US, it is easy to have a view of world events that is biased, since many of us only read or hear news from a US perspective. Reading stories from news sources around the world changes all of that. I am reminded of the time I lived in Australia and found that the news outlets there covered many more stories from the world at large than the US outlets.
Along with news sources, Zite also presents stories from blogs and other web sites on the topics you have chosen. Since I began using Zite, I have greatly increased my time spent reading and I have been reading about a wider range of subjects. If you want to take up a new subject for your reading, Zite is a great way to get introduced to a whole world of timely information on a topic.
When you select one of the stories to read, if possible, Zite opens the story in a Reader view with the text and images of the story extracted from the web page and formatted for easy reading. In some cases, the news source does not allow Zite to open the story in the Reader view but instead forces the web page to be opened instead. At that point, there is a Reader button at the top of the page that allows you to see the story in the Reader view.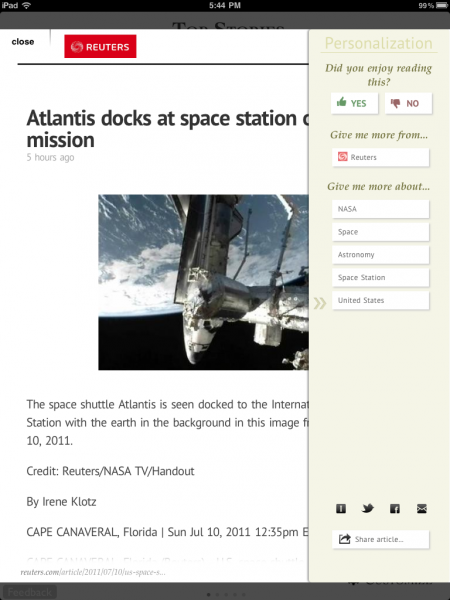 Zite provides many ways to share the story with others or save it for later reading including Twitter, Facebook, Email, LinkedIn, Read It Later, Instapaper, Delicious, and Evernote. So far I have used the connection to Twitter and Instapaper the most.
Zite allows you to further personalize you reading by telling it if you like the story or not, if you want more stories from that source, or on that subject.
If I could change one thing about Zite, it would be to allow the list of sections to be reordered. Zite orders the topics from the standard list in alphabetical order and then after that the topics you have added to the list in alphabetical order. In my case, this means that Astronomy comes after World News in the list. My favorite reading topic, iPad, is very near the bottom of the list. If I could reorder the list, iPad would be at the very top.
I give Zite 4.5 stars out of 5. If I could reorder the topic list I would give it 5 stars. I highly recommend Zite if you have an iPad and you like to read news and informational blogs. I start every day with Zite and sometimes end my day there also.
Randy Herring