By Randy Herring on Sat, 07/21/2012
Dark Sky is an iPad and iPhone app that has one main focus and that is to tell you when the rain will start or stop. The app uses GPS to forecast rain or snow at your precise location for up to an hour. The app also has less precise forecasts for 24 hours. Dark Sky supports the Unites States including Hawaii, Alaska and Puerto Rico.
Dark Sky takes radar data from the National Oceanic and Atmospheric Administration (NOAA). NOAA has over 140 radar stations that collect weather data. The developers of Dark Sky download the raw binary data and then process it to not only make their predications but they also pass this data to the GPU to create beautiful images of the storms. Dark Sky also uses the GPU to predict the storm's track and create smooth animations of how the storm will behave.
Master your iPhone in one minute a day:
Sign up to iPhone Life's Tip of the Day Newsletter and we'll send you a tip each day to save time and get the most out of your iPhone or iPad.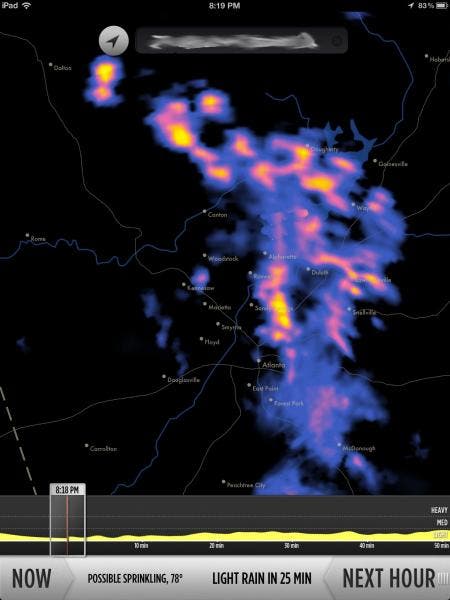 You can watch a video of the animation here:
Of course wonderful images and smooth animations are nice, but does the app really do a good job of telling you if it will start or stop raining in the next few minutes? I have been using the app for several weeks now and the answer is Yes, for the most part. If a storm is moving Dark Sky does a very good job of telling you when the rain will begin, or if it is already raining, when it will slack up or end. However, if you happen to be in that unlucky situation where the storm literally starts right overhead, then Dark Sky takes a few minutes to understand how the storm is behaving.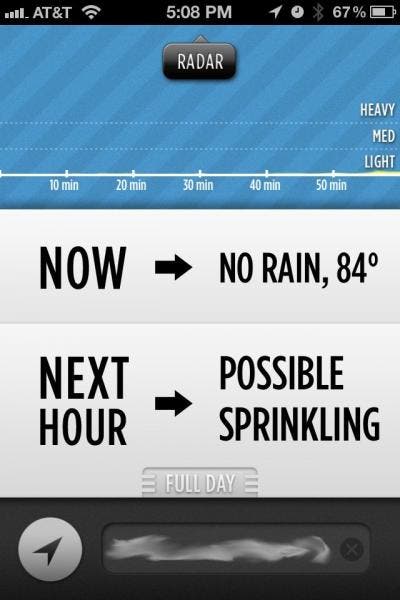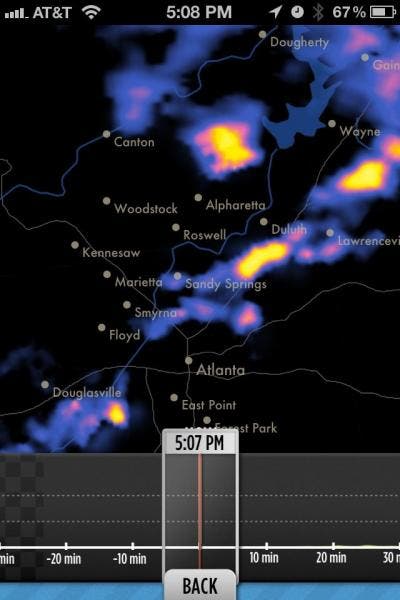 This happened to me one afternoon as I was leaving work. At first, Dark Sky said it was just sprinkling when it was pouring and the wind was blowing the rain sideways. But this was only a minute or so into the storm. After a few minutes the app caught up and not only showed the magnitude of the rain fall, but corrected the near term history to show that it had been heavy rain not sprinkling.
Since I only had a small compact umbrella with me, my next question was when would it slack up? After a few minutes, Dark Sky predicted the heavy rain would change to light rain in 7 minutes. As it was Friday afternoon, many of us gathered in the lobby watching the pouring rain were eager to leave. Several people without umbrellas decided that the prediction I was reading from the Dark Sky app wasn't a good reason to hang around the lobby on a Friday afternoon and rushed out into the rain without umbrellas. I waited the 7 minutes and strolled out to my car in a light rain. According to Dark Sky, I could have waited another 10 minutes and the rain would have stopped. But it was Friday and I did have a small umbrella.
Over several weeks of use, I can say I am very pleased with the app. It does a much better job of giving me information on the storms around me than the other weather apps on my iPhone. I also love the radar images and the animation of the storm data. If it is not raining near you, Dark Sky will offer up a link to a location where it is raining and you can observe someone else's storm.
Dark Sky is $3.99 in the Apple App Store. I rate it 5 out of 5 stars.
Randy Herring