By Anonymous on Sun, 11/11/2012
I have been using Evernote for several months now. It is a wonderful app and the new version 5 makes it even better on the iPad. I use Evernote on the my Mac, on my iPhone and on my iPad. I have Evernote connected to Zite, Instapaper, Penultimate and PostEver. There are many more apps that support Evernote on both iOS and OS X. Evernote has become the central place where I keep track of items I read on the web that I want to keep for future reference. I also store PDF documents in Evernote. So exactly what is Evernote and how can it help you? Evernote is an app that lets you store information and retrieve it from many devices. Evernote has Free and Premium accounts. I have Premium account.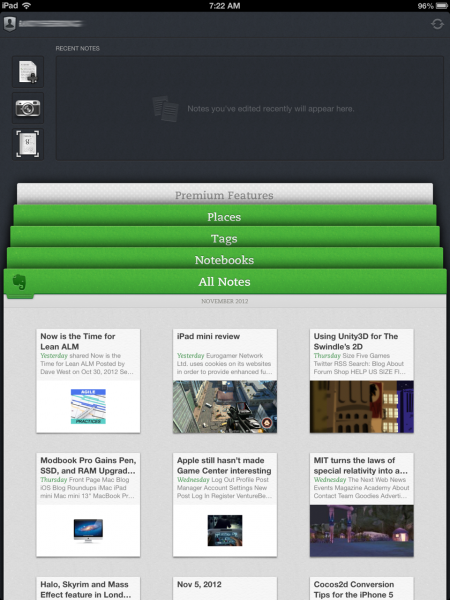 With Evernote you can:
Keep everything in sync
With Evernote, all of your Notes, web clips, files and images are made available on every device and computer you use.
Remember things you like
Save everything cool and exciting you see online and in the real world. Snap a photo, record some audio and save it.
Save favorite webpages
Save entire webpages to your Evernote account with our nifty web clipper browser extensions. You get the whole page: text, images and links.
Research better
Collect information from anywhere into a single place. From documents, to web pages, to files, to snapshots, everything is always at your fingertips.
Work with friends and colleagues
Share your Notes and collaborate on projects with friends, colleagues and classmates.
Plan your next trip
Keep all of your itineraries, confirmations, scanned travel documents, maps, and plans in Evernote, so you'll have them when you need them.
Evernote version 5 has a great new tabbed layout. Open the app and you see 5 tabs:
All Notes
Notebooks
Tags
Places
Premium Features.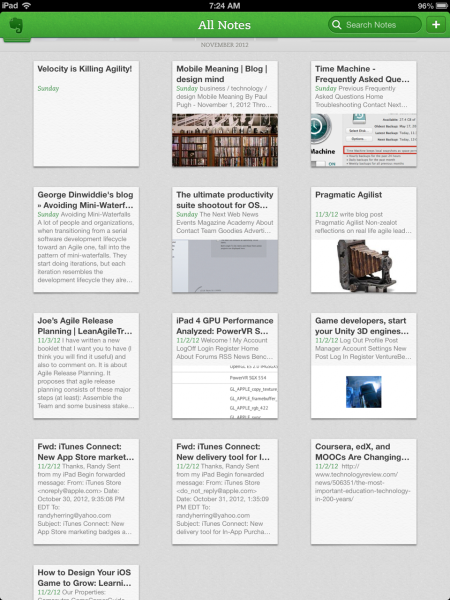 Touch a tab and that tab goes full screen. Your Notes can be sorted by Date or by Title. From the All Notes view you can scroll through thumbnails of your Notes to find the one you want to work with or you can search for specific Notes. The search tool in Evernote is very powerful. In addition to searching for Notes that contain specific words you can also search by Tags. Evernote will even find the words in handwritten text or text in photos. I was amazed that it recognized most of the text I wrote using Penultimate on the iPad, even though it wrote it in a hurry without thinking about it being very readable.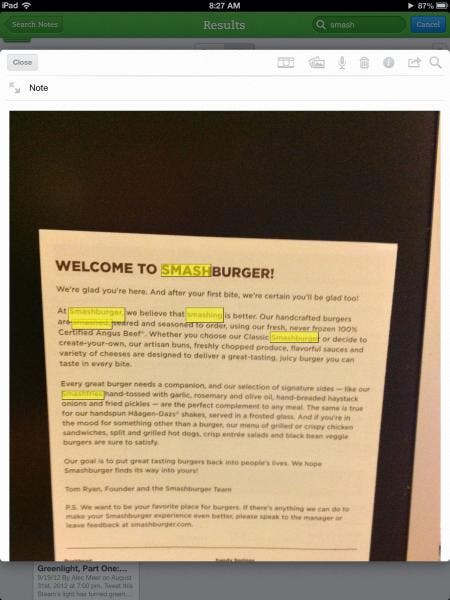 Touch a thumbnail and the Note pops up. You can scroll down through the Note in the pop up view or tap on the double arrows and go full screen. You can put the Note into edit mode by tapping in the body of the Note.
After you Close a Note, tapping on the Evernote icon brings you back to the Start screen. The Notebooks tab shows Notebook icons for each of your Notebooks. Touch a Notebook icon and Evernote opens the Notebook to display thumbnails of the Notes in that Notebook.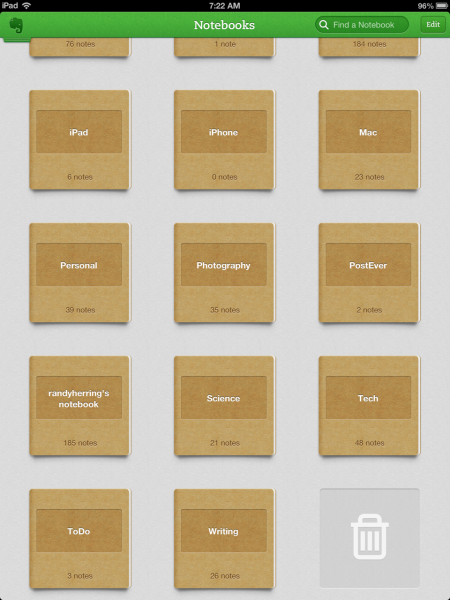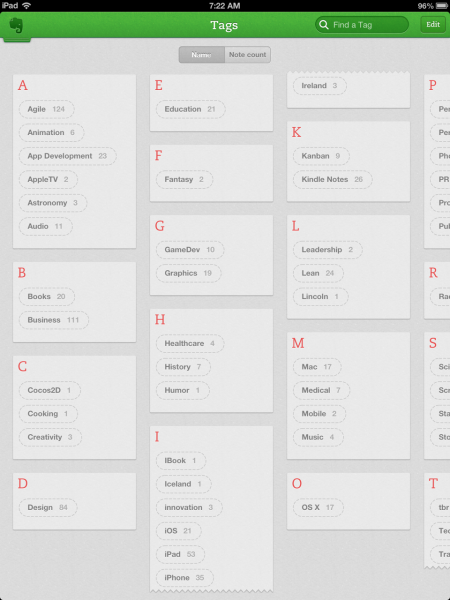 The Tags tab shows your tags sorted by Name or Note count. Tap on a Tag and thumbnails of the Notes that have that Tag are displayed. The Places tab displays flags on a world map with Note counts for Notes that contain location information. Touching a flag zooms in on that area of the map. Touching the flag for an individual Note and a thumbnail for the Note is displayed. Tap the thumbnail to open the Note. The Premium Features tab gives you the ability to manage your offline Notebooks and your passcode lock.
The iPad app also gives you icons that allow you to create a new Note, snap of photo for a note, take a photo of a document page or add audio to your Note.
The longer I use Evernote the more I find it becoming the place I go to for all of my information.
Evernote is available in the App Store for iPad, iPhone and Mac. I rate it 5 stars out of 5.
Randy Herring