By admin on Wed, 02/08/2012
Following the release of the tweetbot iphone version 2.0 today was the ipad version of Tweetbot. Twitter has been a popular social media client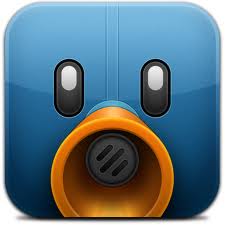 for some time. Some users may prefer Facebook while others would choose Twitter. This difference is what makes the world a colorful place. Tweetbot has been my favorite Twitter client since it first released. The thing I like best about Tweetbot is the notification sounds. It has awesome sound effects for sending and receiving tweets. It also is much easier to follow the timeline, rather than the original client. The ipad version is bigger and better. Click Here to download.
Tweetbot for iPad consist of the the following features:
Add as many users as you wish including their timelines.
Move between list very fast.
Native Push Notifications.
Customizable the Navigation.
Includes features for URL shortening, Read it Later, Instapaper and more.
Add Photo/ Video, Switch between timelines easily.
The left side consist of te timeline, messages, mentions, and the other twitter functions. This leave about two-thirds of the page for viewing the timeline and scrolling through your tweets. Tweetbot for the iPad is available in the Apple store for $2.99. I have included a video demo of the ipad version. Which TweetBot feature is your favorite? Leave the answer in the comments below.
Thanks,
Mitch stevens