By admin on Fri, 03/09/2012
Ten One Designs have released a magnetic stand for the iPad 2 called Magnus. This stand holds the ipad 2 in landscape position magnetically. It doesn't require any thing hold the stand other than the magnetic strength from the stand itself.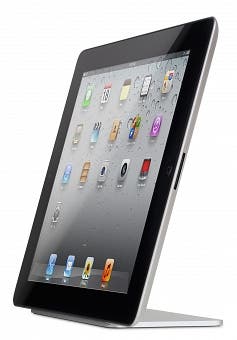 The Magnus iPad 2 stand has a very low profile, which matches the color of the iPad 2 completely. The Magnus can only be used without a case. Personally, I have my iPad 2 protected inside some type of case at all times. Looking from the front of the ipad stand it shows no visible support. It looks as if the ipad 2 is suspended in mid air by itself. The Magnus can only be used in landscape position also. I have listed some of the pros and cons below.
Pros:
Strong magnetic support
Almost invisible profile
Same color as iPad 2
Cons:
May only be used without a case
Limited position orientation
The Magnus stand sales for around $50. It can be purchased at www.tenonedesign.com. Feel free to leave any comments below.
Thanks,
Mitch Stevens