By admin on Tue, 08/23/2011
Note taking apps have gotten to be a dime a dozen these days.  That may sound a little strange to some but I'm country and proud to be.  The point I am trying to make is the app store has thousands of apps.  That can be a little overwhelming for some people.  So what I enjoy doing is writing about some of the applications I have used and think others would enjoy using.  I have recently written several articles pertaining to this subject but with the number of applications growing daily it takes some researching and perseverance to find what's good.
  I have been using a few of these type apps.  The first note taking app I have used that's worth talking about is Phatpad.  I really think this app has a lot to offer.  It couldn't be a better time to have this discussion with school starting in many places.  I have found that Phatpad is a great app for writing notes.  Phatpad allows the user to write the notes and turn them into text or do just the opposite.  The same developer that developed Writepad developed Phatpad. It offers several features across the top of the screen in the tool bar.  You can change the size or color of the writing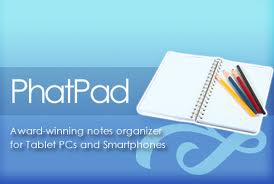 pen color.  The user can also share notes with others through email, Google Docs, Dropbox, and Evernote.  It is very simple to include pictures, text, and recordings.  It has a built in shape recognizer.  If you're not very good at drawing a circle no problem.  It will add a perfect circle for you.  You can record the lectures if you wish or make your own to include in your notes for reminders later.  I thought that was a great feature for note taking.  I know I sometimes couldn't write fast enough.  However, if you rather type your notes this application can do that too.  Overall, I have to give them 8 out of 10.  It needs a few minor updates.  It's not as good as PenUltimate but worth trying.  At $4.99 I recommend checking Phatpad out in the app store.  Click here to buy Phatpad.
Master your iPhone in one minute a day:
Sign up to iPhone Life's Tip of the Day Newsletter and we'll send you a tip each day to save time and get the most out of your iPhone or iPad.
  Another app I have been playing around with today is 7Notes HD.  It was just released today, August 23, 2011.  This application is going to be a great app for many users such as students or anyone who takes notes on a regular basis.  They offer a free version for a test run.  I think this is great business when the developers offer consumers a trial version or lite version.  I understand they need paid for what they do but hey it's only fair.  We aren't going to like every app we try and Apple sure isn't going to help by refunding.  But that's another subject.  7Notes HD primary focus is recognizing hand written notes.  So if you hand write your notes this app is for you. I thought the free version offered many features.  The only major feature difference between the free and premium version is being able to convert your notes later.  Their slogan is "This is how you take notes."  They offer many ways to share your notes.  You can post to Facebook, Twitter, Dropbox, and more.  I have played around with this app quite a bit.  It does a great job of hand writing recognition.  It's almost amazing just how good it is at doing this.  The premium version cost $8.99 which isn't that bad compared to other apps of its kind.  Click here to buy premium version of 7Notes HD or here for free version.
  Both of these applications have their own positive features.  I recommend adding both to your ipad, iphone or both.  Let me know what you think in the comments. 
Thanks,
Mitch Stevens